'You're not good enough': How Justin Thomas learned to love criticism
Getty Images
Welcome to Play Smart, a game-improvement column that drops every Monday, Wednesday and Friday from Game Improvement Editor Luke Kerr-Dineen (who you can follow on Twitter right here).
TULSA, Okla. — The leaders were bleeding strokes, and Justin Thomas could smell it.
All week JT felt like apex predator at the top of the PGA Championship leaderboard, picking off those around him. He had slipped on Saturday, but on Sunday, he was back to stalking his prey. He birdied 9, 11, 12, then 17. When he hit his approach to birdie range on 18, the crowd unleashed a roar that Mito Pereira, facing a potentially tournament-clinching 12-foot birdie putt on 17, heard. Rattled, he missed it; the start of a sequence of events that will be remembered as one of the more shocking collapses in recent history.
Three holes and two birdies later, Justin Thomas had his hands on the Wannamaker Trophy once again. It was the same outcome as his 2017 PGA Championship victory at Quail Hollow, but things feel different now.
"I've matured a lot. Five years is a long time, especially at this stage of my life," he says. "I would like to think and hope that everything has just gotten a little better. That's really the big part of it. You just want to get 1 percent better each day."
He may have been aided by a stroke of misfortune from Pereira to get here, but over the course of the week, Justin Thomas proved himself the best golfer in the field. He had navigated the windy side of the draw his first two rounds. Heat, cold, allergies ("I got my but kicked by allergies," he said), and prevailed from it all.
Five years later he had transformed himself into a complete golfer. And where his first PGA Championship victory may have marked a career high point, his second feels like the start of things to come.
'I was pretty hard on him'
Putting coach John Graham remembers exactly where he was when he got the call. It was Friday of the 2020 Travelers Championship. Justin Thomas was on his way home after missing the cut in his second start of the restarted PGA Tour season. He had lost almost three strokes to the field on the greens in two rounds, and he was angry. Something needed to change.
Graham had been referred by Cameron McCormick, Jordan Spieth's coach. He had done some work with the pair briefly in 2018. Thomas had called Graham directly, and the next week, they had their first trial session together.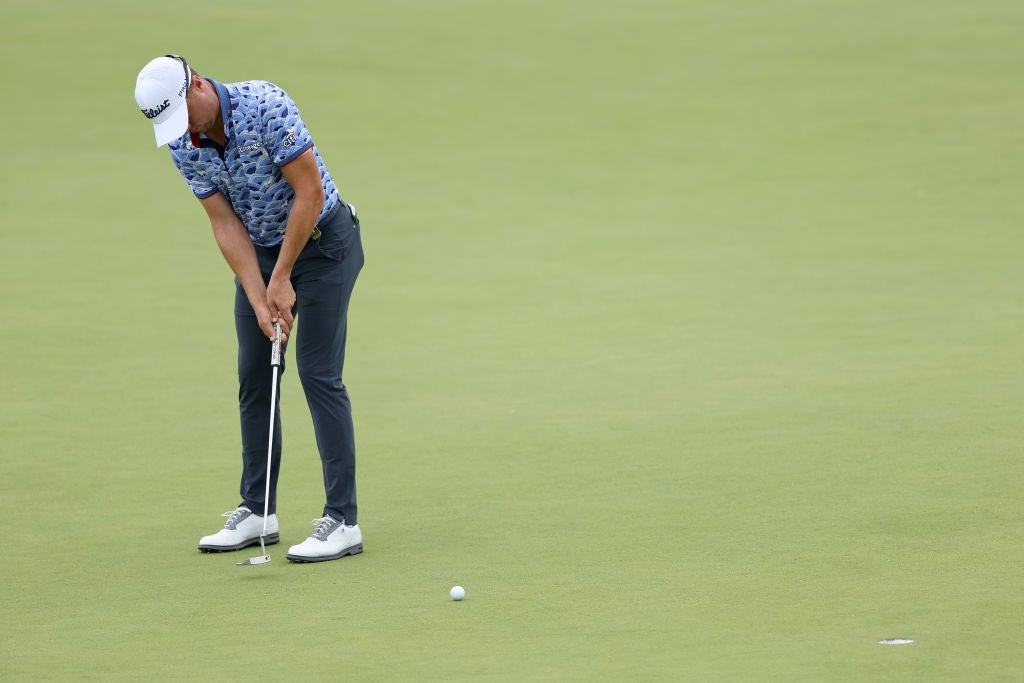 Thomas had come to Graham unhappy with his streaky putting. He had good weeks and bad weeks, and didn't understand why either occurred.
"I had no expectations of getting the job, so I was pretty hard on him," Graham says. "I said, 'you're not good enough. The reason you don't putt well enough is because your skills aren't good enough.' I wanted to lay it all on the table."
Part of the problem was technique, Graham said. JT tended to get his right forearm too high, which dragged the putter head up and out and caused him to cut across the putt. They worked through some drills, and added in few extra.
"I helped educate him on what the best putters do, from green reading to distance control to start line, and here's where you are," he said. "He listened to what I had to say, and he worked really hard. I'm so proud of him."
'You need accountability'
In an era when professional golfers become multimillionaires from within a bubble of their own making, their every whim sought to and protected by a team they alone employ, blind spots are easy to form and harder to spot. JT seems to possess the rare quality of seeking out criticism he may not particularly enjoy hearing. Sometimes, he even needs to remind his team of it.
"I get pissed at him sometimes, and I think as a dad he doesn't want to — he's not going to go full Butch Harmon or Pete Cowan and tell me I suck or 'that's not very good' or whatever it is, and sometimes I would love for him to say that just because I want to hear it," Thomas said earlier in the week. "I have to remind him sometimes, 'you're not my dad out here, you're my swing coach, and I need you to tell me if something is wrong. I don't need my ego boosted.'"
"You need that accountability," he said.
It seems to be a common thread, and never is that more apparent than when JT talks about Tiger Woods. It was advice from Tiger that sent him down the path of transforming himself into a more complete, multidimensional ball striker. And even in victory, JT seems to already know what's to come.
"I think now I only have like 150 other things to do that [Tiger's] done to where he can stop giving me grief. So I guess it's just a stepping stone," Thomas said. "I'm sure he probably will give me a hard time for shanking it. I should have made the putt on 18. Shouldn't have been in a playoff. I don't know, he'll always find something to give me grief about."
"Grief" is one word for it. "Challenge" is another. JT, like his mentor Tiger, seems to relish the task.
During a major where the biggest names in golf were left on the sidelines, Thomas proved himself a class apart. After years of staring those harsh critiques in the face, and working to prove them wrong, JT has transformed himself into a stronger, better player. Capable of feats like we saw on Sunday at the PGA Championship: overcoming the difficult side of the draw early in the week and finishing with six birdies in his final 13 holes to overcome a seven-stroke deficit.
"He's got so much offense," Jim McKay, his caddie, says. "When he needs to go on offense now, he can, because he's got the tools to do it now."