PGA and LPGA Tour pros shine in ESPN Peloton All-Star Ride
Rory McIlroy is Peloton royalty. Saturday, during ESPN's Peloton All-Star Ride, everyone wanted his crown.
With the Tour on hiatus and virtually no sporting events for the past several months due to the coronavirus pandemic, pro athletes, from McIlroy to Steph Curry to Olympic track and field athlete Colleen Quigley, have all turned to Peloton. Given the widespread popularity, ESPN approached the interactive exercise bike company with an idea to create a unique event to fill the void live sports has left behind.
"[Peloton] was seeing pro athletes, especially golfers, being really vocal about Peloton — posting, tweeting and challenging teammates and our community to join them in rides," said Jen Cotter, Peloton's chief content officer.
In just six weeks, ESPN and Peloton pulled together a roster of A-list athletes for a friendly competition that would give sports and Peloton fans something to look forward to watching.
But that's not all ESPN and Peloton were able to achieve. Given the timing of the event, Peloton incentivized the athletes by agreeing to donate one million meals to the the Food Bank of New York City if they could deliver a combined output of 3,000 kilokoules on the bike.
"We're always looking for ways to create and deliver innovative content," Cotter said. "Teaming up with ESPN was an opportunity to create a first-of-its-kind experience."
Peloton's profile has surged throughout the pandemic, thanks in large part to gyms being closed until further notice. In search of a replacement workout they could do at home, people have turned to Peloton for its community workouts.
All of this created a perfect storm for the All-Star ride.
Speaking of which …
The women's division rode first, with a group of decorated athletes from across the sports world. Olympian Colleen Quigley grabbed the lead at the outset, but LPGA star Morgan Pressel held her own, taking second place and beating out sports stars such as Olympian Allyson Felix and tennis star Victoria Azarenka.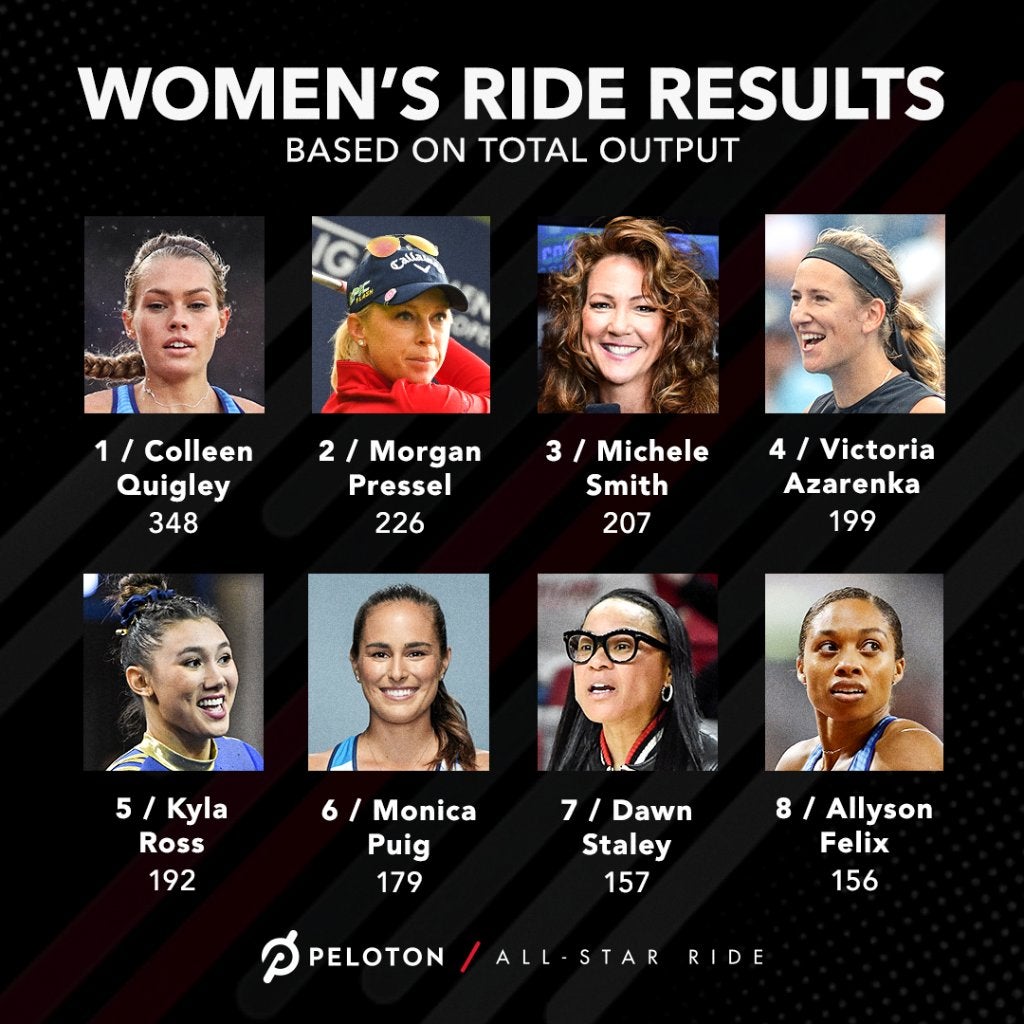 As a matter of fact, Pressel might have cemented herself among golf's Peloton royalty with her performance.
In the men's division, McIlroy was the favorite going in. So much so that Thomas, Watson and NFL analyst Booger McFarland tried to get in his head with some trash talk.
"Since I can't beat Rory McIlroy on the golf course, my one goal for today is to prove that golfers aren't athletes," McFarland stated.
Thomas went a different route — purposely placing a trophy he won by beating McIlroy at the WGC finale at Firestone in 2018 directly behind him.
McFarland's and Thomas' trash talk must have worked because McIlroy faded toward the back half of the ride, finishing in fourth behind McFarland and Celtics standout Gordon Hayward
But, with four-time Olympic medalist and swimmer Matt Greves' final output reaching 400+ kj, no one in the men's division really stood a chance.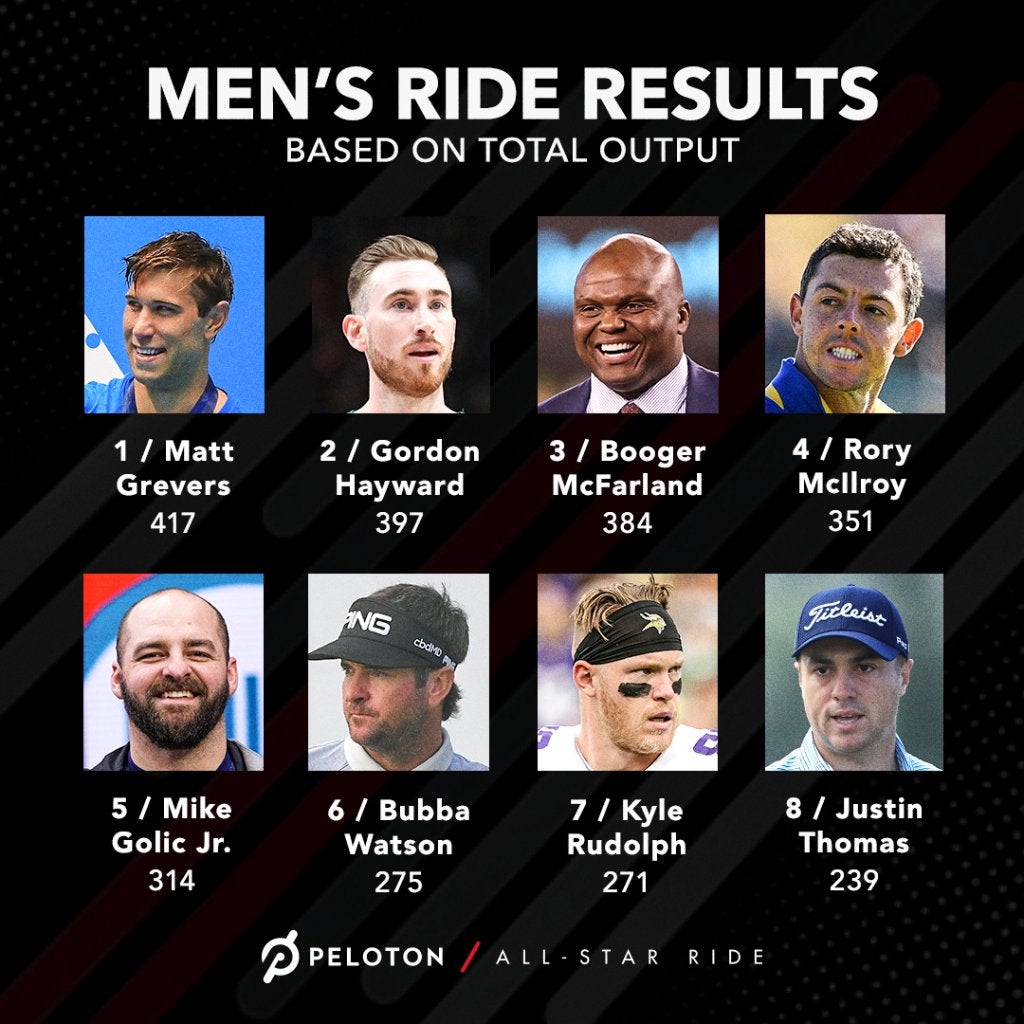 Even though he was unable to cement himself as the Peloton King of the sports world, McIlroy's output reached 351 kj in just 20 minutes and helped put the total output needed to unlock that all important donation to the New York City Food Bank.
If you're an avid Peloton rider, you'll be able to take these rides on-demand to see how you stack up against some of the world's fittest athletes.
Now we just need McIlroy and Pressel to go head-to-head to determine who deserves to be crowned the Peloton King or Queen of golf.