Collin Morikawa on why you shouldn't copy somebody else's golf swing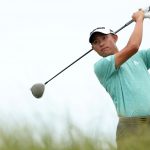 Getty Images
KIAWAH ISLAND, S.C. — What makes a "great" golf swing? It's an interesting, ever-present question among golfers — and one that the defending PGA Champion, Collin Morikawa, shared some interesting insight on ahead of the 2021 contest.
Morikawa is one of the best ball-strikers on tour (if not the best), ranking first in SG: Approach and second in SG: Tee-to-Green. His golf swing is the stuff of dreams, and lots of fans key in on his flexed lead wrist, but Morikawa insists that as important as that is for him, it can distract people from the real reason his swing works.
Tailor your swing to YOUR strengths
According to a wide-ranging study at GOLFTEC, higher-handicaps struggle to keep a square clubface: It's about four degrees more open on average than lower handicap, which causes an inconsistent set of misses.
Your ability to control the clubface so you know where the golf ball is going is a fundamental to playing good golf — and to do that, you need to find the best version of your swing, says Morikawa:
"How do you tailor to someone's strengths? Just because I had a bowed wrist when I was younger and I kept that doesn't mean you have to change yours and become to like someone else," he said. "We all have different swings out here. There's no one swing that you can say looks exactly the same as the other."
That all sounds great in theory, of course, but what about in practice?
There are certain traits that great players share — not swaying on the backswing, for instance — that affect your ability to control the clubface and hit straighter shots. And while it's ok to work on those specific swing flaws, it's important to accept that your swing will never look like a carbon copy of anybody else.
You have to find a swing thought, or feeling, that works for you. It's ok if you can't match Morikawa's wrist position at the top of the backswing; you'll just have to work with a coach to figure out what you can do that'll help you square the face, and improve your own unique swing so you can build the best out of it.
All of our market picks are independently selected and curated by the editorial team. If you buy a linked product, GOLF.COM may earn a fee. Pricing may vary.
Swing Evaluation or Club Fitting for $125
Ready to jump in and start your GOLFTEC Journey? Fill out this form to book a swing evaluation or club fitting! A local GOLFTEC Coach will contact you to discuss your game and goals.
Book now