FIRST LOOK: PXG's new 0211 putters with 'runway reticle' alignment tech
PXG
Aside from green reading, the most important aspect of putting is arguably alignment. If a golfer isn't properly aligned to their target, then even a perfect putting stroke won't matter much; it's pure luck if the ball goes in the hole.
Since the eye of a golfer isn't always on point, putter companies add visual aids on the top portions of their putter heads to get golfers going in the right direction. There are all sorts of different alignment technologies on putters in the market, from lines to dots to contrasting colors.
PXG's fresh take on visual alignment aids for its new 0211 putters is called "runway reticle." The arrow-like design on the crown of the putters is designed to help with face awareness and control throughout the stroke, according to the company.
"With so much of the game won or lost on the green, a putter that helps you consistently lock on target is essential," said PXG founder and CEO Bob Parsons in a press release. "Whether you are just getting into golf or simply struggle to line it up straight, our new runway reticle alignment aid makes finding your line easy."
Since its inception, PXG has been known for providing performance, but at a high price. Its line of 0211 products, however, are made to provide a more affordable option for golfers with a less flexible budget.
Like the other 0211 products in its stable, PXG's 0211 putters will sell for a relatively more affordable $189 per club. Each of the five putter models in the series (V-42, Bayonet, Hellcat, Clydesdale and Lightning) are cast from 303 stainless steel, and they come with milled Pyramid Face Patterns to help improve ball speed on mishits for better distance control.
Below, we take a brief look at each of the different 0211 putter heads and what makes them different.
PXG 0211 V-42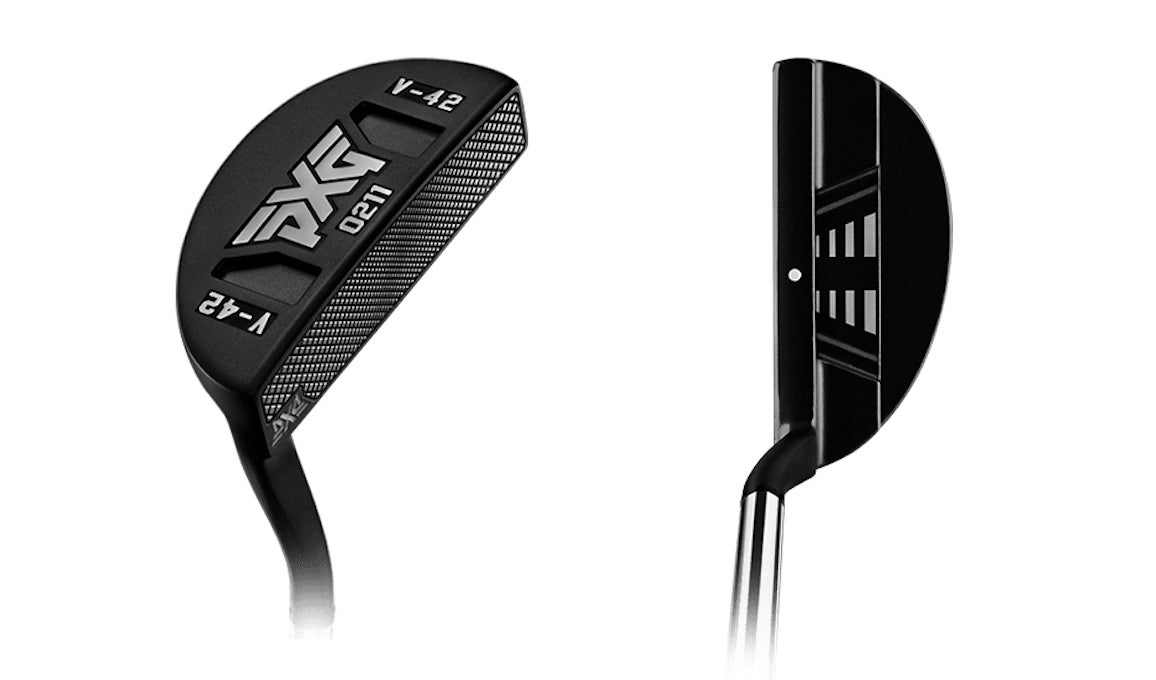 Named after a 1942 war knife, the V-42 is a mid-mallet with a crescent shape and a heel-shafted hosel. PXG recommends this club head for those who tend to over-rotate the putter face throughout their stroke.
PXG 0211 Bayonet
Named after a dagger-like weapon that attaches to a rifle, the Bayonet putter is a traditionally shaped blade with a plumber's neck hosel. PXG says this is one of the lightest putters heads in the 0211 lineup and is designed to help square the face at impact.
PXG 0211 Hellcat
The Hellcat putter, which is named after a fighter aircraft, is a heavy blade that has plumber's neck hosel. PXG says this comes with a heavier feel and is best for golfers with a straight or slightly arched stroke with "mild" face rotation.
PXG 0211 Clydesdale
Named after a Clydesdale horse breed, this putter has an elongated shape that's engineered to have high MOI (moment of inertia), or in other words, more forgiveness.
PXG 0211 Lightning
The Lightning putter, which is named after a fighter aircraft, is the heaviest putter in 0211 lineup and it has a wide body with a dual-step geometry in its cavity. It also has a double-bend hosel that creates a face-balanced toe hang, which makes it best for golfers who tend to puch the ball, according to PXG.
Want to overhaul your bag for 2021? Find a fitting location near you at GOLF's affiliate company True Spec Golf. For more on the latest gear news and information, check out our latest Fully Equipped podcast below!