This cult favorite club is back in the major championship spotlight | Wall-to-Wall
Jonathan Wall/GOLF
Welcome to Wall-to-Wall Equipment, the Monday morning gear wrap-up in which GOLF equipment editor Jonathan Wall takes you through the latest trends, rumors and breaking news.
Blast from the past
Brooks Koepka's win at the 2023 PGA Championship was the kind of major championship validation Cleveland/Srixon was looking for when they inked the 33-year-old to a staff deal at the end of 2021. On its social channels, Srixon trumpeted Koepka's success under the headline "Major validated," and rightfully so.
Less than 12 months ago, Koepka made headlines at the U.S. Open when he swapped his Srixon driver and ball for something he'd used to win previous major titles. The equipment manufacturer confirmed they were working on something big that "developed with Brooks' input and needs in mind," but it was "not a perfect fit, yet." Sunday validated all of the work behind the scenes, and put to bed any questions about Koepka's decision to leave free agency for a staff deal.
You're darn right Cleveland/Srixon was going to let everyone know about Koepka's gear.
In addition to Cleveland/Srixon, Scotty Cameron (putter) and True Temper (iron and wedge shafts) and Nike (apparel) also laid claim to Koepka's win. The Swoosh was also present and accounted for in the five-time major winner's bag on Sunday — a feat that didn't get past gearheads.
Koepka's Nike Vapor Fly Pro 3-iron is a unicorn in a sea of shiny new clubs played by the best players in the world. When Nike shuttered its hard-goods business in 2016, pros stockpiled clubs and balls as they entered free agency, Koepka included. While most of his Nike gear was eventually phased out, Vapor Fly Pro continued on in Koepka's bag. Along with Koepka, Tony Finau has won PGA Tour events with the same club, even as his inventory of Vapor Fly Pro 3-irons starts to dwindle.
All of our market picks are independently selected and curated by the editorial team. If you buy a linked product, GOLF.COM may earn a fee. Pricing may vary.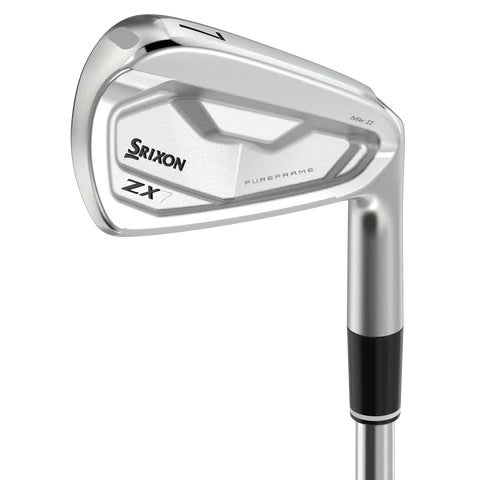 Srixon ZX7 irons
Build your own set of Srixon ZX7s — Brooks Koepka's iron of choice.
BUY NOW
"The one I'm using is actually one of my two backups," Finau said. "My original lasted me about six years. So with my math, if this one lasts me six years, and my other backup lasts me another six years, I'll be about 50 years old by the time I'm done using both. It's a great club. It's one I've had in the bag since 2015, and I don't think it's going anywhere anytime soon. I hit it great."
Koepka is actually in the same boat, but with several backups at his disposal, he's content to keep rolling with his lone Nike long iron, even when the head and shaft show signs of wear. After all, you can't put a price on reliability — and major titles.
"I remember having that thing from basically the moment I signed with Nike [in 2016]. It's not coming out of the bag and I got plenty of backups. We were actually laughing about that club the other day," he told GOLF.com in 2022. "The shaft is stating to wear right where the club rubs against the bag. I've had to reglue the ferrule because that's come loose. But yeah, I mean, once I get equipment that I like and I stick with it — I'm not a tinker. I don't change. I keep it just how it is."
Nike may no longer be a major player in the equipment space, but that doesn't make their gear obsolete. Seven years after their last launch, the Swoosh is still winning majors and remaining relevant. Not bad for an equipment ghost.
Want to overhaul your bag for 2023? Find a fitting location near you at True Spec Golf.