Why this nerve-racking island-green range is an ideal place to practice
©Parker Golf Photography
Before Alex Beach won the 2019 PGA Professional Championship, and before he qualified for his fourth PGA Championship (next week at Kiawah Island's Ocean Course), he was just a kid, growing up and learning the game at Loggers Trail Golf Course in Stillwater, Minn. Back then, two things pumped him up to go play golf at the track down the street: driving the cart and, of course, hitting balls at Loggers' uniquely situated island green.
"It's definitely more entertaining than your average range session," Beach says.
Loggers Trail, an 18-hole course about 20 miles east of the Twin Cities, opened in 2003. Designed by Mike Fermoyle, John Harris, Dave Tentis and Bev Vanstrum, it has a delightful mix of holes and is one of the best values ($41 walking) in the state. It also — cue the subject of this story — has an island green on the practice range that's surrounded by water, a la TPC Sawgrass' iconic par-3 17th, which it's modeled after. It even has the same wood-panel surrounding.
An island green isn't that rare on a golf course, but it is on a practice range. They exist — Bayonne has something similar and a handful of other notable courses do, too — but the first time I ever saw one was when I played Loggers Trail last month. It was built for aesthetics, strategy and fun. Distances range from 110-150 yards. The water surrounding the green is only a couple of feet deep and the bottom is concrete. It's drained on Thursday nights and picked on Fridays, then refilled. Roughly 2,000 balls are gobbled up every week.
"When is the last time you've been to a place that has a feature like that on the range?" says Andy Keykal, the assistant pro at Loggers. "Normally you have these big satellite targets or something like that. I think it's a great-looking feature."
Sure, it's exciting and a nice conversation piece, but I was blown away by how it made me focus. Golfers get better by practicing, but you must practice with a purpose. Mindlessly whacking balls in the vicinity of randomly placed pins won't help your game. So after a brutal day of ball-striking my first time at Loggers Trail, I returned to the range. That's when I noticed the island green and took aim.
One can tell how busy Loggers Trails is at any given time based off the frequency of splashes. Beginners, or ever good players, are bound to hit a handful in the water. It turned out to be the perfect tonic for me. You want pressure? Try rinsing two in a row and then blading one into the wood paneling, a spectacle that draws stares from the local high school girls golf team practicing nearby.
But what I liked best was the immediate feedback. I can aim at a pin and hit it relatively close and watch the ball trickle off a slope, but it registers differently when a decent shot barely misses and plunks for all to see and hear. Then the anxiety kicks in and you worry about doing it again. It's the kind of practice mentality I — a golfer, like you and everyone else, trying to get better — crave. It makes me care. No more loose swings or lazy setups — I can't miss this green one more time.
"The cool aspect with it is that it's just different," says Beach, who is a pro at Westchester Country Club, just north of New York City, during the summer. He also has conditional Korn Ferry Tour status. "I think it's more fun to play at a course like that where the amateur golfer can rip a couple over the pond onto the green, but to also have the golfer who is out there trying to get better to be able to practice with it and focus. It's a great feature."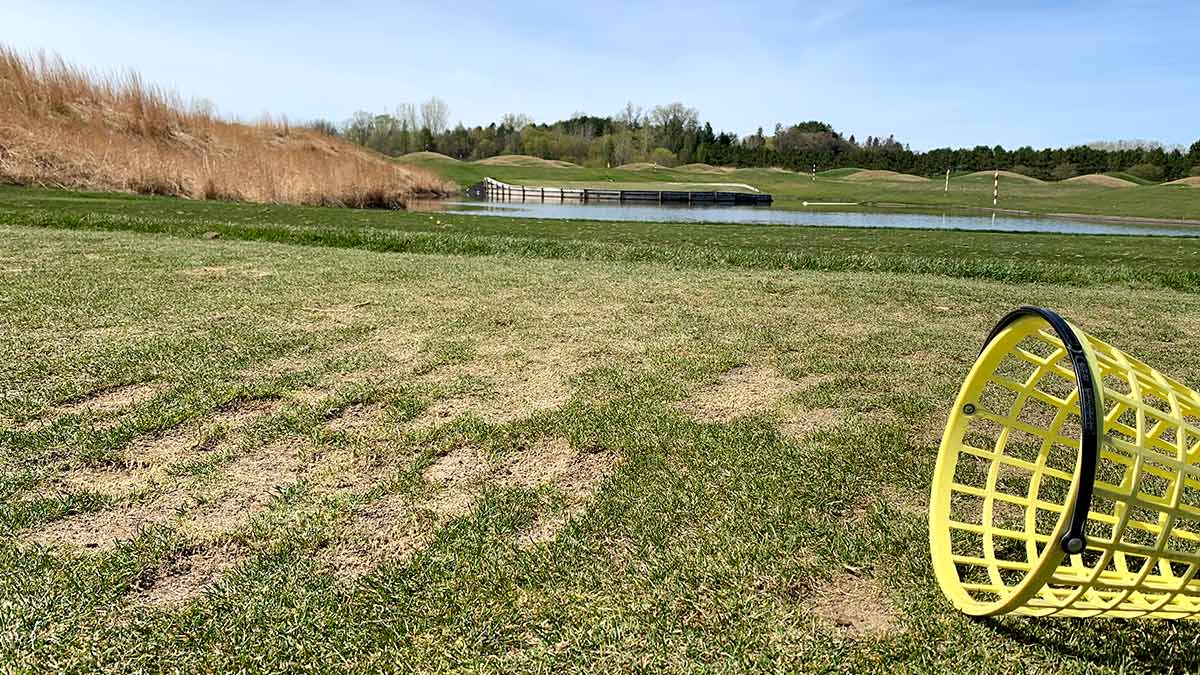 Loggers Trail wasn't the primary course where Beach's Stillwater Area High School boys golf team practiced, but he was often there on his own time. His high school coach, John Scanlon, still coaches the Ponies. The other day Scanlon was sitting on a bench behind the Loggers Trail range, watching his team warm up. He said their practice sessions are more productive with the water. Senior Henry Lawrence agreed.
"It helps you kind of dial in a little more," Lawrence says. "If you are hitting on a regular range you can land it on the hill and it might roll back, but with that island green you have to know your yardage. So I think it prepares you for going to the course."
Beach moved away from Minnesota years ago and hasn't been to Loggers in a while, but he still appreciates the uniqueness of the practice range.
"Loggers Trail is basically in a cornfield," Beach says, "and for someone to have the ingenuity to build that green is pretty cool."
All of our market picks are independently selected and curated by the editorial team. If you buy a linked product, GOLF.COM may earn a fee. Pricing may vary.
GolfLogix Greens Books
This game-changing product is like having a professional caddie with you to read every green. Find the book for your course today.
Buy from Golf Logix