As every golfer knows, the game we all love is filled with highs and lows. But whether it's a player's revelry in the euphoric thrill of victory, or a muted celebration tinged with sadness for a dearly departed family member or friend, golf is full of sweet — and sometimes bittersweet — moments.
In honor of Valentine's Day, here are 14 of the most memorable.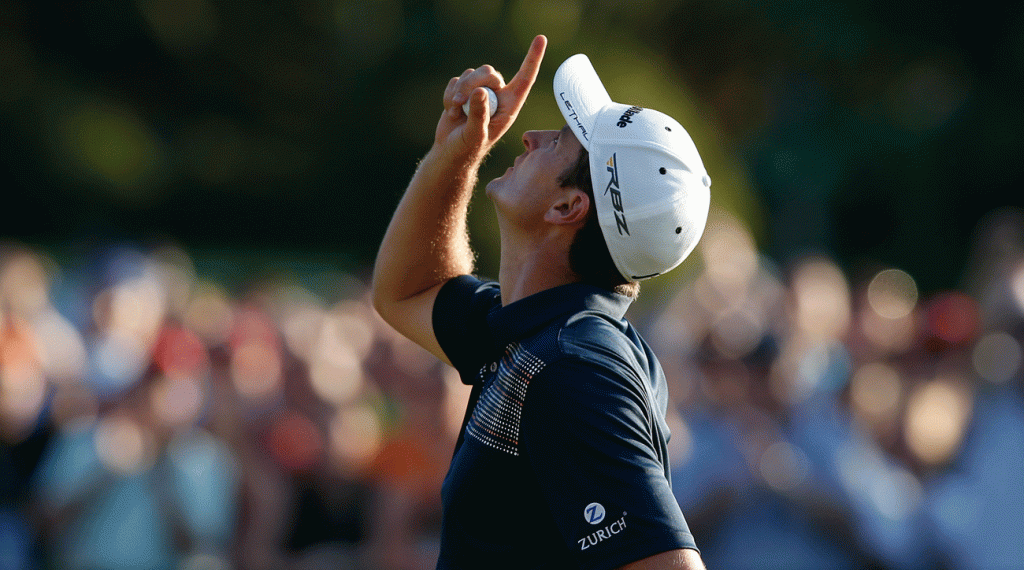 ---
Justin Rose at the 2013 U.S. Open at Merion
When Justin Rose finished his final round at the 2013 U.S. Open at Merion and claimed the first major victory of his career, he memorably pointed to the sky — a tribute to his late father, Ken, who died of leukemia in 2002.
---
Ian Poulter at the 2018 Ryder Cup
The famously prickly Brit shared a tear-jerker moment with his son, Luke, who was visibly emotional in the aftermath of Europe's dominant victory.
---
Tiger and Earl Woods at the 1997 Masters
Who could forget this incredible moment between father and son after Tiger's first major championship win at Augusta in 1997?
---
Phil Mickelson at the 2013 British Open
Lefty claimed his fifth career major title at Muirfield after posting a stunning final round of 66. And as you can see in the ensuing celebratory family group hug afterward, his wife, Amy, and kids Evan, Amanda and Sophia, were there to see it all.
---
Tiger Woods at the 2006 British Open
After Tiger's father, Earl, passed away in May of 2006, Tiger missed the first major championship cut of his career at the U.S. Open in June. But he triumphed at the British Open at Royal Liverpool in July — and his ensuing breakdown in the arms of caddie, Steve Williams, melted hearts worldwide.
---
Rory McIlroy at the 2012 PGA Championship
Rory and his father, Gerry, are famously close. So when Rory won his second career major title at Kiawah Island's Ocean Course by a record eight strokes in 2012, it was only fitting that Dad got this emotional embrace.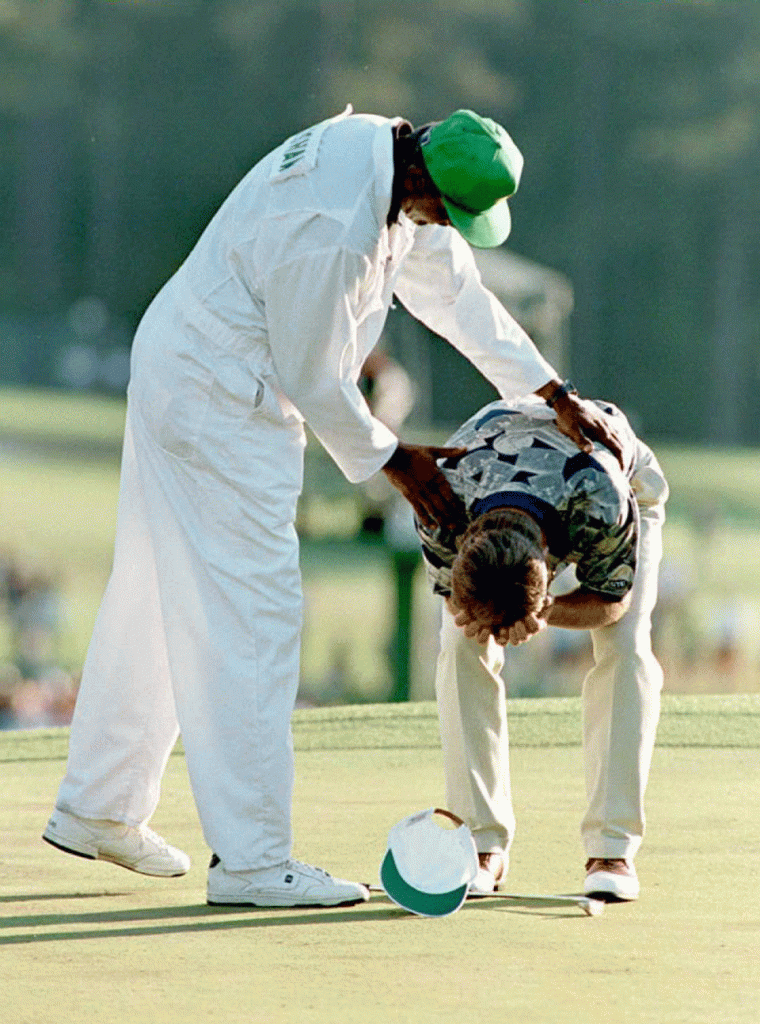 ---
Ben Crenshaw at the 1995 Masters
Days before teeing it up to play the Masters, Ben Crenshaw had attended the funeral for his beloved instructor, Harvey Penick. Despite his grief, Crenshaw won, claiming his second green jacket by a shot over Davis Love III. A visibly emotional Crenshaw was consoled by his caddie, Carl Jackson, in the aftermath of his Masters win in 1995.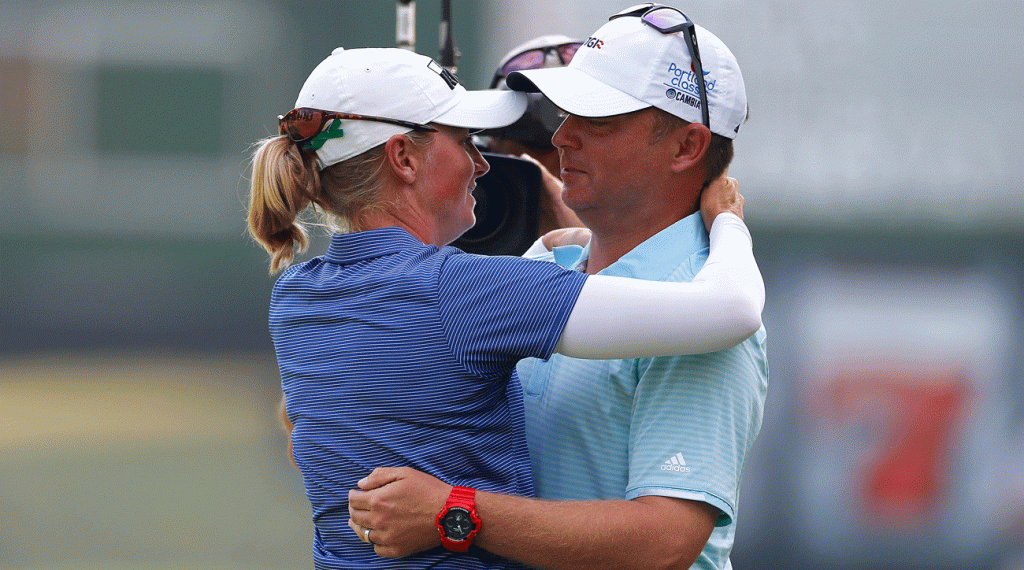 ---
Stacy Lewis at the 2017 LPGA Cambia Portland Classic
After 1,162 days without a win (and 12 runner-up finishes), Stacy Lewis triumphed at the 2017 LPGA Cambia Portland Classic, and husband Gerrod Chadwell was there to surprise her on the green.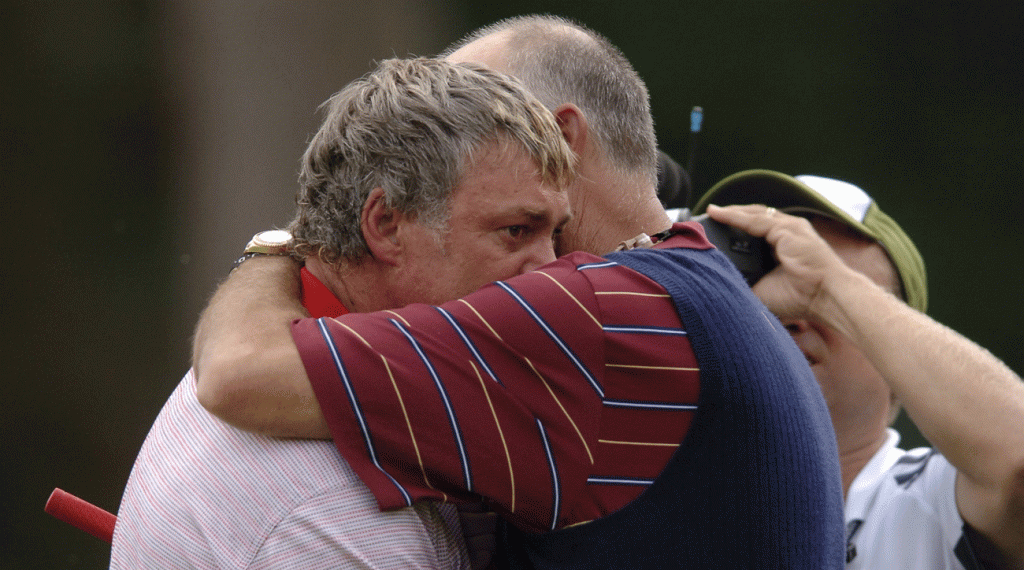 ---
Darren Clarke at the 2006 Ryder Cup
In August of 2006, Darren Clarke's wife Heather tragically died of cancer at only 39 years old. Only a month later, Clarke was playing in the Ryder Cup for Team Europe. On Sunday, he triumphed in his singles match against Zach Johnson, 3 and 2, at which point his grief and joy memorably intermingled. Europe triumphed over the U.S. that year by a score of 18.5 to 9.5.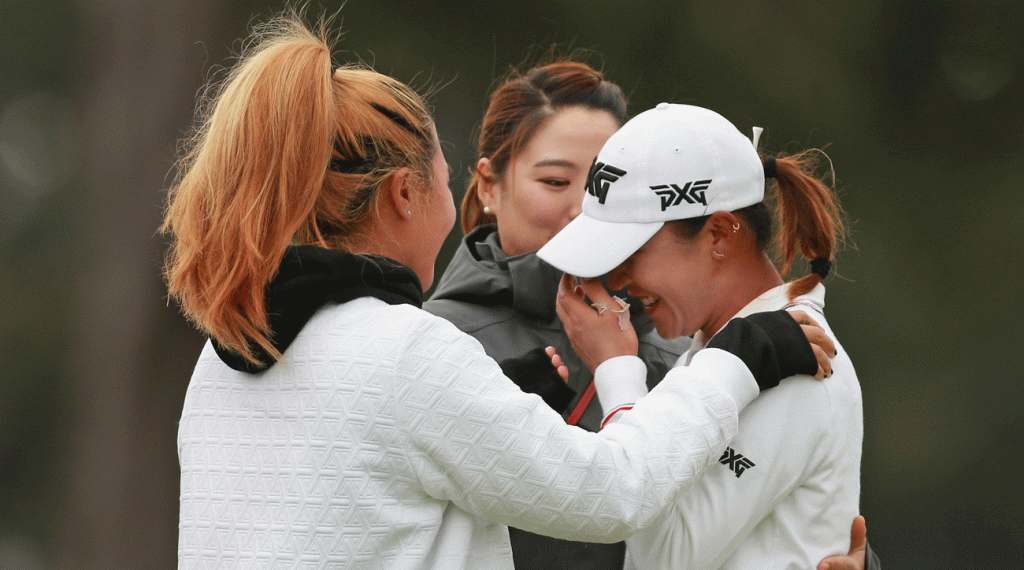 ---
Lydia Ko at the 2018 LPGA Mediheal Championship
Winless since 2016, the once uber-dominant Ko was struggling to regain her edge on the LPGA Tour. But a birdie on the last hole in regulation and an eagle in the ensuing playoff secured her fifteenth career victory and elicited some understandable tears of joy and relief.
---
Payne Stewart and Phil Mickelson at the 1999 U.S. Open
It's one of golf's most iconic moments — and photos. After sinking an incredible 15-foot putt to win the U.S. Open at Pinehurst, Stewart consoled runner-up Phil Mickelson. "You're going to be a father, and there's nothing greater in the world," Stewart said. "You and Amy are going to make wonderful parents."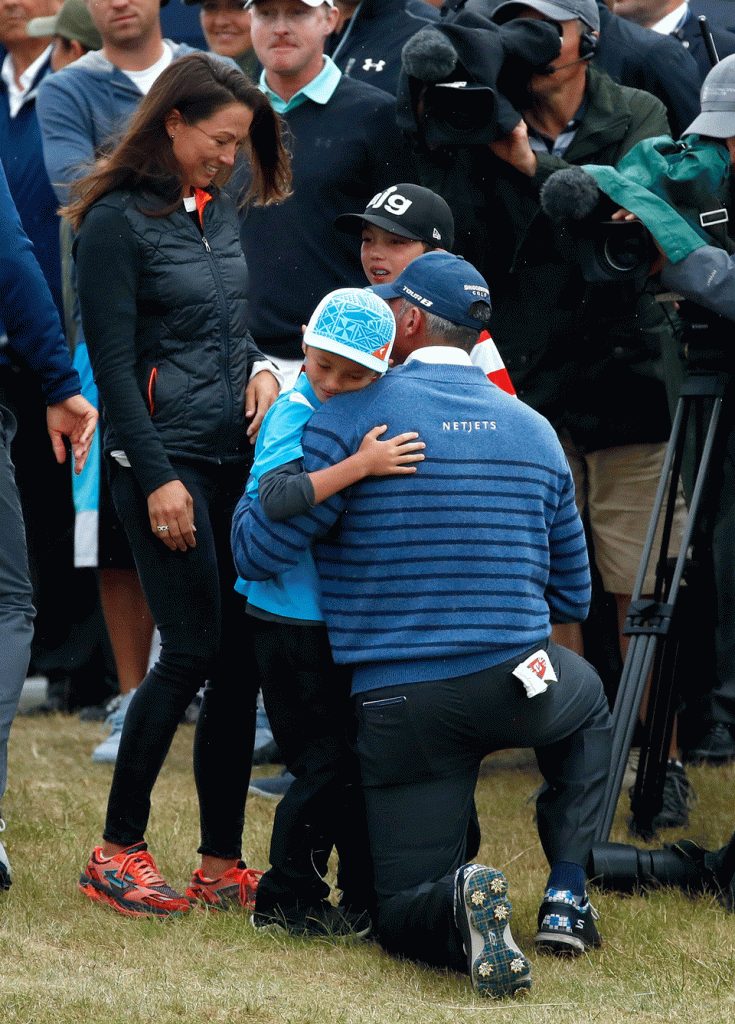 ---
Matt Kuchar at the 2017 British Open
Long regarded as one of the game's best players to never win a major, Kuchar had his best chance to date at the 2017 British Open at Royal Birkdale, where he lead with three holes to play. But Jordan Spieth bested him. Kuchar described the loss as "crushing," but — unbeknownst to Kuchar — his wife and kids made a surprise trip to England to watch his final round, and they were there to offer their support as he walked off the 18th green.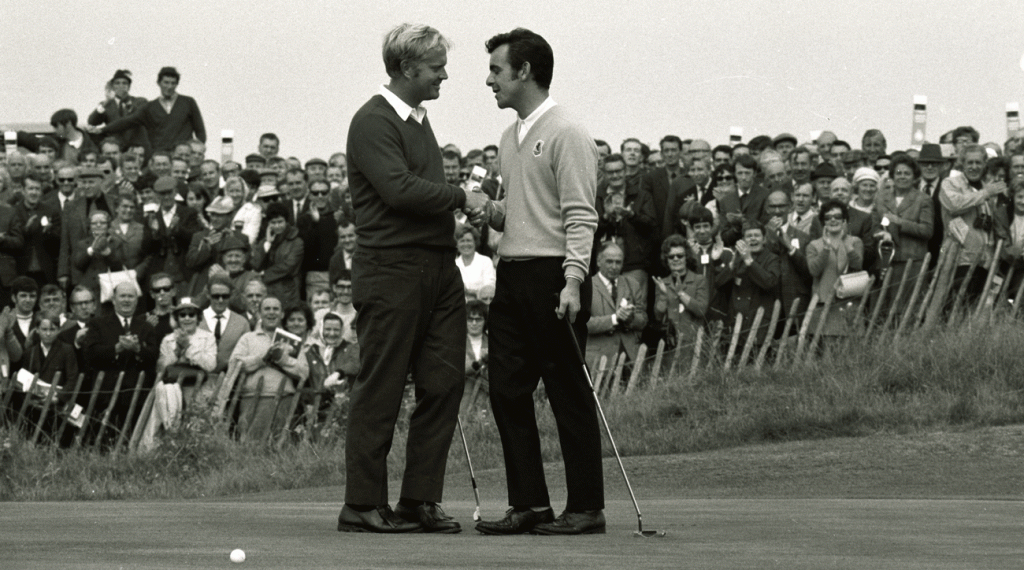 ---
Jack Nicklaus and Tony Jacklin at the 1969 Ryder Cup
Though it was controversial at the time, Jack Nicklaus conceded Tony Jacklin's final putt at the 1969 Ryder Cup at Royal Birkdale. The biennial match ended in a tie for the first time, but the generous act of sportsmanship has since become legendary.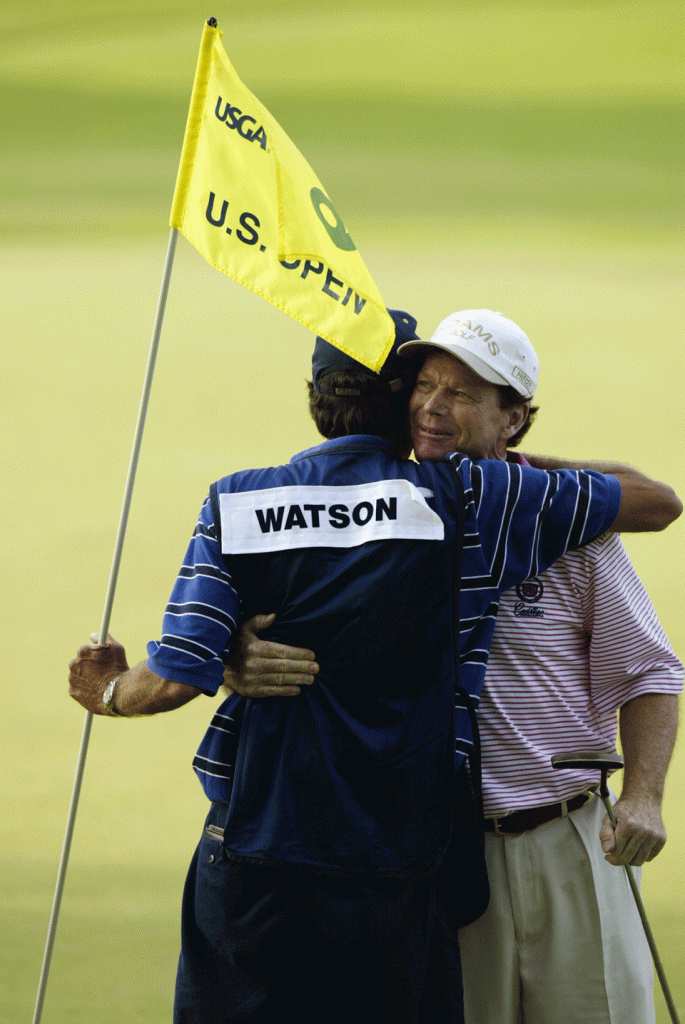 ---
Tom Watson at the 2003 U.S. Open
When Watson's friend and caddie, Bruce Edwards, was dying of ALS, the two had one last memorable stand together at the 2003 U.S. Open, where Watson shared a warm embrace with Edwards after Watson electrified the field with a first-round 65 at Olympia Fields Country Club. Edwards passed away the following April.