Tiger Woods in person, Saudi talk and Paulina's bachelorette | Rogers Report
Paulina Gretzky, Claire Rogers
Hello, friends!
If you can sense a little extra West Coast vibe from this week's Rogers Report, that's because I've just returned from a week-long trip to Los Angeles. Four of us — me plus coworkers Dylan Dethier, Zephyr Melton and Sean Zak — got to live the dream, covering the Genesis Invitational in person, riding top-down in our convertible rental car and even enjoying some team yoga in the living room of our AirBnB. Returning back to the New England cold was a harsh dose of reality, but I feel plenty alive thanks to all the Phil Mickelson chatter plus the steady stream of content coming from Paulina Gretzky's bachelorette party. But before we get too far into this week's action, let's debrief my first-ever trip to the City of Angels.
I saw Tiger!
Tiger's press conference was the place to be last week. I couldn't tell you the whenabouts of the other pressers but I knew one thing: Tiger would be speaking at 12-noon on Wednesday.
The energy of the media center completely shifted as we waited for Tiger to arrive. Cameramen and photographers who weren't there for previous press conferences filed in. Soon the room reached maximum capacity for the first time all week. People were buzzing, the coffee station shut down and soon there were no open seats left, so stragglers opted for the standing room in the back, hoping to sneak a direct view of Tiger between the rows of heads in front of them.
When Tiger entered the room, all eyes turned in his direction. Once he got to talking, he made it clear he's not yet ready to play, but I thought he looked young. His face was expressive and full of energy. He seemed genuinely happy to be there. Conversations ceased and you could hear necks creaking as the room turned to follow his every move. He wore all black, sipped coffee and strode to the front of the room, where he took his seat at the podium alongside Charlie Sifford Exemption Aaron Beverly. Then he took questions.
Within 30 seconds of Woods' presser ending, the room emptied out. Adam Scott — a guy who is accustomed to commanding a room — entered. Very few seemed to notice. Tiger is a tough act to follow.
Everyone loves Riviera, especially the pros
The event may be pressure-packed but it's clear the players had a LOT of fun at Riviera last week. I spent some time hanging out by the flash zone where post-round player interviews happen, and no one seemed to be in a rush to get out of there. Collin Morikawa and Viktor Hovland caught up, and Collin even took the time to take some photos of his fiancee and her friends following his final-round 65. All this is to say that if the World No. 2 has time to take an Instagram for his gal, so should you.
The talk of the town
I went into the week expecting everyone to be talking about Tiger and Riviera. Those two got some attention, but the real topic of interest at the Genesis was the Saudi League. Every player was asked about it. In fact, it seemed like questions about the course or play were simply a formality before reporters would get to the questions everyone wanted answered. Joaquin Niemann declined to comment, Viktor Hovland said he'd play wherever the best in the world went, and on Sunday DJ and Bryson DeChambeau (neither of whom were in attendance) released official statements that became the talk of the town.
With all this chatter about the Saudi League, I want to take a moment to clear the air: I, Claire Rogers, am fully committed to GOLF Magazine. As long as the best media members in the world are working at GOLF.com, so will I.
Media center observations
First off, they had an espresso bar set up in the media center which I thought was super cool. I wasn't the only one — Matt Kuchar came in just because he heard the coffee was so good.
The media center this week was actually in the Riviera clubhouse, which meant we got amazing views of the course from the front balcony. Check 'em out:
I bet media members who travel frequently to tournaments are used to it, but this entire experience was brand-new to me, so everything seemed particularly exciting. Free food? Inside-the-ropes access? Sign me up!
As someone who doesn't usually go to Tour events, I'm used to just reading players' press conference transcripts once they're published. Seeing them live was totally different. For instance, I learned that Patrick Cantlay really likes to pause and sit in the silence as he thinks about how to answer a question. On the other hand, Max Homa talks through the questions he gets as if they're a riddle that we're all solving together. There's no right or wrong way to do it, I just found it interesting how differently two players can approach a very similar exercise.
Celeb sightings
Nelly Korda was out and about at Riviera throughout the week, and Harry Higgs even asked her to sign a golf ball for him. It was a unique "game respects game" moment that I got to see up close.
Speaking of Harry, I got to follow him when he teed it up alongside my coworker Ashley Mayo in the Wednesday pro-am. He was as funny, down-to-earth and as relatable as they come. (Disclaimer: I can't relate to his actions on the 16th hole on Sunday at the Waste Management Phoenix Open or his skill level, but other than that, he seemed like a regular guy!)
And for any Twilight fans out there, I spotted the Taylor Lautner walking around and following the action on Saturday afternoon.
Miscellaneous thoughts and photos
Dylan Dethier and I headed to Chester Washington Golf Course on Tuesday, where Tony Finau, Cameron Champ and Sean Foley led a junior clinic. Despite it being a little chilly, a ton of kids came out to learn from the best of the best. Check it out:
Justin Thomas won the Best Dressed award in my book. Huge fan of the statement pants.
Speaking of clothing … It seems as though Adam Scott has a new favorite sweater.
Let's talk about this. Adam Scott is a handsome guy. He doesn't need flashy clothes to make him look better. So I fully support the way he has gone full "Catholic school uniform" on us. It probably saves him (and whoever does his laundry) some serious time in the morning.
Seriously though, the last week was a blast. I got to meet Erica Herman, Jena Sims and a bunch of great people in golf media. I followed some big-time players inside the ropes and rode with my pals to the Riviera gates while listening to Taylor Swift's ten minute version of All Too Well. It was like, the best field trip of all time.
And for my last note from the Genesis, a shout-out to my coworkers who made sure we worked in style all week. Dylan and Sean rocked Radmor Golf apparel, Zephyr spilled coffee and lived to tell the tale and I *kind of* got a picture with Tiger.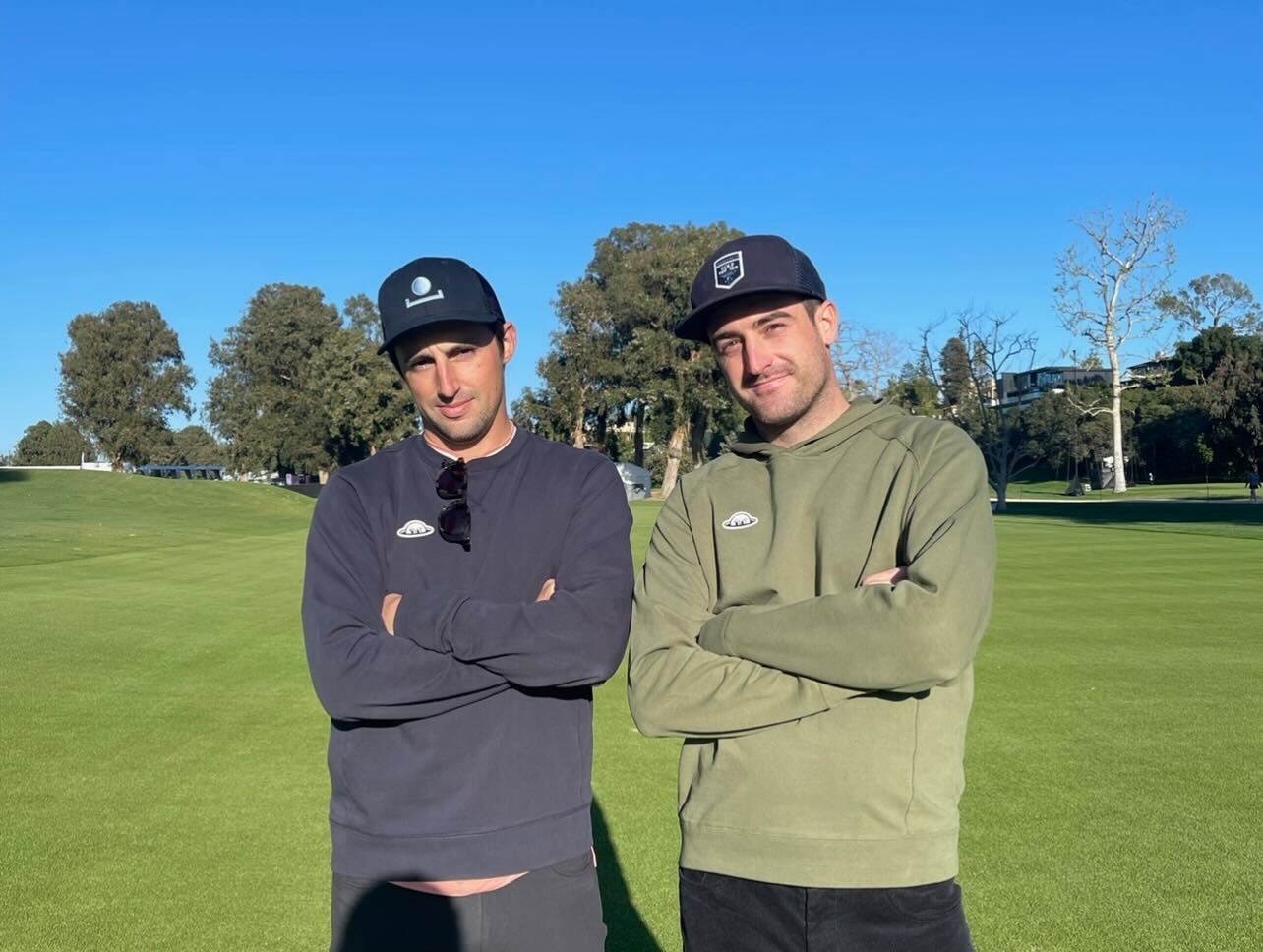 And finally, I got to witness and even guest-star in the recording of the beloved Drop Zone Podcast. Make sure to give it a listen.
Part II of the Rogers Report
This is but a taste of what's to come next week, as we will have lots to discuss. First and foremost is Phil's "apology."
There is a LOT to digest here, but my main takeaway is that "I apologize for anything I said that was taken out of context" is a great half-apology that I will be using after any arguments in my future.
Next up is Paulina's Bachelorette. She and her pals jet-setted off to St. Barth's this morning. I'll share a few of her best Instagram stories thus far here, but it's important to remember that we are only on hour 10 of what could be a week- or even month-long event.
I did notice that Paulina is rocking Nikes, which DJ probably wouldn't be (contractually!) caught dead in. But it's her week, she can do whatever she wants! Don't worry, we'll have full bachelorette party details in next week's Rogers Report.
(Is that a good tease? I think that's a good tease. I think I'm starting to get the hang of this.)