This is a story about the heart. It begins three years ago, when I introduced myself to Marilynn Smith, the Hall of Famer and one of the founders of the LPGA. We smiled at each other and there was an instant connection. She watched me play at the inaugural Founders Cup in Phoenix and then again later that year at the CME Tour Championship in Naples, Fla. I don't know why she picked me, but the connection grew stronger. Her hugs were the best, no matter my score — they were real and honest.
I watched her, too. She said thank you to every volunteer who crossed her path at tournaments. People asked her for autographs and she would happily sign, but then she'd ask them how they were doing and where they were from, listening intently, cracking a joke and making them smile. I marveled at her patience and ability to connect with others.
She started writing me letters, and then suggested we talk on the phone. After our first chat she asked me if I would call her again the next week. And so it began. We spoke every Sunday, no matter if I was in Florida or Taiwan. There were plenty of times when I didn't feel like it, but still I called. Every time we hung up, my heart felt full and I think hers did, too.
---
Marilynn loved to give me little tips but I'm quite stubborn so I was reluctant to try them. I can't even tell you how happy she was when I finally switched to left-hand low putting and my stats improved. She must've told me a thousand times, "Don't forget to aim at the top of the flagstick so you don't end up 15 feet short of the hole." Yes, Marilynn, I will. But she cared more about me as a person than as a golfer. "Are you smiling? Keep smiling and hold your finish," she would remind me. "Are you writing your thank you letters and thanking the pro in the pro shop?" Yes, Marilynn.
Every little gesture meant so much to her. In January 2018, I went through a difficult time in my personal life and was slowed by an injury. All I did was paint, walk in the Austrian mountains and contemplate life. Marilynn was very concerned and our calls during that time were so precious to me. She asked me to paint something for her, preferably a landscape. I hate doing landscapes but I gave it a try. To my surprise, it turned out okay, and I gave it to her at our tournament in Phoenix, where we had first met two years earlier. She loved it and every Sunday after that would tell me she had found something new in the painting. I couldn't fathom the gratitude she had for the smallest of things in life.
When I was playing well, she would write down word-by-word what the commentators had said about me and then replay it to me over the phone. That always cracked me up. She loved that her mom was born 20 minutes from where I grew up in Germany, and she often remarked on how close I am to my dad. She admired her father and always remembered him fondly. She called my dad "Segway Jan," because he rocked a Segway at our Tour Championship in order to breeze around the course, always making Marilynn laugh. Her laughs were the best. Loud and full of heart.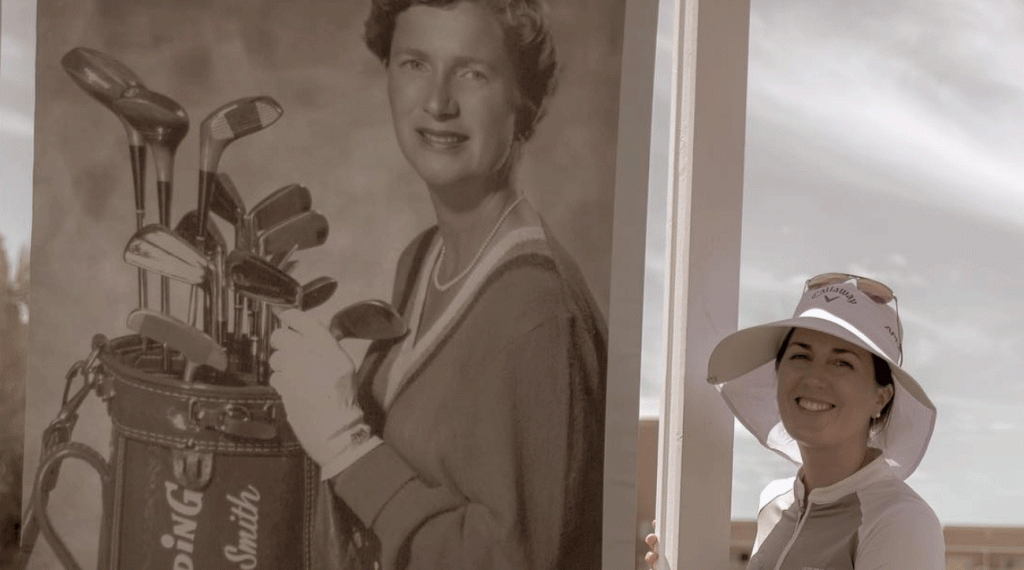 ---
Our phone calls always (and I mean ALWAYS) ended with her telling me how blessed she felt with our friendship and that she loved me. It was lovely to hear her say that but only in the last few days did I come to understand how much I meant to her.
Last week, during the ANA Inspiration, Marilynn was hospitalized. He health was rapidly failing but when I called her she was interested only in talking about me. As soon as the tournament ended my dad and I rushed from Palm Springs to Phoenix to see her. Her beloved niece had flown in earlier that day. I was told that Marilynn was hanging on to say her final goodbyes to us. Unfortunately, she couldn't speak anymore or even open her eyes, but she could still smile. I got to hold her hand, stroke her face and just enjoy her presence. I bought her a stuffed bunny — it was one of her favorite animals — and placed it in her other hand. From Jack Nicklaus to Renee Powell, everyone sent their well-wishes. The amount of love pouring in from the golf world during her final hours was overwhelming. She peacefully fell asleep with the bunny still in her hand.
To receive GOLF's all-new newsletters, subscribe for free here.
Why does it take death for us to feel love more powerfully? My mind tells me I could've done more, given more, loved more, but in my heart I can feel my love for Marilynn. What magic to have met someone who always saw goodness in the others, who appreciated kindness above everything else and who had this special ability to make people feel seen. I hope to honor Marilynn by learning to care about people as much as she did. The world knows her as one of the founders of the LPGA and a Hall of Famer. I will always think of her as the extraordinary human being who cracked my heart open.