Nicklaus Award winner Sahith Theegala taking 'Mamba mentality' to the pro ranks
Getty Images
It's hard to quantify all the ways in which Sahith Theegala will bring a certain freshness to the PGA Tour. But, for starters, he's the first Sahith and the first Theegala to tee it up in golf's big leagues. That alone is a mouthful for some people.
On the first tee at the Rocket Mortgage Classic last week, Theegala had to repeatedly enunciate his name — for the starter, for the other players in his group, for one of the caddies: SAW-hith THEE-gala, always delivered with a smile.
"Even if they know how to pronounce it, they'll ask me," Theegala said in a phone interview earlier this week. "It's funny how many people find ways to add letters or syllables."
If Theegala has the same success in the professional ranks that he did in college, it won't be long before the whole golf world knows his name. The three-time NCAA All-American at Pepperdine officially wrapped up his college career Tuesday when he was named the Division I Nicklaus Award winner, adding to the Ben Hogan and Haskins awards he claimed in the spring. In a sign of the times, Theegala accepted the honor Tuesday by way of Zoom. He called in from his parents' house in Chino Hills, Calif., joining the session with the four other Nicklaus Award winners, plus the Golden Bear himself.
Such is life for a young player turning pro in the midst of a pandemic.
Theegala, 22, played his first two PGA Tour events as a professional this past month, at the Travelers Championship and Rocket Mortgage Classic, missing the cut by four strokes and three strokes, respectively. At his side was Michael Beard, his coach at Pepperdine and temporary caddie. Beyond that, his debut was shared with his loved ones at a social distance, by way of ShotLink tracking and an iPhone.
"More than anything I envisioned my family and friends being there supporting me," Theegala said. "I've made this journey with them. To play the first couple without them kinda felt a little empty to me."
That's the PGA Tour right now. It's quiet out there, especially for a newbie who just said goodbye to his Pepperdine teammates of five years (the Waves were ranked No. 1 in the country before the coronavirus shutdown). Theegala admitted that within that emptiness at the Travelers he tried too hard to "fit in," grinding to sharpen every last edge of his game. Arrival Sunday; practice rounds Monday, Tuesday and Wednesday; practice on top of more practice. The schedule wore him out.
"On Friday I was just beat. I was like, 'This is not how it's supposed to feel,'" Theegala said. "It's not that I beat a bunch of balls, but I just feel like I was out there too long because it's just available." It's a common trap for young players: the endless pursuit of perfection meets the Law of Diminishing Returns.
Truth is, Theegala has thrived by being himself: an Indian-American, a study of his idol Kobe Bryant and an exceptional "feel" player. When his flatstick wasn't working in Detroit last week, Theegala flipped from a cross-hand grip (left hand low) to traditional style on the 6th hole — just like that, mid-tournament, during one of a precious few Tour starts he'll make in 2020.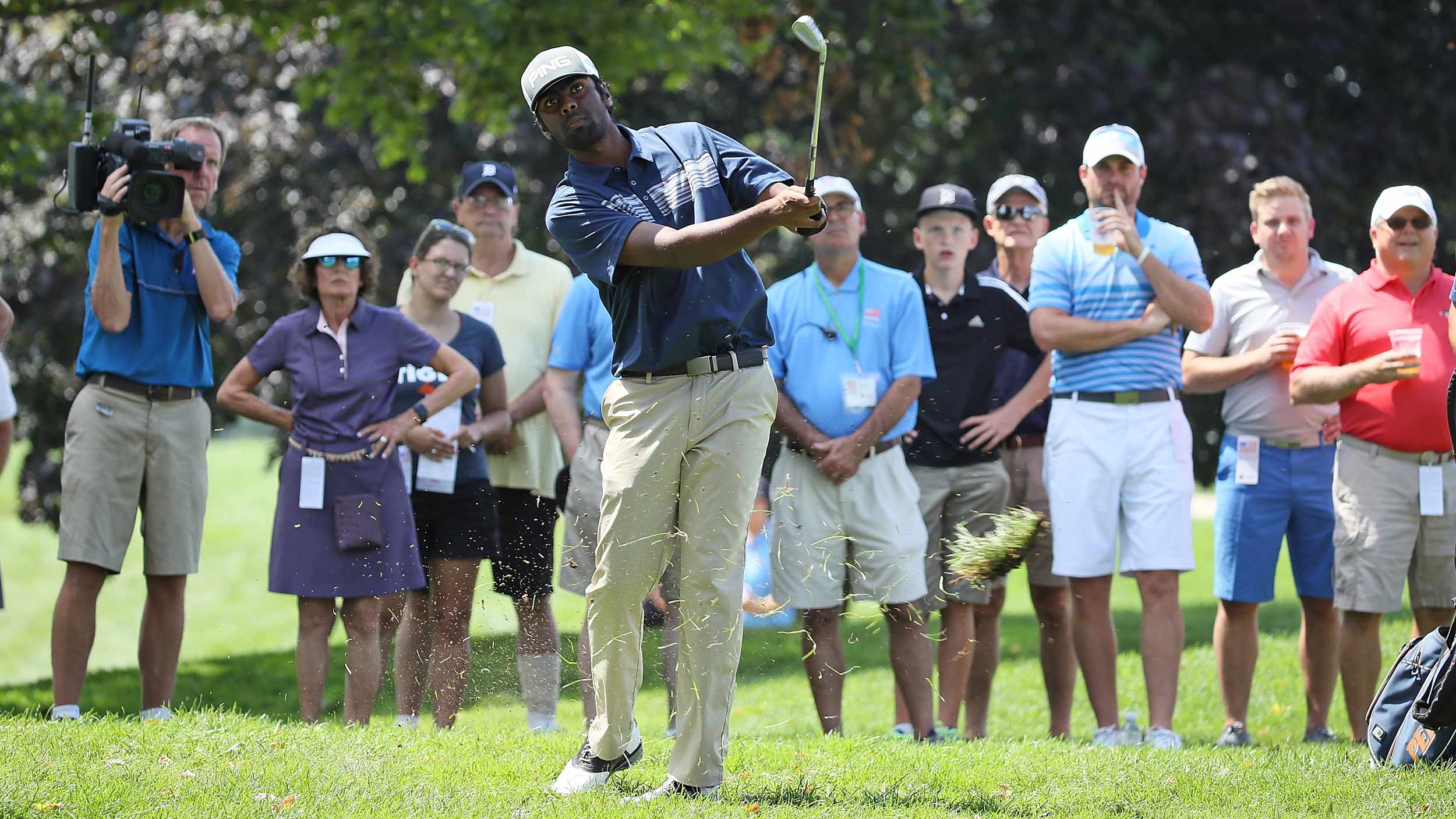 "I was putting terrible," he says. "So I was like, 'All right, let's switch up the feel.' I just go back and forth depending on, literally, how I'm feeling." After making the switch, he promptly dropped an 11-footer for birdie.
It's an approach Theegala has taken, off and on, since high school, and it epitomizes how his parents raised him. Theegala says he was always urged to enjoy the game first, and follow it where it takes him. When wrist surgery in January 2019 left him unable to comfortably grip the putter traditionally, cross-hand putting took hold. In two weeks, at the 3M Open (his next sponsor's exemption), he might be back to traditional. Whatever feels right in the moment.
Raised in SoCal, Theegala was a tall kid — he's now 6-foot-3 — with a solid jump shot, so he gravitated toward Bryant and the Los Angeles Lakers. Though golf eventually won him over, Theegala didn't take his cues from Tiger Woods or Phil Mickelson, like so many other elite young players.
His mindset was and is rooted in Bryant's legacy.
"I have always said that if I could get a little percentage of his Mamba Mentality, I would be great," said Theegala, who won the Southwestern Invitational earlier this year donning a Bryant jersey. "I still don't think I've even succeeded in getting 10 percent of that. I don't think anyone will. The guy just had insane willpower … but I definitely keep that in the back of my mind. Especially when times are tough."
Perhaps that's why Theegala was grinding early in the week at the Travelers Championship, because times will get tough. They always do, even for the most gifted collegiate players. Norman Xiong was the can't-miss prospect in 2018 coming out of the University of Oregon. He, too, won the Nicklaus Award and was unfairly compared to Tiger Woods. Xiong has notched just one top 20 in the last two years. Nothing is guaranteed for these players, no matter how many awards they win.
As Theegala competed in the first round of the Rocket Mortgage, 25 other players and caddies were on the putting green, prepping for the first round, all of them white. While the lack of diversity in pro golf isn't something Theegala dwells on, he did recently tell The New York Times, "Hopefully there is some inspiration behind that, for people who watch me and realize that you don't have to be the stereotypical white golfer."
"Coming out of this year, I think [diversity] is going to change moving forward," Theegala told GOLF.com. "It's cool seeing guys like Harold Varner step out during a crazy time like this and just speak his mind. I think that's inspiring so many people."
Theegala added that he's hopeful that he, too, can be impactful in terms of changing the demographics of golf.
"It's not something like, 'Oh, wow. You play golf?'" he said. "Instead it's like, 'Oh, nice! You play golf.'"