PGA Tour NFTs set to become latest revenue stream for players
Getty Images
The PGA Tour is readying to release its own series of non-fungible tokens, popularly known as NFTs. The Tour teased the news in a memo to players Friday, saying it is "excited" at the impending launch of "a video-based NFT platform."
The Tour called its plans "a new incremental revenue opportunity for players" and cited the NBA's wildly successful Top Shot as the type of platform it hopes to create. According to the memo, a copy of which was obtained by GOLF.com, the Tour hopes to create the following:
1. A new fan engagement platform to meaningfully engage with fans
2. "Best-in-class" partner to build and promote players' brands
3. Incremental, long-term revenue opportunity for members
For the uninitiated, NFTs serve as unique digital assets that cannot be replicated or replaced. Essentially, the PGA Tour is hoping to create digital collectibles that cannot be duplicated, and that will ideally increase in value in the marketplace of an avid community. (Still confused? The Verge offers a solid explanation here.)
A number of factors for the Tour and its NFTs hinge on the aforementioned group of "participating members." The Tour itself is a non-profit 501(c)(6) organization that has more than 200 members. Those members are often referred to as "independent contractors" who set their own schedules and generally reap the benefits as individuals based on their performance. Whereas essentially every NBA player has an NFT of their likeness, just because a player competes on the PGA Tour does not mean that there will be NFTs created of them. At its core, the Tour just wants to provide another potential revenue stream for players who choose to participate.
Could there be an untapped market of crytpo-minded golf fans? Will there be enough demand for digital golf collectibles? The Tour, which declined to comment, is now close to finding out. A simple Twitter search shows that an audience exists. Google, too. If a digitized, pixelated character based off Arnold Palmer in the "Golf Lords Collection" can be priced at 1 Ethereum (or around $4,000), well, there's probably some supplementary income to be made by some of the Tour's brightest stars with Tour-licensed highlights and pictures. A target launch date was not shared with players at this time.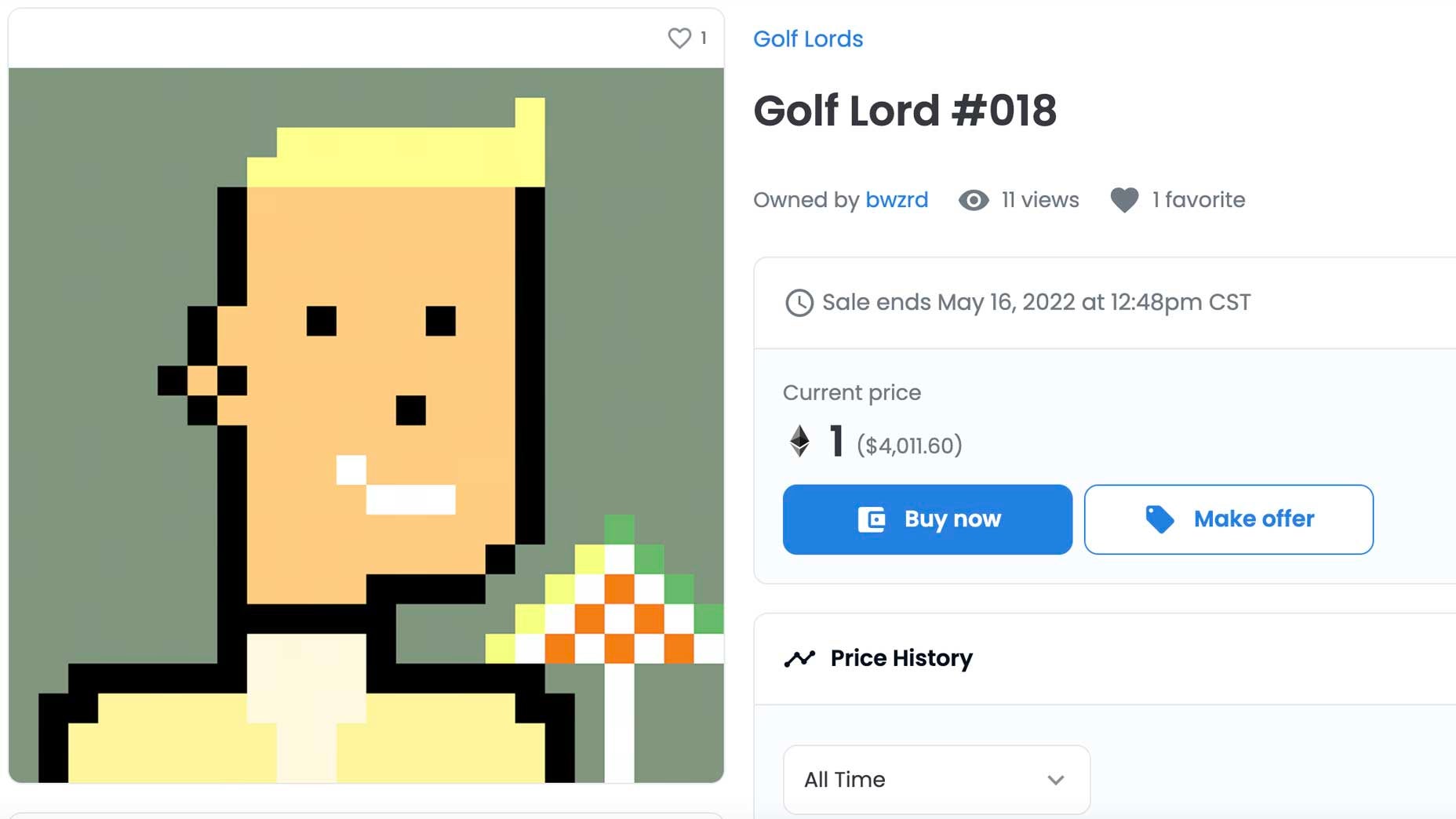 Importantly to the players, all "net revenue from the platform will flow directly to participating members." Net revenue, in the case of NBA Top Shot, is a 5% seller's fee involved in every transaction that is split between the league, the players union and the parent company, Dapper Laps. When millions of dollars of transactions take place each day, the value adds up.
So, what will these NFTs look like? The Tour owns a deep archive of intellectual property, and it promised players it intends to utilize its "full suite," inclusive of video highlights and ShotLink data. Owning, say, the highlight of Jordan Spieth's bunker hole-out that launched his career at the 2013 John Deere Classic seems like a possibility, so long as Spieth is a participating member. Same goes for Brendon Todd's shank at TPC Sawgrass that nearly landed on the other island.
While the Tour continues to hammer out the specifics of the platform — more information is expected to be shared in early 2022 — it is bound to be the most robust professional golf offering in the NFT industry. It will not be the first, though. Bryson DeChambeau sold a collection of his own NFTs in March, which continue to be purchasable on OpenSea. The 1/1 "Distance" Special Edition NFT sold for 24.15 ETH, which holds a current value of more than $95,000.
Then, in September, Tiger Woods announced he would be releasing a collection of 10,000 NFTs through the company Autograph, which was co-founded by Tom Brady. While many of the Woods collection are not currently listed for sale, a few are, and for a steep price. As of Friday evening, a "Tiger Woods Ruby Signed" was listed for $250,000. It is one of 12.
For players of Woods' or DeChambeau's stature, will there be greater incentive to do business on their own, independent of the Tour's platform? That's the only evidence we have of pro golfer NFTs to this point. But the Tour is entering this space with a "If you build it, they will come" mentality, and proof points exist with other popular sports leagues. The NFL launched NFL All Day in a beta version just a month ago; Dapper Labs also runs that platform. It is unclear who the Tour will partner with for its platform, but between the Woods and DeChambeau releases landing successfully, there appears to be an untapped market for golf.
Charlie Woods NFTs are available online. Lee Wybranski's popular golf course artwork has been minted as NFTs, too. The news arrived in players inboxes coincidentally just one day after Joel Dahmen — among the Tour's most beloved characters — announced a partnership with Crypto Country Club, an online community that promises to have "people from all over talking about golf, crypto, NFT's and everything in between!" That community is a sign that there are potential investors out there. Question is, just how many?