Ben Affleck's golf metaphor, Rory's Succession thoughts, RIP to Match Play | Monday Finish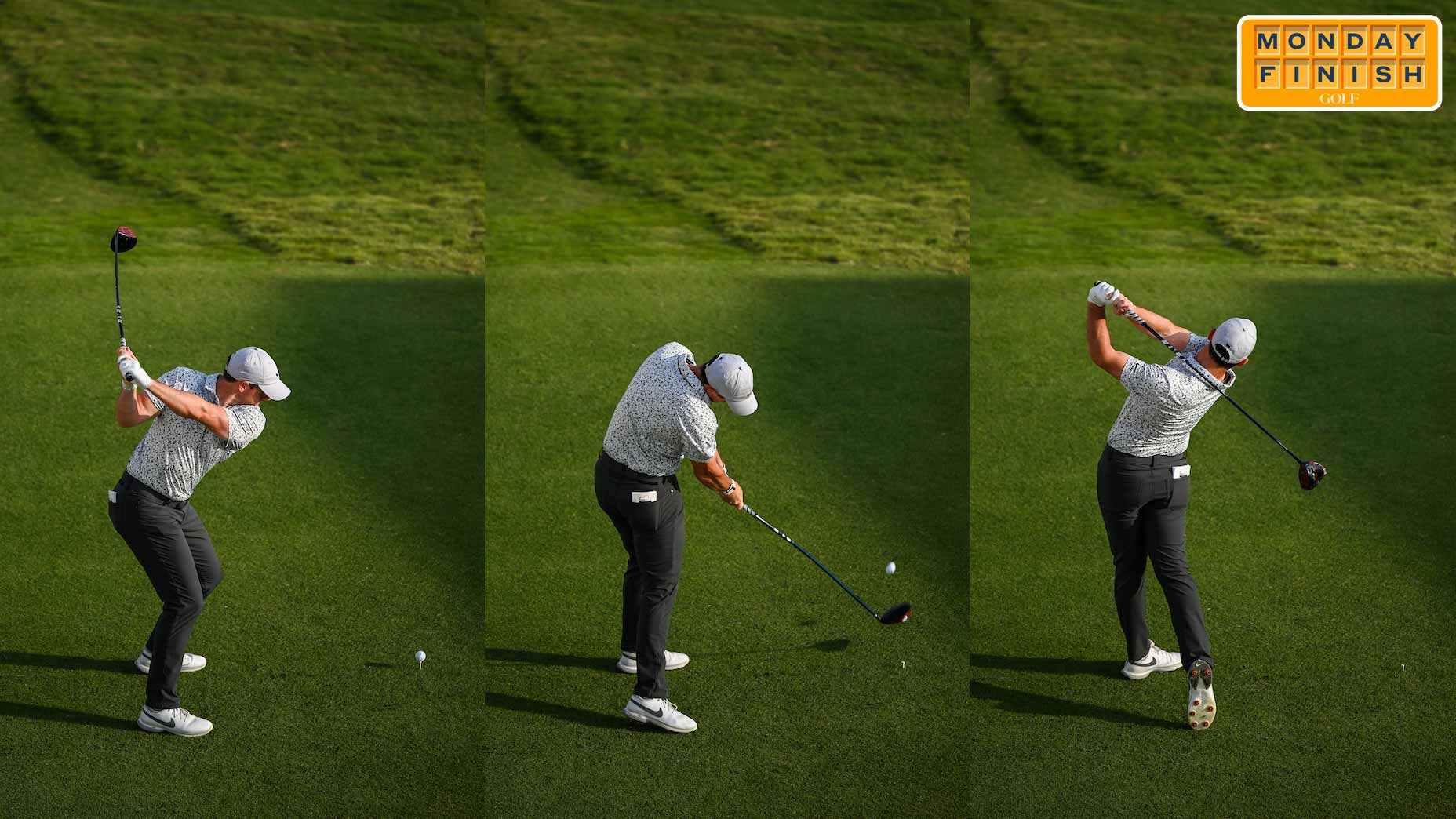 Keyur Khamar / Getty Images
Welcome back to the Monday Finish, where we're picking San Diego State to win the National Championship and the Masters. Pressure's on, Xander Schauffele. Let's get to it!
FIRST OFF THE TEE
RIP to the Match Play.
This week marked a fittingly thrilling end of an era for the WGC-Match Play at Austin Country Club. The top-tier guys played well, with five of the top six seeds (everybody except Jon Rahm) combining for a 15-0-0 record in pool play and providing a star-studded weekend cast. There were spectacular shots, like Rory McIlroy's 376-yard missile at No. 18. There were particularly strange shots, like Jordan Spieth's broken-phone up-and-down. "Keep Austin Weird" has always doubled as an appropriate background motto for this event. Keep the Match Play Weird. Rahm described ACC as a venue the best:
"I don't think it would be a favorite course for stroke play. But, again, for match play, it really, really, really works."
That's well said. It would make for a compelling but slightly awkward stroke-play course, but ACC serves up a series of compelling half-par holes — like the drivable 13th, which is basically a par 3.5 but also features water down the entire left side. Do you play it safe, assuring par and giving yourself a chance at birdie? Or do you go for glory and a potential eagle try? That's hardly the only half-par hole: No. 16 is effectively a par 4.5, No. 17 is a miniature par-3 and No. 18 plays as another 3.5. Watching strategies evolve down the stretch has been a particular Match Play pleasure.
It was also fitting that the tournament finished somewhat awkwardly. The majority of fans were pulling for a McIlroy vs. Scottie Scheffler showdown in the Sunday afternoon finale. Most of the way through their Sunday morning matches, that looked like a near-certainty; McIlroy was 2 up on Cameron Young with three holes to play, while Scheffler was 2 up on Sam Burns through 12 and 1 up through 14 — and even once Burns forced extra holes, Scheffler faced a five-footer for the win.
But it wasn't to be. Young rallied. Burns rallied. They finished off their respective superstars in extras and then met in the final, where Burns hopped onto a bulldozer, making birdie on eight of his final 10 holes to flatten Young 6 and 5. The match ended with plenty of time left in NBC's broadcast window and plenty of disappointed fans on the final few holes. The good news was there was still an exciting consolation match going on; Scheffler and McIlroy were battling it out in the third-place match for the final spot on the podium (yeah, I'm still trying to make the podium thing happen). Tournament organizers would have done backflips for this final four. They just would have written the end script slightly differently.
The end of the WGC-Match Play is accompanied by calls to fix the format. My solution is imperfect but at least relatively simple: Keep everything about the event the same but move everything back one day. The best days of the tournament are currently Friday and Saturday; let's just shift those to Saturday and Sunday! Monday's final matches will still be relatively anticlimactic but they'll provide plenty of work-day distraction. Sponsors and fans can soak up the full power of match-play golf on the weekend, with round-robin madness wrapping up Saturday and a bevy of matches kicking off Sunday morning and running through the afternoon. Not bad, right?
WINNERS
Who won the week?
Sam Burns won the WGC-Match Play. How'd he do it? I'm guessing Burns has some sort of genie or shaman-type character he visits in Tampa around this time of year. The last two years that meant wins at the Valspar. This year it seemed to kick in late with a final-round 67 at Innisbrook, where he finished T6, before carrying over to an undefeated week in Austin. So, yeah. Either Burns found something with his irons and got red-hot with his putter — or it was the shaman thing. I'll let you decide. Oh, and shoutout to David Toms, Burns' longtime Louisiana mentor, who won the Galleri Classic, the PGA Tour Champions event this weekend in Palm Springs.
Celine Boutier birdied No. 18 at Superstition Mountain to force a playoff with Georgia Hall. Then she birdied 18 again to win for the third time in her LPGA career. What was it like to take down her Solheim Cup teammate?
"After I made my putt and I went into the playoff, I definitely also was thinking: if I'm going to miss my flight, I'm going to make sure I win this thing," Boutier said. "I'm not losing and missing my flight, so I was definitely having a little bit more motivation this there." Job well done. On the Epson Tour, Miranda Wang won her first event at the IOA Championship at Morongo Golf Club.
Matt Wallace got the job done at the PGA Tour's opposite-field Corales Puntacana Resort and Club Championship. He won 300 FedEx Cup points to jump to No. 45 in the standings and moved to No. 117 in the world. Some interesting perspective on opposite-field events: the field strength at Corales was 91.87, significantly lower than the Match Play (304.01) but not all that much stronger than the DP World Tour event (80.52) won by Nick Bachem nor the Korn Ferry Tour event (78.38) won by David Skinns. The golf world has some incredible heavyweights at its top — but the talent pool is deep.
ALMOST-WINNERS
They pay money for second, too.
Cameron Young debuted a new caddie this week — Webb Simpson's longtime bagman Paul Tesori — and immediately shot 27 on his opening nine. Until the final, Young played better golf than anybody else and his Masters stock shot way up in the process.
Had one short putt gone in on the 13th green, Scottie Scheffler may well have won this thing again; instead he somehow leaves the weekend on a two-match losing streak, but still belongs at the top of the favorites list heading to Augusta. And Rory McIlroy, new putter in hand, jumped to No. 2 in the world and remains quite good at golf, too. Jason Day showed out, Matt Kuchar tied Tiger Woods' record and Keegan Bradley won his first match in, like, a decade.
Nicolai Højgaard finished one shot back at the Corales, earning a bunch of non-member FedEx Cup points in the process. Keep an eye out for Tyler Duncan, who logged his second podium in four starts. Georgia Hall climbed to No. 13 in the world with her runner-up finish.
NOT-WINNERS
Meh.
We're used to chaos in tournament match play, but the stellar performances put on by a majority of the top seeds made no-shows from Jon Rahm, Will Zalatoris and Viktor Hovland stand out. (Collin Morikawa, Jordan Spieth and Tommy Fleetwood were also notably meh.)
By contrast, other not-winners showed plenty of game anyway, including Tony Finau, Russell Henley and Brian Harman. The latter two will make for interesting sleepers come Augusta.
LIFE LESSONS
Rory on Succession.
This week's most intriguing golf media appearance was…Rory McIlroy joining the Trap Draw podcast to run through its preview for the fourth season of Succession, which premiered Sunday night. (You can listen to the whole thing here.)
To get the obvious question out of the way: Why did he jump on the podcast? He has a good relationship with the No Laying Up crew, for one thing. For another, he just finished watching the show for the first time — and he's aware some people might have Rory fatigue when it comes to golf-specific drama.
"I think people have really heard enough of me talk golf the last couple years, so I was all in on this," McIlroy said. "And as a pretty late starter to watching Succession, it's pretty fresh in my mind."
His entire appearance was interesting, but I was most struck by how the show has made him evaluate something in particular in his own life. Prompted by host D.J. Piehowski — "I'm going to go out on a limb and say you have a lot of money," Piehowski said — McIlroy let us in to a moment of self-reflection on how he'll plan to raise a wealthy child.
"Now that I'm a father and I've got a daughter that's going to grow up in a lot of money, it's like, how do we not f— her up? You see these children, and it's like, oh my gosh, it's not just Succession, obviously this is a bigger theme around the world. You want to give your kids enough to be able to help them on their way, but you get into this sort of stuff, and y'know, hopefully she's not going to have any sort of power struggle over whatever, I don't think I'll have a Waystar Royco sort of company, but still. It gets me thinking, like, Jeez, whenever kids grow up in this environment with these things — they grow up around kids that have similar things, it's like, they must just become so numb to it. So in my mind it just gets me thinking gee, I have this little daughter who's three years old, how do I make sure she's not as f—-d up as these kids?
McIlroy added that while he's grown accustomed to being around people of a certain level of wealth in south Florida, he's not yet heard of someone taking a helicopter to a softball game. So there's a little ways to go to reach Succession level yet.
QUOTE OF THE WEEK
Massachusetts' own Ben Affleck.
In a Q&A in the Hollywood Reporter, Ben Affleck explained that he'd first met Michael Jordan — an important figure in his new movie, Air, which centers Jordan, Nike and a sneaker-business revolution — at his golf course. (We're assuming that meant Grove XXIII.) Did Affleck play?
"I waited for him to finish playing. I don't golf myself. Because I just feel like it eats people's lives up," he said. "I look at golf like meth. They have better teeth, but it doesn't seem like people ever come out of that. Once they start golfing, you just don't ever see them again. So anyway, I waited."
Nothing to add.
NEWS FROM SEATTLE
Monday Finish HQ.
Sometimes I try to tell little Seattle stories that speak to larger, relatable global stories in this section. Today I won't bother and will get extremely specific: the bridge to West Seattle has been open for several months, which basically means that a portion of the city is now accessible in roughly 15-20 fewer minutes than before, depending on traffic. The muni in West Seattle is among the best in Seattle proper, but I've only played it in terrific weather. Now? I'm pumped to have a shorter drive, a bridge view of the downtown (love a bridge view) and access to H. Chandler Egan's work.
WHAT'S NEXT
3 things to watch this week.
1. The final Masters spot.
There's one more Masters berth up for grabs at this week's Valero Texas Open, and given there are less than a dozen players in the field who are already qualified, we're likely to see that final invitation given out. Rickie Fowler would make for an interesting winner. So would Matt Wallace, I suppose, whose opposite-field win didn't get him in. Tournament favorites Tyrrell Hatton and Corey Conners are already in.
2. Palos Verdes.
In January we trekked to Palos Verdes to explore one of the more scenic munis I've seen, Los Verdes, which may lack in careful maintenance and pace of play but makes up for it in views and value. This week the LPGA pros will be just down the road at Palos Verdes Golf Club, where they'll play the DIO Implant LA Open. Billy Bell and George Thomas designed the course, which features some top-tier southern California visuals.
3. TV ratings talk continues.
There's a lot more than that to it, of course. But LIV returns to action in Orlando this week, and once again they'll go head-to-head with a lesser Tour event. I spent plenty of hours with James Colgan last week sorting through reports from Nielsen and iSpot to figure out how to compare one league's TV ratings to another, but it'll be intriguing to add a third data point this week. One thing we know for sure: both events combined will be dwarfed by next week's Masters.
We'll see you next week!