CBS Sports chief rejects anti-LIV accusations; defends Koepka, Phil PGA coverage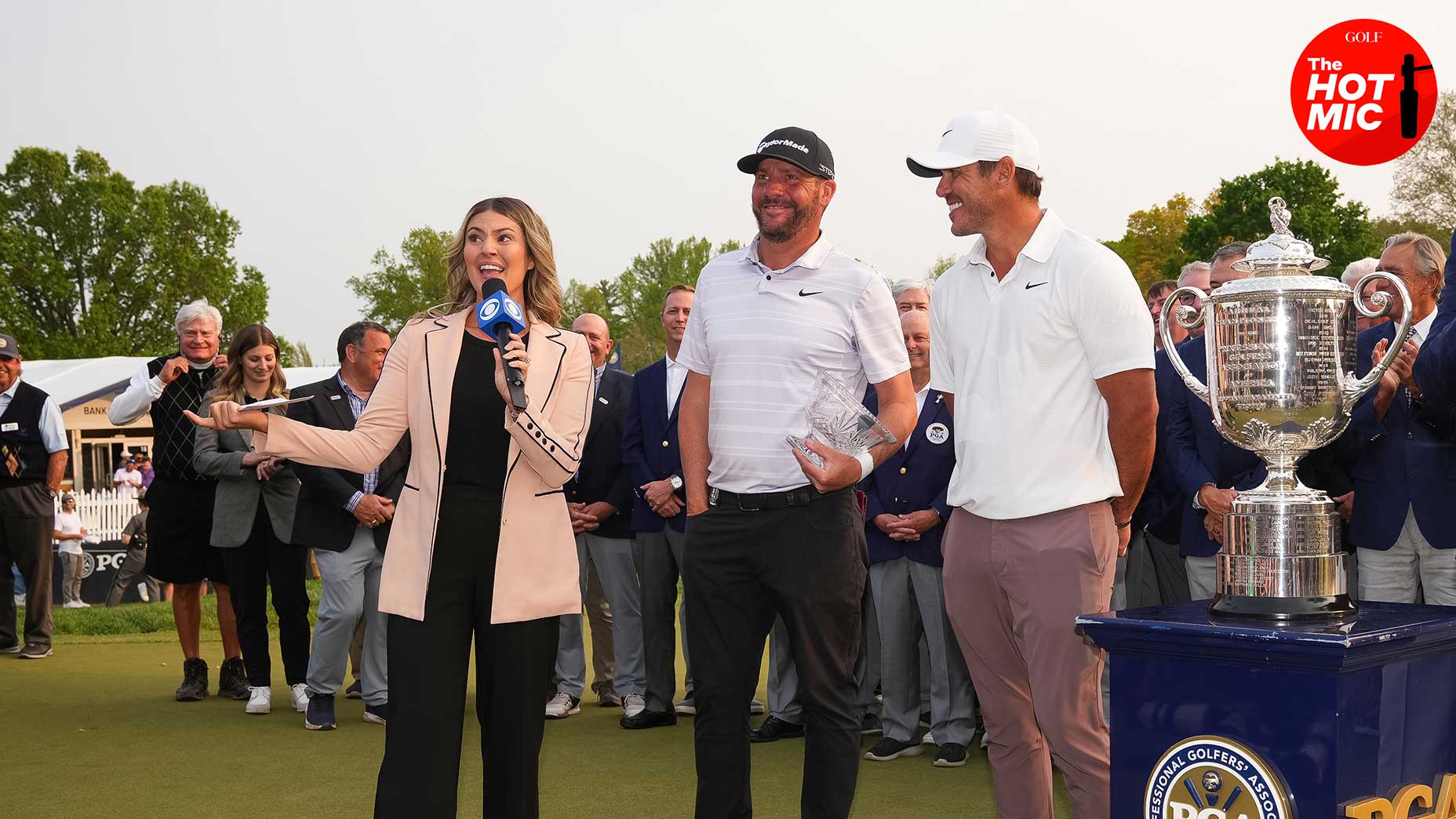 Getty Images
It's hard to say with any clarity how Jim Nantz feels about LIV Golf, but it's slightly easier to know what he thinks of the league's broadcast partner.
Twice in the last two months, the celebrated golf broadcaster has used CBS's major championship pulpit to deliver a subtle jab at the CW, which is in its first year as LIV Golf's official broadcaster.
"There he is right on the C.W. … the crosswalk," Nantz said first at the Masters, a tongue-in-cheek comment trained in the direction of then-tournament leader Brooks Koepka.
Nantz was at it again last week at the PGA Championship in Rochester, delivering another poke at LIV's TV partner on the heels of news the network cut away from LIV's final round in Tulsa just before the start of a playoff.
"Not sure if you had the chance to see it," Nantz said, pausing for dramatic effect. "But he was the winner last week in Tulsa."
By most objective measures, Nantz's comments rank fairly low on the subjectivity index. There are more serious offenses committed every day in golf's greater tour wars than a few barbs sent at a fledgling broadcast network. But not everyone sees it that way.
For a separate segment of the viewing audience — a segment particularly visible and vocal on social media — Nantz's comments are indicative of a broader effort by CBS to keep LIV on the sidelines. In their view CBS is deliberately scrubbing LIV from its broadcasts and keeping the league's players off the air as long as possible. It's all part of a larger movement, they say, to support their friends on the PGA Tour in destroying LIV; a movement that goes all the way up the chain of command.
Sitting atop that chain of command is CBS Sports chairman Sean McManus. So, what does McManus think about those accusations? After a historic PGA Championship broadcast saw CBS crown Brooks Koepka the first-ever LIV major champion, I asked him.
"We will continue to treat golfers exactly the same whether they play on the LIV Tour or the PGA Tour," McManus told GOLF point-blank. "I would defy anybody sitting at home to say we covered those golfers any different than we covered the PGA Tour golfers.
The way we talked about Brooks and his accomplishments, coming back from injury, coming back from a position of his career, in his own words, being over. The way we praised him, and the way we highlighted just what an amazing comeback he's had," McManus said. "I would defy anybody to say, 'oh, they fit him in a little bit differently because he's playing on the LIV Tour.'"
One particular focal point of the LIV coverage debate has been Phil Mickelson, who some have suggested is being "shadowbanned" by CBS. The allegations first surfaced as Mickelson played his way into a stunning second-place finish at the Masters without much mention from the CBS team (Nantz later denied any nefarious behavior on CBS's part, citing the unusual timing of his charge). But the concerns from viewers continued at the PGA, where some noticed Mickelson's 2021 victory was left out of a CBS tournament retrospective — a perceived slight against the six-time major champ.
"Kicked me out of our fantasy league too," Mickelson wrote on Twitter in response to the accusations, a reference to a fantasy football league Nantz, Mickelson and fellow LIV golfer Graeme McDowell used to play in together. "But that was probably to even things out."
McManus, who okayed Mickelson's appearance on CBS's coverage at the 2020 PGA Championship, saw his network's coverage of the 2021 PGA Champ in Rochester differently.
"If anything, we over-covered Phil Mickelson during the two weekend days," he said. "Phil was never really in contention on Saturday or Sunday, but we showed an enormous amount of shots because people still like to see Phil Mickelson. It was only two years ago that he won the PGA Championship. We showed shot after shot after shot of Phil when he was a dozen shots or more off the lead. We didn't say 'oh, Phil's a LIV Golfer. We're not going to show as much of him.' It doesn't even enter into our mind. Not for one split-second."
McManus can speak with authority on coverage decisions because there are hardly any of them made outside of his knowledge. Unlike some other high-ranking sports media executives, McManus spends the lion's share of CBS's big events in the production truck — a habit that traces to his own roots in the industry. (McManus' career started as a production assistant at ABC.)
"I love production. It's always been my first love. So if I get the chance, in the smallest possible way, to be involved in the production of our major events, I really still enjoy doing that," he said. "I'm in the truck, not just for golf, but for the NFL, college football and college basketball."
McManus is normally keen to cede the floor to his hand-picked lead golf producer, Sellers Shy. But given his production background and institutional knowledge, he's unafraid to make his voice heard when it's necessary. He tries to do so only rarely — one example is a 'tale of the tape' segment that aired comparing Sunday playing partners Michael Block and Rory McIlroy — but if he felt a show was lacking in objectivity as it relates to LIV, he'd say so.
"We're not burying our heads in the sand at all," he said. "We talked about Brooks being on LIV. We didn't spend a lot of time talking about it because quite frankly, there's nothing you can say that will advance the storyline of LIV or the PGA Tour. Everybody knows the situation."
As is the case with so much relating to LIV, perception is not always reality. The suggestion that CBS would kneecap its own coverage in pursuit of helping its friends on the PGA Tour runs counter to the network's own best interests. Particularly considering it is CBS who pays the Tour roughly $350 million annually in media rights payments — not the other way around.
"We talked about it. Jim talked about it. Trevor talked about it," McManus said. "I'm proud of the fact that from watching our coverage, you'd have no idea who was a LIV golfer and who was a PGA Tour golfer. The first two interviews we did on Sunday were with Bryson and Brooks. I think they might have been the only interviews with Amanda. The two most prominent interviews we did at a major, last I checked, were on LIV."
In reality, the only thing that serves CBS's own best interests is to deliver monster ratings — and in that department, this year's broadcast didn't meet expectations. At 4.517 million average viewers, Koepka's PGA Championship victory was the least-watched iteration of the event in the last five years. Given Koepka's win, CBS execs and LIV fans can agree on one thing: they wish more people had been there to see it.