Few people get a chance to step foot inside the gates of Augusta National Golf Club, but those who do are in golf's version of Disney World — whether it's Masters week or not.
"My favorite times at Augusta have been not the Masters," said Rory McIlroy, speaking earlier this fall at the Zozo Championship. "My favorite times are, we've taken a couple of father-son trips, which has just been awesome. I think for a golfer, the greatest experience in golf is being invited to Augusta by a member, staying in one of the cabins, doing the dinners at night, going down to the wine cellar, picking your bottle of wine, all that sort of stuff. Those are the cool things about Augusta that a lot of people don't see."
We agree, Rory. But whether you get a lucky invite from a member or score a Masters badge, there are some places that are simply better (and more exclusive) than others. Here are the best of the best.
The Wine Cellar
As McIlroy mentioned, the wine cellar below the clubhouse — with reportedly over 30 pages of options — is one of the best collections around. Rickie Fowler, who has visited it, agrees with McIlroy: "The wine cellar is pretty spectacular," he said.
The Champions Locker Room
Tiger Woods, Jack Nicklaus, Gary Player, Arnold Palmer, Tom Watson, etc. Not just anyone can gain access to the locker room that sits on the second floor and overlooks the Founders Circle and Magnolia Lane. But once you're in, you're in exclusive company.
Berckmans Place
Berckmans Place had a soft opening in 2012 and was on full display in 2013 for the luckiest of Masters VIPS. Located off the par-4 5th fairway, it has replica putting greens of three holes (7, 14 and 16), several full-service restaurants, its own gift shop and TVs galore — so you'll never miss any of the action playing out just behind the trees. It's invite only, but also will reportedly cost you $6,000. (For that price, you better make good use of the food and drink.)
The Clubhouse Terrace
If you find yourself with access to the clubhouse, then you probably have access to the winding staircase leading to the second floor, where you'll find a dining room opposite the Champions Locker Room. Off the former is a wraparound clubhouse terrace, which overlooks the giant and iconic oak tree that was planted in the 1850s. You can (and should) eat out there, and it's a great vantage point to watch all the hustle and bustle below. It's also a favorite spot for previous champs to watch the action unfold on Sunday evenings.
Magnolia Lane
One of the most exclusive drives in all of golf. If you get past the gate, and past the security guard, soak in every second (unless said security guard is chasing you; then you got bigger problems). Magnolia Lane started as a gravel road, was paved in 1947 and is 330-yards long. Oh, it's also lined with 61 magnolia trees.
Founders Circle
If you've had a friend or relative (or maybe even yourself) visit Augusta National, chances are this is the picture they might have on their mantle. The Founders Circle is what those who drive down Magnolia Lane will be greeted with, with its perfect Augusta National-logo-shaped flower bed giving way to the memorable clubhouse. Here you'll find the club's flagpole and two plaques honoring Augusta National's founders, Clifford Roberts and Bobby Jones. Cameras aren't allowed at Augusta during tournament rounds, but ANGC workers/volunteers will snap your picture here for a lifelong keepsake. This is one of the easiest spots to visit on this list, so don't forget to make it a priority.
The Crow's Nest
The cozy Crow's Nest sits atop the clubhouse and has long hosted the amateurs in the Masters field. It has four bedrooms, one bathroom and is 1,200-square feet of history. In 2020, unfortunately, it's not fully booked.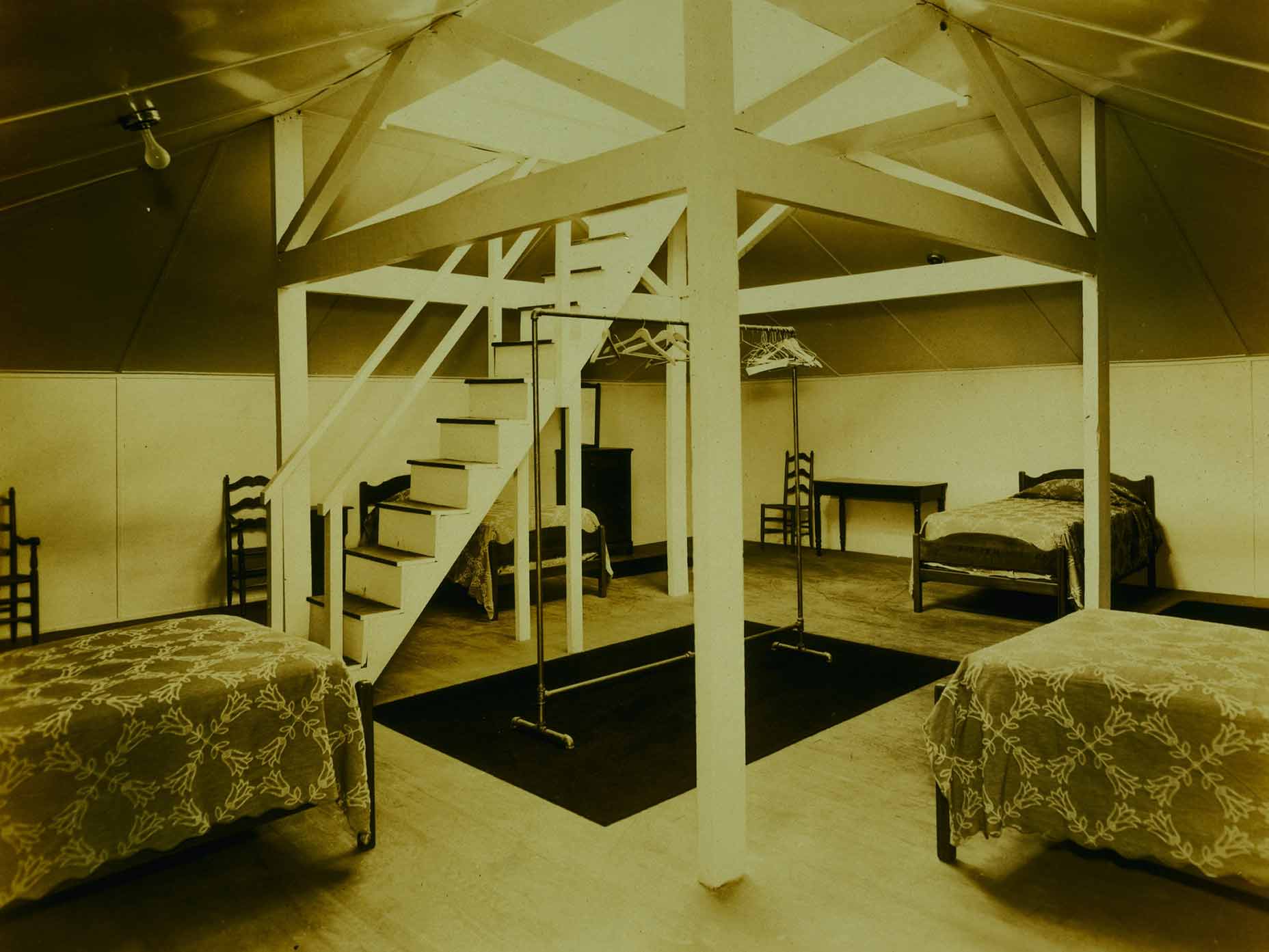 Eisenhower Cabin
Have you ever stepped foot in a building specifically built for a president? That's what this is, situated between the putting green and Par-3 Course and just left of the 10th tee. It was built, with help from the Secret Service, in 1953 for President Dwight D. Eisenhower, who reportedly made 29 visits to Augusta and played 210 times during his eight-year term.
Butler Cabin
Just a chip shot away from Eisenhower Cabin, Butler Cabin is where major champs visit every Sunday night to break down their Masters win with Augusta National's chairman and a live television audience. More importantly, it's where they'll first slip on their new green jacket, courtesy of the previous year's champ.
Amen Corner
One of the holiest walks in golf (and one every patron can do, just as long as they get a ticket). The par-4 10th is a downhill trek toward one of golf's most coveted stretches. Coined by Herbert Warren Wind in 1958, Amen Corner essentially refers to the second half of 11, the 12th hole, and the first half of the 13th — although most people refer to it as Nos. 11-13 in their entirety. We won't argue. It's magical either way.