Two-thousand and eleven, man. Different times. Obama in the Oval Office. Oprah still on network TV. Charlie Sheen winning. Pro golf looked different, too. Charl Schwartzel in a green coat, Darren Clarke the Champion Golfer, Martin Kaymer and Luke Donald among your revolving door of world No. 1s. But anyone who knows the game knows that it was, in fact, another quartet of players who owned 2011: Ben Crane, Bubba Watson, Hunter Mahan and Rickie Fowler.
The Golf Boys.
If you've read this far, chances are you accounted for at least a dozen of the 8.4 million views the Golf Boys' stunning debut single, Oh oh oh, has accumulated on YouTube. (For the uninitiated, this would be an apt time to acquaint yourself.) Crane in a crash helmet. Mahan, bearded and furred. Rickie in leather. Bubba in overalls, tufts of dark, curly chest hair exposed. All of them pitchy and rhythmically challenged but so damn invested in the creative process that it hardly mattered.
"Smash bang, you gotta hit the ball far," Fowler raps tonelessly but without a whiff of reservation. "Then the crowd goes woooo and you hear the oo-la-la-li-la-li."
All these years later the video is still a lot to digest. In the realm of PGA Tour player-produced content, there's been nothing quite like it since. Phil's dance moves? Not in the same class. Bryson's Twitch streams? Sorry. SB2K? C'mon now. The Golf Boys stand alone, partly for the production's rawness and song's catchiness, but mostly for the players' vulnerability and buy-in. For two glorious minutes, four brand-name pros broke free from the shackles of agents, sponsors and all the other tightly scripted elements of elite professional golf and put themselves out there — more or less on a whim.
A decade later, questions linger. How did the players shelve their egos, suppress external (and internal) pressures and pull off such an outrageous collaboration? Who wrote the lyrics, managed the choreography and selected the now-iconic outfits? How did the Golf Boys become the Golf Boys, and could such a phenomenon happen again in 2021?
Here, in the Golf Boys' own words, is their story.
PART I: THE GENESIS
BEN CRANE: The beginning of it was really a friend of mine, Mike Meldman, who owns Discovery Land Company — he was having a 50th birthday. They asked myself and Cindy Crawford, George Clooney and Jerry Weintraub from Oceans 10 — like a big-time producer — all these people to make a 30-second video clip of what Mike's friendship meant to us.
I'm like, "I got nothing for the camera." I sat down in front of the camera and said, "Hey, Mike." Just said the most boring story I could say. I watched it back and I'm like, "It's terrible. I gotta do something else."
So I decided to make a silly dance video with my friend, as we were goofing off one night. They showed it at the party, and everyone loved it. Clooney came up to me, put his arm around me and said it's the best video he'd ever seen.
A friend said to me, "Is that the craziest thing you've ever done?" And I'm like, "No. Well, maybe." And so he's like, "Buddy, you gotta launch this thing." And I'm like, "Eh." I'm like, "I'll do another one. I'll do one on working out."
So then I did the workout video.
PART II: THE WORKOUT VIDEO
Ah yes, the workout video. What golf fan could forget Crane in a red leotard, leaping around and waxing inspirational like Jack LaLanne on psychedelics: "I'm speaking to you as we speak, in the now, from the middle of the now." It was funny and absurd and … well, different. Certainly pro golf hadn't seen much like it.
Crane hadn't acted alone. The creative muscle behind him was his friend Sam Martin, a burgeoning songwriter and producer in Crane's hometown of Portland, Ore. Martin is a big deal in the music industry today, a Grammy Award winner who has written hits for the likes of Maroon 5, Jason Derulo, Nick Jonas and Ziggy Marley. But in 2011, he was just getting started. Martin spent much of his time producing satirical boy-band videos with his college lacrosse star brother, Connor, under the guise of Con Bro Chill.
SAM MARTIN: Because I was already making goofy videos with my brother, and they were working, Ben was like, "Do them with me." One of them was the workout video. And that was just complete improv: "Grab that. Grab this. Do something crazy." And that went over a million views or whatever.
CRANE: I think I did one more after that. And then some of the other players, Bubba, Rickie, Hunter, they all liked it. They all came up to me individually at separate times and said, "Hey, let's make a video together." I was like, "Well, I don't know if we should all make individual videos, but maybe let's just all make one together."
HUNTER MAHAN: I honestly think it all started in a weird way. I remember the Ben and Rory [Sabbatini] incident when Ben played with Rory [at the 2005 Booz Allen Classic]. [On the 17th hole] Rory ran up ahead [of Crane's group] and played on. Ben's kind of a slow player; that's not news to anybody. It just kind of became this big deal, kind of a mess. It kind of put Ben in the spotlight, in an interesting way. Ben knows he's not a fast player, but by no means is he slow. I guess what I mean by that is, he's not intentionally slow or just not trying. He tries extremely hard to play faster. He always has. He doesn't want to be slow. He doesn't want to be put on the clock. I honestly think it started from that because he made fun of himself a little bit and he made his own videos. He gained some popularity from that. He's a fun guy; he never takes himself too seriously. So he started making these videos and they were so hilarious and they were so bad.
MARTIN: It really encouraged him — people thought he was funny and it was worth doing again and again. So we did a bunch of videos. And then I think he was with those four guys and said, "Let's do a boy band." I don't know who said what to whom.
Hey, we're boring, right? We're golfers. We take forever to play golf. What can we do to show a different side of us?

BUBBA WATSON: What I remember is we were at the match play out at Dove Mountain [in Arizona]. We were at dinner. Ben, his wife, me and my wife, and then our fifth wheel was Rickie Fowler. At that time, boy bands were popular. Justin Bieber was hitting the scene pretty hard, at a young age. We were shooting the breeze, just talking. It was, like, "Hey, we're boring, right? We're golfers. We take forever to play golf. What can we do to show a different side of us, who we truly are?" We just wanna be kids, us three. We were like, "Man, they're having fun. Why don't we do something fun?"
Then Ben said, "Well, Hunter's in." And I was, like, "How do you know?" He goes, "Ahh, he's in." (Laughs) We just kinda threw him under the bus. That's really how it started.
MAHAN: That was sort of the catalyst. It was like, You know, it would be fun to do something silly and funny and something extremely different from our personalities. Especially at that time before social media had really taken off. You see a very thin veil of a person, in almost in any walk but especially in sports, because you just you see what you see in a very short timeframe. So when you see something like [our video], it will definitely catch you off-guard, especially back then.
CRANE: It was kind of before anyone really did anything. I think Hunter was the best player at the time. It was before Bubba won the Masters. Rickie was becoming a star, but it hadn't really happened yet. I told the guys, "The first thing we need is a song. My gifted friend, Sam Martin, came up with this and I think this is pretty cool." I played it for the other guys when we were out on the road. Individually, they were all like, "We're in." Ryan Palmer was supposed to be the fifth member of the group, but then he said he needed to play with his kids on Tuesday of the filming. So, we were the four.
PART III: MAKING MUSIC
MARTIN: I had already been commissioned by my publisher to write a bunch of chants. It was Mike Caren, who is a big dog in the music industry, huge. He just sold his label for $250 million. He's like a Clive Davis in the making. Anyway, he said, "Make a buncha chants." So I started doing that. That "Oh, oh, oh, oh oh oh oh" chant was something I had written for my brother's band. Then I just adapted it for the Golf Boys. I used it because no one else wanted it. It's hilarious that it actually worked out that I ended up writing songs for actual pop acts. This is the first song that I had that worked in the public. It was the first major thing that I had ever been a part of, besides my brother's band.
The beats were in place, but the lyrics were not.
MARTIN: I wrote the dumb lyrics, I think — I don't know if Ben helped or not. I think Ben had to have been involved. I don't think he would've not been involved. I would've asked for his approval, and he probably would've had suggestions. But I cannot remember the exact way it went. The only thing I remember is that I sat down in my $300-a-month room in Hollywood and wrote. I remember writing, like, at least a first draft, and I had no idea that that was gonna turn into that.
No one would mistake the lyrics for Bob Dylan ("Chip, putt, you know what's the big whoop / when I play my game and then I make my momma proud"), but they did have a certain homespun charm about them.
CRANE: He wrote it in, like, a day or two, and then sent it to us. I remember being at my house in Dallas where we were filming and putting the headphones on and we had to learn our lines. So we would sing with Sam — and then all of a sudden, Sam would pull himself out and it was just us. I'm like, "Buddy, we need some auto-tune. These are horrible. They're so bad." (Laughs) I'm like, "I am the worst singer on the planet." Anyway, we finally learned our lines.
MAHAN: It was so ridiculous how bad we were. (Laughs) It's amazing how listening to yourself sing, you think maybe you can sing, — there's a little hint of hope in your body thinking, Maybe this will sound OK. But then you realize, no, it's terrible. You appreciate artists and their abilities for sure.
MARTIN: Getting those guys to sing was insane. I remember being with Rickie and his girlfriend, and going like, "All right, this guy, he's not gifted in all areas." (Laughs) I found his weakness. We had to get the best out of him. Everyone just came in and I think Bubba was the worst. But I think Rickie was close. Ben had the passion. I can't remember how Hunter was — this is really deep down in the memory banks. (Laughs)
There's a little hint of hope in your body thinking, Maybe this will sound OK. But then you realize, no, it's terrible.

CRANE: Hunter got so into it. It was awesome. He could have been a rapper in another life.
MAHAN: If you're gonna do something I think you gotta do it right. 'Cause if you don't it, you can tell. Like, actors and singers, if you're gonna perform, you can't half do it, right? I enjoyed leading a different life for a few minutes, and it was less daunting to do it with a group of buddies, right? I think that made it a lot easier.
PART IV: ON THE SET
The singing was one thing, the outfits and choreography were another. With little semblance of a plan, Mahan, Watson and Fowler descended on Crane's home in Dallas to produce the video.
MARTIN: I remember I brought all my gear to Ben's house. All the guys were there. I didn't know who was famous, and who was good, or who was better. I just remember they were just bro-hanging, doing their athlete hang thing. And I'm the creative one. It took us two days to shoot us. We didn't know what we were doing. My buddy, Ty Andre, was the art director. He went to Goodwill and bought all this stuff and brought it all on the plane. Ben had his classic wet suit and helmet that I found him in a Goodwill years prior. All the costumes were really fun.
CRANE: There were, like, 20-something outfits, and we basically let the guys choose. We just kinda let them pick. But it just had to be crazy. So no one could ever take us seriously.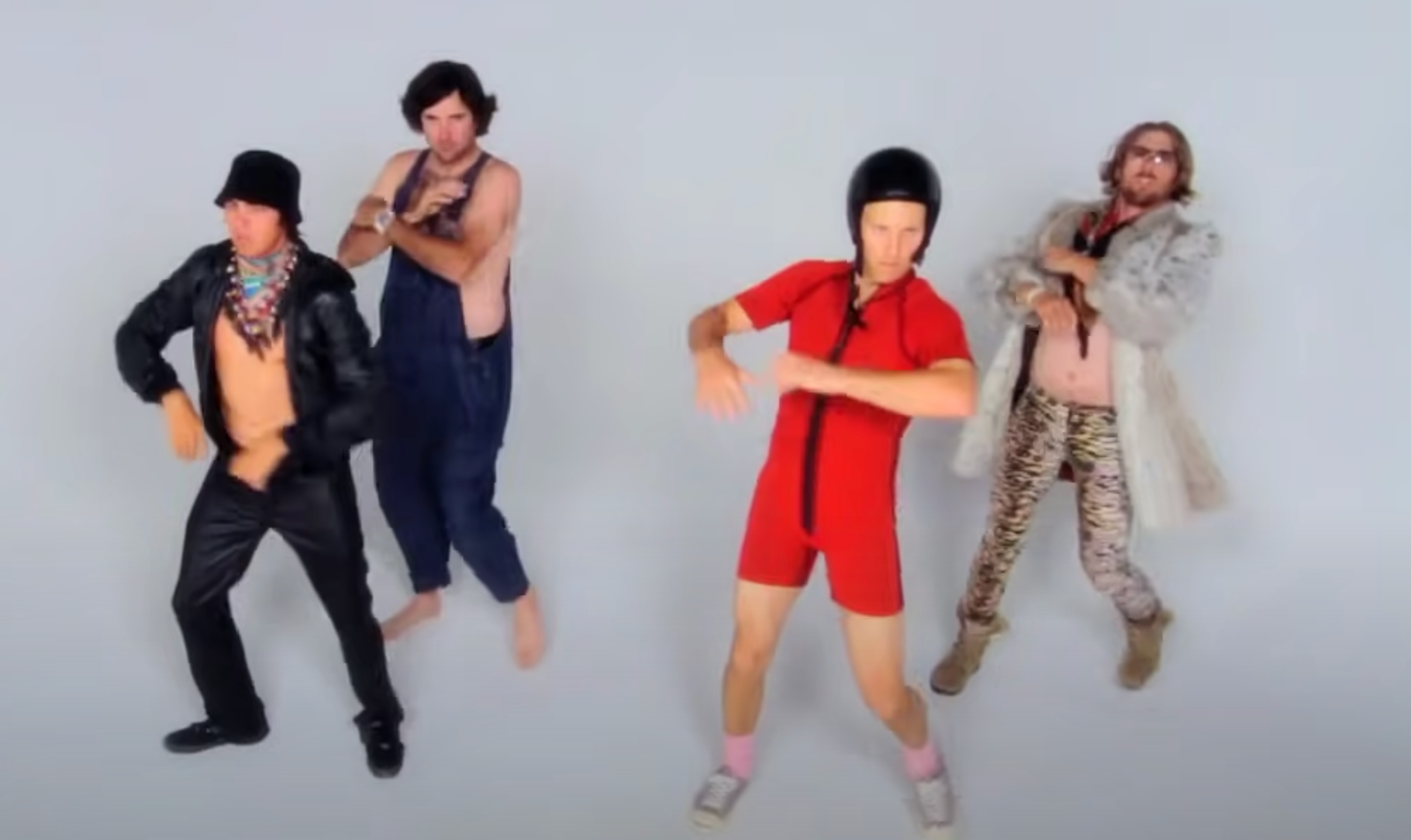 MAHAN: It was like, "All right. Who are we gonna be? We gotta create our characters." Ben had his own character from his videos. Rickie was young — it was obvious he's gonna be some sort of pop band guy. That was easy. I immediately thought '80s rock star. I was like, "Oh, here's some funny-looking jacket and I got long hair." It came pretty easy. Bubba might have been the most interesting one with the overalls. (Laughs)
WATSON: I'll be honest. I'm very comfortable in the outfit — that doesn't bother me at all. I'm good. I'm good with who I am underneath.
MAHAN: From there it was like, "All right, what do we do?" Because there's always a dance and some sort of choreography. So we had to create something. It had to be something we all could do and do it somewhat in sync.
WATSON: I'm not very coordinated when it comes to dancing and so that part, that took a while. To dance for, like, 15 seconds, just you? Fifteen seconds is a long time when you're trying to come up with some kind of move. Trying to dance, trying to get to a beat. I was, like, Man, I love hip-hop music, that's all I listen to, but that doesn't mean I can dance. That just means I like beats. That was the hard part for me.
MARTIN: We were like, "All right. Get in the golf cart. Let's go out to the golf course, and it was all cloudy and about to storm. They were cool anyway. We started doing all the moves. We had choreographed all the dance moves and rented out a big warehouse. That stuff [inside] didn't turn out that good. Nothing turned out looking that good — it just was fun that they were doing it. We tried our best to make it look good. But we were new to the business. I actually stopped making videos for a few years after that, because things were going so well in music. So, that was kind of — I'm sort of embarrassed now how bad a quality it is (laughs), the video itself. We also did this behind-the-scenes thing as well. It was a bit frantic, because I was filming the behind-the-scenes while also recording them. Then mixing it, putting it all together, so that we could lip sync to it on the course. It was completely overwhelming and stressful.
And yet…
MARTIN: There was still some magic. Like, lightning struck out there while Rickie had his fist up in the air. The whole thing just worked out so well, because the song worked. It was goofy enough and had kind of a jock-jams-epic thing going to it with bad rapping. The crew was friends from our hometown, probably five or six of us, maybe less. We had an audio guy. It wasn't much. I'll tell you that. It wasn't like it should've been. Kinda crappy, yes. (Laughs) It was mediocre. Oh my god. Everything about it was mediocre: the dance moves, the performers, the music, the art direction, the cinematography was super-mediocre. (Laughs)
MAHAN: Nowadays it'd be super-easy to record something and piece it together and put it out there. But back then it was a little of work to kind of cut and paste and create an actual video. It actually would've been interesting to do it today because I think today we probably would've put a lot more thought into it, because of all the [digital] platforms and all the ways that you can extend the life of something. It would've been a little bit more daunting.
CRANE: It took us two days to get two minutes of good stuff.
PART V: THE VIDEO DROPS
Whether "good" was the appropriate adjective was up for debate, even among The Golf Boys themselves. No one knew how golf fans (and beyond) would react, but there was only one way to find out. On June 14, 2011 — Tuesday of U.S. Open week at Congressional — "Oh Oh Oh" debuted on Golf Channel's Live from the U.S. Open and also on Crane's YouTube channel. Farmers Insurance sponsored the video, committing $1,000 for every 100,000 views it drove, with the proceeds going toward both Farmers and Crane's own charitable initiatives. Within four days, the video would garner more than a million views.
CRANE: I remember watching it on the Golf Channel and we played it for [Golf Channel broadcasters] Rich Lerner and Frank Nobilo. They hadn't seen it, they watched it with us for the first time, and were all laughing. The next day, we come out and the kids and the crowd are singing the lines of the video when we're trying to tee off. We're like, "Oh my gosh, what did we do? Have we changed the way we're going play golf?"
MARTIN: I remember bragging to somebody, saying, "I've never had more attention on any video in my life." (Laughs) The response was just so fun. I remember watching my phone and watching the views go up and up and up on YouTube. And then, getting all, like, people saying, "Oh, the Golf Channel is playing it," or whatever. It felt like the biggest thing that ever happened to me at the time.
MAHAN: Was I anxious about the response? Probably a little bit more whatever, just because of the low expectations, I'd say. Today, if we did something like that, that would be a whole different story. I think then I was just like, " I think people will like it and appreciate it. I think people appreciate celebrities being — not that we're celebrities — but people showing a different side of themselves and being vulnerable in a funny way. I think people sort of like that people make fun of themselves and don't take themselves too seriously. I felt pretty comfortable with that. And it was funny. I mean, we watched it and we were like, "This is pretty funny. It's pretty ridiculously good." When you're the first to do something like that, I think you're given a lotta leeway in how it comes out.
MARTIN: No, I didn't feel there was no money to be made. It was kind of whatever they paid me to do it — not much [laughs]. There wasn't residuals. We did put the song on iTunes. And they kept sending, Hunter, Rickie and Ben these tiny checks for, like, $80, or $40. I don't know if they ever cashed them or not. Eventually they were for like, $2, I'd be like, "Don't send it. Don't bother."
MAHAN: Farmers probably never thought it would actually be as big as it was. They had to put a cap on it because it drove so many views.
In less than two years the view total soared to more than 6 million. Today, it's north of 8 million.
MAHAN: That's ridiculous. Just crazy.
CRANE: I was shocked. Bubba kept saying, "Breakin' boundaries, breakin' barriers." And I'm like, You just don't know until you know. I didn't know what it was gonna do. I thought it was going to change some stuff, but I don't know how many million hits we got, and I didn't know that almost every kid that came out to tournaments was going to know the song. (Laughs)
MARTIN: I had a lot to learn after this, but it was the perfect time for all that I was doing, and to have such an impact in the golf world, it was just so much fun. It just gave me confidence. I don't know if it should've, but it did. (Laughs)
PART VI: THE SEQUEL
With hits usually comes sequels, and The Golf Boys success was no exception. In 2013, golf's answer to the Fab Four released its second single, "2.Oh." Some elements were the same (Crane, Watson, Fowler and Mahan were still all on board), others were not (Martin was not involved and neither was Farmers; proceeds were now going toward a charity that helped provide clean water in Africa). Crane had become a YouTube monster; by January 2013, his YouTube channel had become the second most-viewed channel of any active athlete. "We are in a truly unique era," Crane told PGATour.com at the time. "I love that we can goof off on YouTube and help people across the world." As for the "2.Oh" video itself — it was a fun watch but it lacked the rawness and spontaneity of the first iteration. It just wasn't the same.
MARTIN: I had to give it up. I was hustling in the music industry. I know they wanted me to do it, but I just didn't have the steam for it. It wasn't like I got a big raise or anything. So, it would've been just a lotta work for a super amount of stress in trying to do the follow-up. But all my friends did it. And then I was happy to hand it off to them. I don't know if Ben was happy about that or not. [Laughs] I also felt like, "How are we gonna beat the first one?" It was perfectly mediocre.
CRANE: We had more people involved. It was a lot more work. It was a lot more attention to detail.
MAHAN: Ben brought in an actual professional songwriter and singer, Mat Kearney. He wrote it for us.
MARTIN: That first one was the classic, organic, hometown thing. That's what was fun about it. Nobody expected anything. It was low expectations. (Laughs) And we delivered some low, low quality stuff.
MAHAN: I think the second go-around a lot more players were interested [in getting involved]. It's easy to piggyback off something that has some success. I couldn't tell you exact names, but I think a lot more guys — and also probably guys who wouldn't even tell us — wanted to be a part of it, because it looked fun. But it's not something that all people feel comfortable with. It's a vulnerable situation to put yourself in.
That first one was the classic, organic, hometown thing. That's what was fun about it. Nobody expected anything.
WATSON: I was like, "We can't just do dumb videos, let's do it for a reason." So Ben named the charity: Water for Africa. And we were, like, "Yeah, that's perfect." The second video took us over three days of us being together — shooting it, making sure everything was lined up right, in studio, out of studio. It was totally different set-up. It was like we were really working.
The video performed well, with 700,000 views in the first 24 hours and more than 5 million views to date, but with more parties involved the second time around — including the players' agents — Crane found it difficult to be nimble and make quick decisions.
CRANE: The mistake I made last time was I kinda set rules after the fact and now I realize going forward I have to just lay the groundwork. We could have sold, in my opinion, two million T-shirts and given $5 million to $10 million to charity. But if I get in front of it and just say, "Hey, if you wanna be involved, you gotta sign this."
PART VII: THE THREEQUEL?
The Golf Boys have not reunited since "2.Oh," at least not to make music. (Well, there was one exception: "I remember at Bubba's Bash [Watson's charity event] one year we did a live performance," Crane recalls. "I remember thinking, I wanted to get off that stage so fast and, like, Oh my gosh, we're so bad. Much worse than I even thought.") Then again, they're all in very different places.
Crane, 45, lives in Nashville with his wife and their four children. The most recent of his five Tour wins came in 2014, but he has been fighting a bad back and made just two PGA Tour starts in 2021.
Watson, 42, has won two green jackets, in 2012 and '14. He lives in Pensacola, Fla., with wife Angie and their two children, and has a stake in a handful of businesses, including a candy and ice-cream shop.
Mahan, 39, lives in Dallas with his wife Kandi and their three children; his playing career peaked in 2014 when he climbed to No. 4 in the world, but since 2015 he has just one top-10 finish on the PGA Tour.
Fowler, 32, has won five Tour titles since 2012 but has struggled of late, sliding to 117th in the world. Through his agent he declined to be interviewed for this story.
WATSON: With a year-round schedule, there's no more breaks — we all can't come together. So we stopped it, not because we wanted to stop it, but just because it was so hard to get people together. We should have the comeback tour, that's what we should have.
MAHAN: I would never say never. (Laughs) But, yeah, nowadays to get us all together would be really hard. But you never know.
CRANE: Rickie's probably about to start a family, and the rest of us have families. We all live in different places. We lead different lives. We're not super-close, but still super-friendly.
MARTIN: I would stress out. I don't know if they're actually ever going do it, but I'd be open to it.
CRANE: Could it happened today with different players? I don't know. It would be hard not to have everyone's logos out there. That was where we ran into some problems. What about the four of us handing it off and picking four new guys? We could train them.
WATSON: Yeah, that'd be interesting. But, you know, some of these guys, they're so wrapped up — not in a bad way — but they're just so focused on the game that I don't know if they want to shoot dumb videos (Laughs) like we did. I just think kids today, it's just a different mindset. [Collin] Morikawa's winning majors in his rookie season, so he's focused on something else. I'm not that talented. It was different for us. Social media was just coming to a head back then, and so we took it to a new level for us, as golfers.
MAHAN: They are more than happy to have it, that's for sure. (Laughs) I think it's too hard to do it today. Some of these platforms are too brutal, and they take themselves too seriously in a weird way. And you're exposing yourself, and that's a hard thing to do. To do something original or to try to do it, it would be more daunting today.
Maybe that's for the best. After all, could the Next Gen possibly live up to the OG?
MAHAN: I still hear it everywhere. Even during the pandemic, people were like, "Perfect time for a Golf Boys 3. Nothing is going on." (Laughs) And I was like, Wow. Ten years later, people still want us to do it today, which is pretty wild. Golf Boys still definitely lives on.
Golf Magazine
Subscribe To The Magazine
Subscribe