The swing thought that Rory's re-booting — and why the early signs are good
GOLF
Welcome to Play Smart, a game-improvement column that drops every Monday, Wednesday and Friday from Game Improvement Editor Luke Kerr-Dineen (who you can follow on Twitter right here).
ORLANDO, Fla. — Rory McIlroy was the first golfer on the course for Wednesday's Arnold Palmer Invitational Pro-Am, and he didn't waste any time setting the course alight.
Teeing off on Bay Hill's 10th hole, he started birdie-par-birdie-birdie-par-birdie. He hit every fairway, and the only green he missed during that stretch was on the 215-yard 14th hole. He hit his subsequent shot from the greenside bunker to about a foot.
Alongside him throughout his round was Micheal Bannon, the coach who Rory has been working with since he was 8 years old. With difficulty traveling amid the start of the pandemic, Bannon had taken more of a backseat role since 2020. But with travel restrictions easing and Rory not entirely satisfied with his performance under coach Pete Cowen, Bannon is back in a bigger role.
The task at hand? Bringing it back to the basics, and rebooting some of the key things that have worked so well for Rory in the past. For Rory, the means employing a swing thought centered around his left arm.
"I felt like I got so right-sided in my thoughts recently," he says. "I'm trying to have more awareness of what my left arm is doing in the backswing."
Specifically, Rory says he wants to feel like his left arm is "initiating the backswing" by extending it more out on his takeaway; the feeling of extending your arms wider and outside. You can already see the effects in his swing.
On the left is an image of Rory, club parallel, at the 2021 PGA Championship last May. On the right is Tuesday at Bay Hill.
Using his left arm to initiate his swing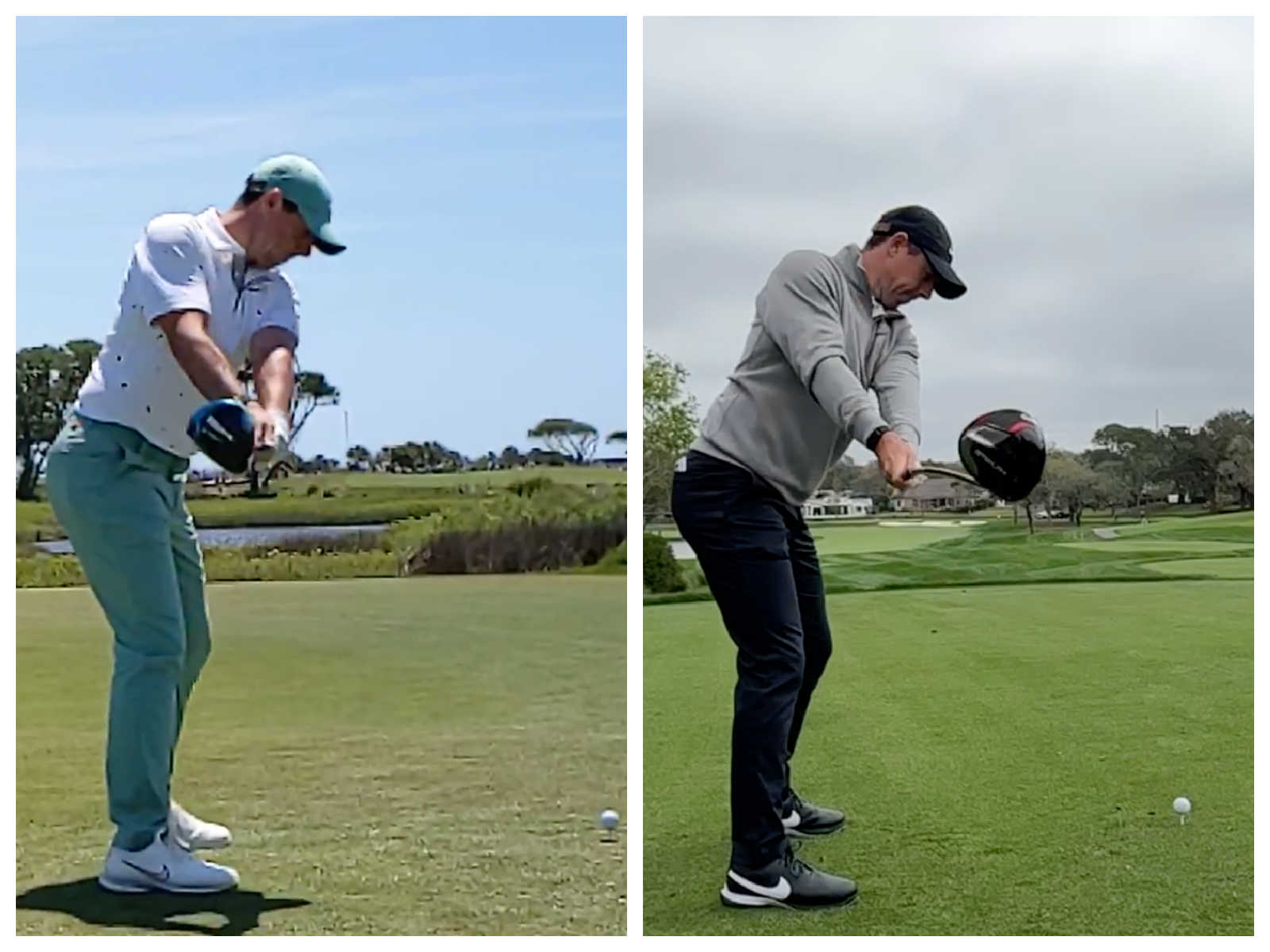 And from that wider, extended position, Rory says he wants to feel like he's "letting that left arm rotate up onto the plane" before starting down.
Rory's position on the left may look more textbook traditional (whatever that means), but the one on the right is actually a better fit for Rory's transition move, he says.
As Rory lifts the club to the top, he creates a lot of separation between his upper and lower body. His lower body starts initiating the downswing while his arms are still finishing up the backswing. That sequence creates a stretch between his upper and lower body which creates a huge amount of power for his size, but it can also leave his arms too far "stuck" behind him as they transition from backswing to downswing, as GOLF Top 100 Teacher Justin Parsons explains.
"Rory's a bit like Fred Couples, who also has a big pivot" Parsons, a golf coach from Northern Ireland who has known Rory since he was a junior golfer, says. "When those arms get lost behind you, it can lead to blocks to the right."
Couples is an apt comparison because, along with his comparatively huge shoulder turn, he also took the club more traditionally outside on the backswing. But in doing so, his arms would shallow into the perfect slot as they began their way back down. Had his arms been more around him on the backswing, they would've have gotten stuck too far around him on the downswing.
And that's why Rory's new feeling is leading him down a similar path. It's not about what the arms look like on the backswing; it's about where they end up on the downswing — a good reminder for the rest of us.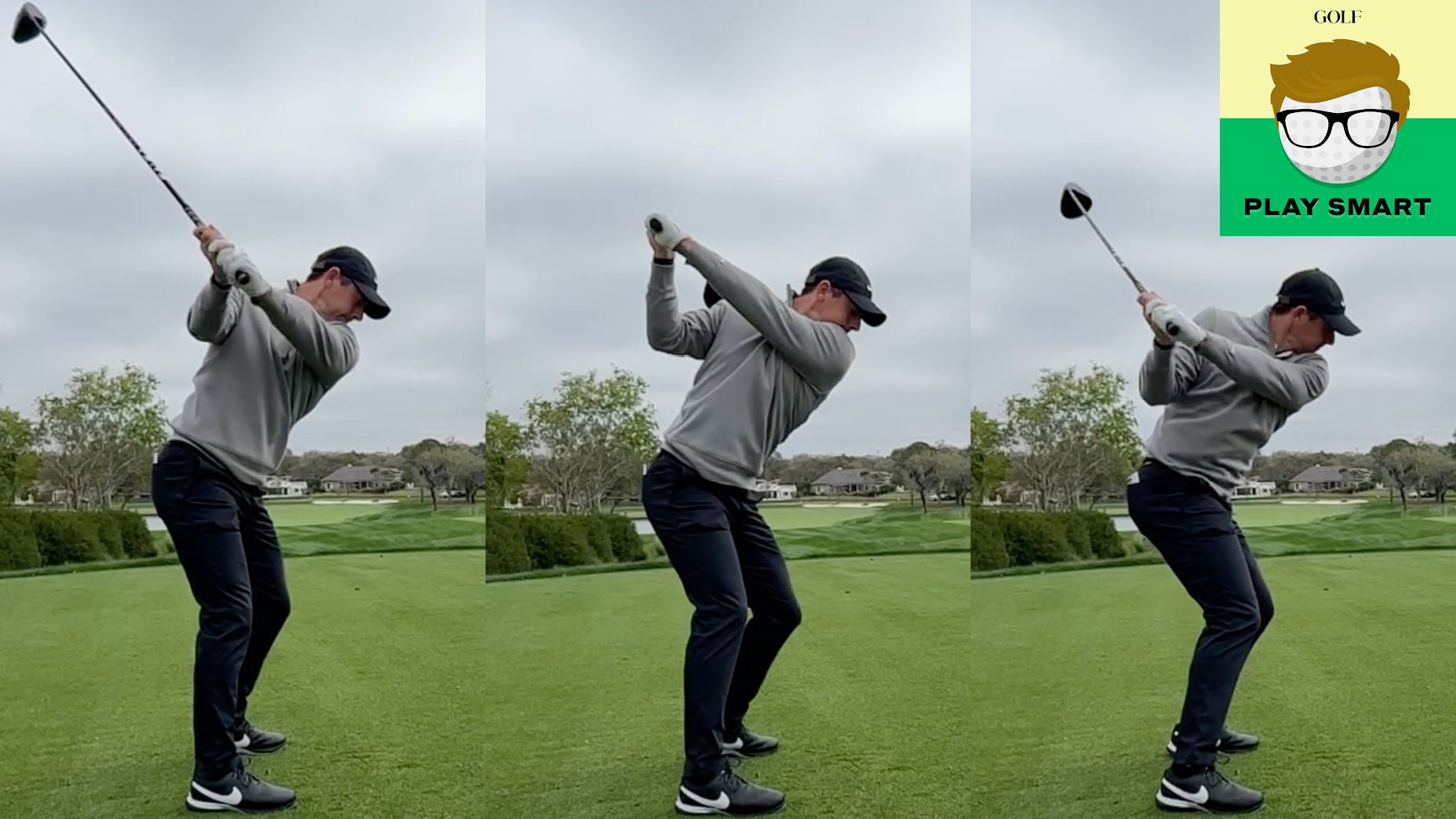 The margins are so slim at the top level, it's always tough to tell how sweeping the effects of a subtle change like this will be. If nothing else, Rory seems more at ease with his golf swing now than in the recent past. And that, whatever way you spin it, is an enticing proposition for the rest of us.