The secret to practicing crispy wedges with killer backspin? The Divot Board
GOLF.com / Nick Dimengo
Welcome to Play Smart, a regular GOLF.com game-improvement column that will help you play smarter, better golf.
Anytime I watch golf, I always get a little mesmerized (and jealous!) of the way pro players can spin their shots. Not only are they talented enough to put English on the ball, but they do so with such precision that it's executed to perfection — usually leaving them within a couple of feet of the pin.
Now, look, I never thought I'd be capable of doing something like that. I'm a 13-handicap who's trying his best just to find the green in regulation, so I'm not even thinking about putting backspin on the ball.
But after recently trying out a product called the Divot Board, I honestly couldn't believe the results — I actually stopped my ball on a dime!
There's a short pitch Pitch & Putt not too far from my house in Seattle. With holes measuring from 60 to 115 yards, I couldn't think of a better place to test out the Divot Board since I only needed a couple of wedges and a putter to play a quick round.
So my wife — serving as my photographer — and I trekked out to the short course to see how the product works, and how it could improve my short game.
At first, the Divot Board is a bit daunting to hit from. It's durable and mimics a fairway, but it takes a couple of swings to really see the magic come to life.
My first swing produced an interesting divot (seen below), that resulted in a thin shot with my pitching wedge. Sure, the hole was only 80 yards long, but I still ended up just left of the green — forcing me to get up and down to save par.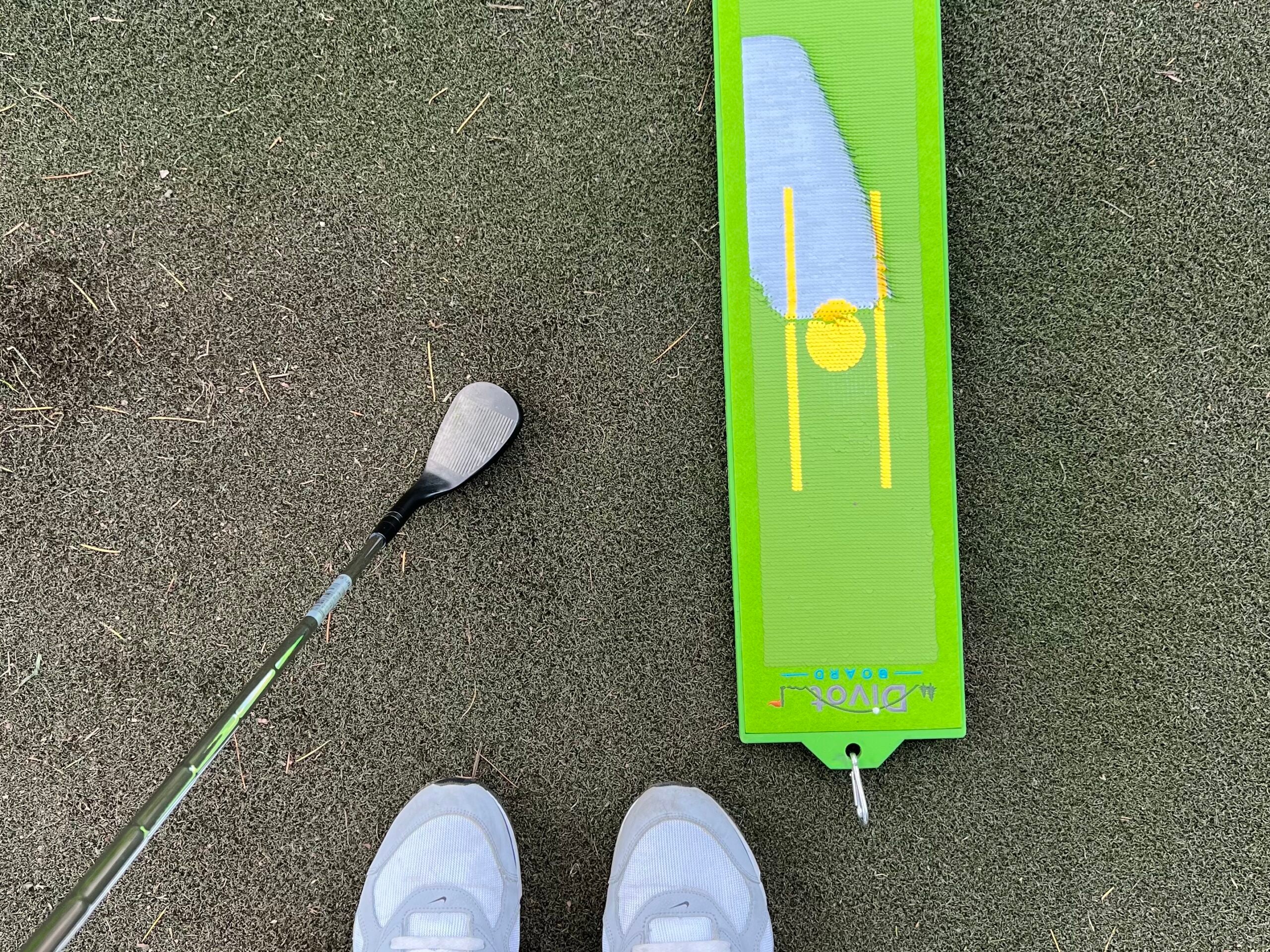 Now this is where the Divot Board really paid dividends.
Using my 60-degree wedge, I was just hoping to get my ball close enough for about a 6-foot putt — which is typically the result I see from here. But instead of playing my ball from the short grass surrounding the green, I placed it on the training aid to get a better sense of how this type of chip is supposed to feel.
Instead of hitting a skulled or chunked shot, I did something the pros do from this area; I produced a crispy wedge shot with killer backspin, with the ball ending up a few inches from the hole.
I've rarely hit consistent shots like that.
The rest of the round gave me an idea of why my shots were landing where they were, all thanks to the Divot Board. Instead of guessing why I ended left, right, deep or short, the training aid provided instant feedback due to the divot each swing produced. It was like having a swing coach in my back pocket during the whole round.
After completing my round, I did what every golf-obsessed person does: Practiced chipping and putting.
So I laid down the Divot Board and got to work, producing even more crispy wedge shots with gnarly backspin. The fact that this was all in front of my wife only gave me more confidence — because I was absolutely showing out, naturally stopping it wherever I wanted to.
While it was only my first time using this training aid, it helped me realize how critical turf interaction is. It gave me an idea of what I was doing wrong, what I was doing right and how to find more consistency with my shots after analyzing the swing results.
Chances are, you're a player who could use some help in these areas as well.
Take a look below at more info about the Divot Board.
So arm yourself with a Divot Board and get information instantly, which adds value to every swing you take.