Bizarre sequence stuns 3 analysts, ruling is made — and caddie takes a picture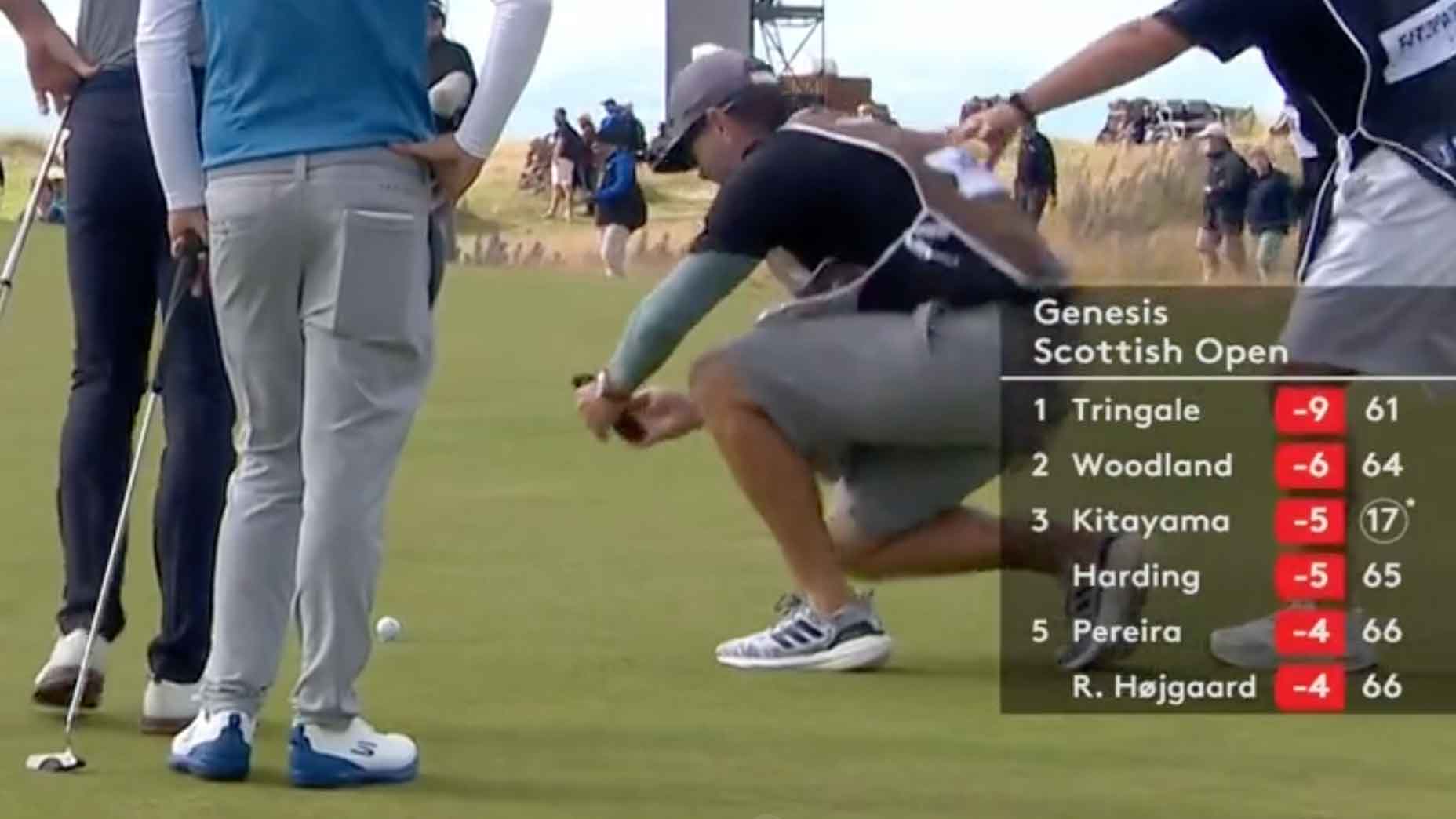 twitter.com
Colt Knost asked how it was possible.
Frank Nobilo didn't think he had ever seen it.
Curt Byrum was sure he hadn't.
Rare, then, was the achievement Will Zalatoris and Matt Fitzpatrick teamed up on during Thursday's first round of the Scottish Open. The three former players turned analysts listed above, after all, were floored on Golf Channel's broadcast, and you may have also been. And for Zalatoris and Fitzpatrick to pull it all off, the circumstances needed to line up just so on the 16th at the Renaissance Club. Consider:
— Fitzpatrick chipped his fourth shot, from just short of the green, to 6 feet, 4 inches left of the hole.
— He marked his ball with a red-and-white striped poker chip from Harbour Town Golf Links.
— Zalatoris chipped his fourth shot, from about 15 yards to Fitzpatrick's right, to, yes, 6 feet, 4 inches left of the hole — and on top of the marker.
The chip shots needed to be the same distance. The poker chip needed to be the right size. Zalatoris' ball was required to roll at the perfect speed.
Zalatoris, in fact, laughed when he saw it.
"This is something you don't see every day," Knost said on the broadcast.
"Oh, that's great, isn't it?" Nobilo said.
Indeed. So fun was it that J.J. Jakovac, the caddie of the third member of the threesome, Collin Morikawa, knelt down to take a picture with a cellphone. Of course, the goal here is to get the ball in a cup, not on a chip, and the question you may have is: What now?
Unfortunately, the broadcast skipped from the players waiting for a rules official to Zalatoris making his par putt, then Fitpatrick making his, and neither player spoke to reporters afterward (though Zalatoris did post a picture on his Instagram account; more on that in a sec). But we can piece together what likely happened. 
Zalatoris probably lifted his ball, penalty free, thanks to rule 15.2a(3), which allows for relief when a ball is in or on a movable obstruction on the putting green. Fitzpatrick then probably lifted his mark, thanks to rule 15.3c, which defines how to proceed should a ball marker be interfering with play, and where to then place it; on the broadcast, you could see that Fitzpatrick moved his poker chip slightly to the right of where it was.
Finally, Zalatoris likely placed his ball on the estimated spot where it was (also covered under rule 15.2a(3)), putted, then Fitzpatrick likely moved his marker back and putted.
Wild. Remember, too, that both golfers went toe to toe about a month ago during the final round of the U.S. Open.
Back to the picture. After his round, Zalatoris posted the photo on his Instagram story and wrote:
"Well that was weird @mattfitz94 @collin_morikawa."
Golf Magazine
Subscribe To The Magazine
Subscribe