How clever use of rules helped Scottie Scheffler out of high-stakes Masters jam
getty images
AUGUSTA, Ga. — Scottie Scheffler was cruising. He wasn't leading by seven, as he had been when he made the turn on this Masters Saturday, but he still enjoyed a four-shot advantage when he stepped on to the 18th tee. All that stood between him and a short-iron approach on Augusta National's uphill, par-4 closer was a tee shot through a chute of pines.
Fore left!
Scheffler, a picture of composure all day, finally cracked. His ball shot off his driver and hooked into tree trouble. Total carry distance: 222. Scheffler's ball disappeared into the pines and descended into a snarl of bushes and branches below.
"I didn't hear anything loud," Scheffler said after his round. "Teddy [Scott, his caddie] was like, 'I saw it clip a branch.' We're like, 'No big deal, just be over there on the left and chip out, whatever.' And then we saw the guy with the flag that always finds the balls kind of panicking. I was like, oh, crap, wonder what's going on here."
Nothing good. The hunt for Scheffler's Titleist was on. If it didn't turn up in the three minutes permitted under the rules, Scheffler would have had to return to the tee and play his third. Up ahead of him, Cameron Smith had already signed for a four-under 68 that had moved him to six under for the tournament. A return to the tee could have easily resulted in a double-bogey 6 for Scheffler, which would have cut his 54-hole lead to just two.
Later, Scheffler was asked about his heart rate during the search. "It went up when I saw they couldn't find the ball," he said, "You hate to lose a golf ball with all those people around. It would be an unfortunate break."
The good news: the ball turned up. The bad news: It was in a jail of branches a couple of yards from the pine-needle bed that lines that part of the fairway. "I think I could have gone in there and played it if I had to," Scheffler said.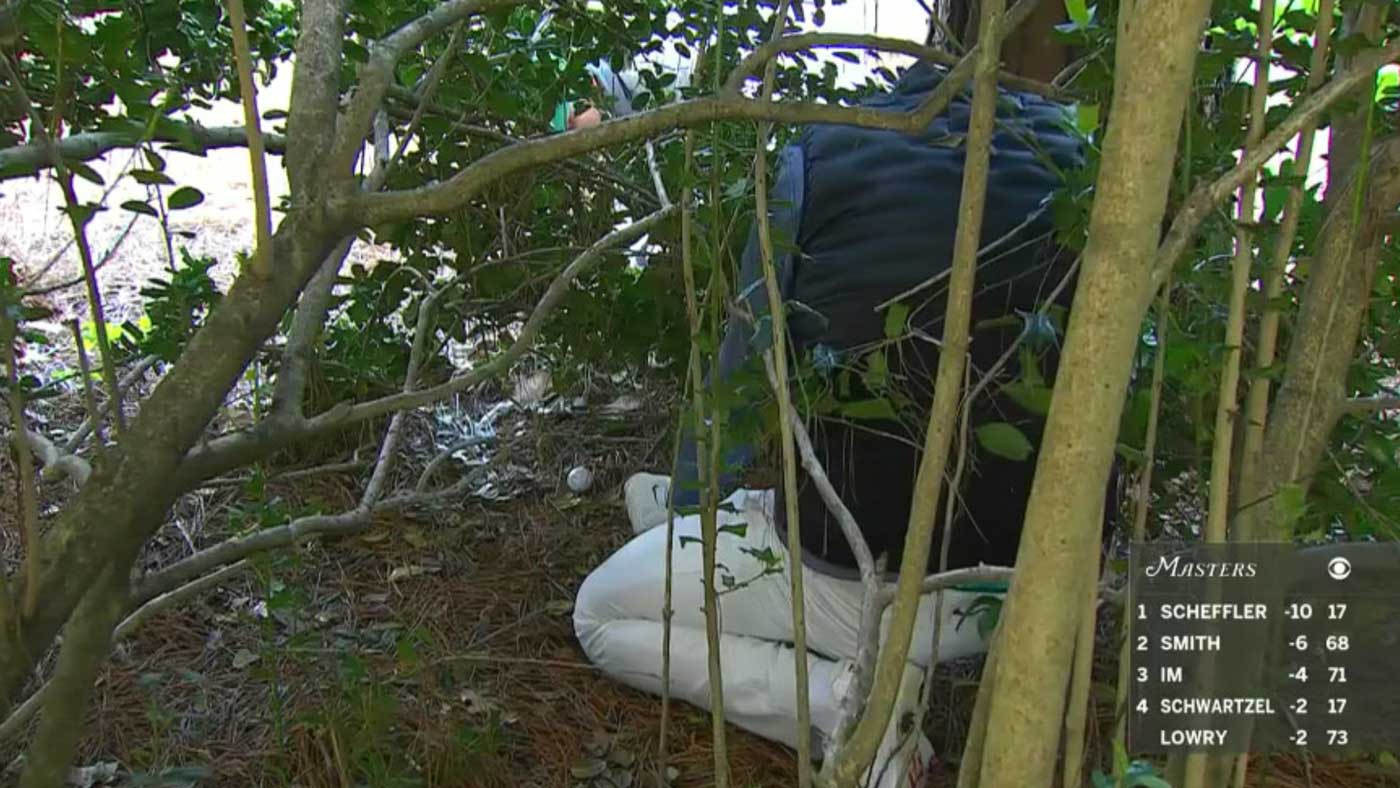 He didn't have to, nor would he have been wise to try. The lie was somewhere south of bad.
Scheffler's ball was close enough to the bed of needles by the fairway to take his drop there. With a rules official at his side and Scott counseling him, Scheffler declared the ball unplayable, which allowed him to drop within two club-lengths of the ball, no closer to the hole. The resulting spot gave him both a clean lie and a clean look at the green.
For the rules buffs out there, that's when things got really interesting.
Scheffler asked the official if he could move pine needles — which are loose impediments — in the intended area of his drop. The official mistakenly said he could not. Leaves would be fine to move, the official said, but not needles.
After Scott protested, the misunderstanding was cleared up, and Scheffler began delicately picking away needles. It was an unusual sight, watching a player remove loose impediments before a drop, but also a legal one. Under Rule 15.1/a3, "when a ball is to be dropped or placed, the ball is not being put back in a specific spot and therefore removing loose impediments before dropping or placing a ball is allowed."
Scheffler needed to be careful that he didn't displace any of the earth beneath the needles, but otherwise he was free to do as much needle-gardening as he pleased.
Next, Scheffler pulled out a tee and began testing the surface obscured beneath the needles, as if he was poking at a half-baked cake to test its doneness. Had any roots been lurking, Scheffler would not have wanted to drop on or near them.
Given the weight of the moment, Scheffler would have been excused for showing signs of fret or frustration. He didn't.
"I think that's definitely something I've learned over time," Scheffler said later of his cool-headedness. "I have matured a lot since I played junior golf and college golf, and I feel like I'm learning a lot out here. … I was a bit of a hothead I think in high school and college, so to be able to just stay patient and realize mistakes are going to come, and winning golf tournaments out here is not easy. It's very challenging. So, knowing that bad things are going to happen and being able to react to those things in a positive way is extremely important."
When Scheffler had identified a suitable spot on which to drop, he dropped his ball from knee-height but it kicked into an area that was closer to the hole. His second drop attempt did the same, meaning Scheffler was free to place the ball.
With his ball finally back in play, Scheffler was left with 225 yards into the green. Three-iron in hand, he morphed back into the world's hottest golfer and laced a shot up to the left side of the green, his ball running by the back-left pin and just off the back of the green. His approach left him a tough up-and-down, but these days Scheffler has made a habit of making difficult look easy. Two putts later, he had made an adventurous bogey that got him into the house at one under for the day and nine under for the week. Scheffler was your 54-hole leader by three.  
"It's nice to be in control of the golf tournament," he said afterward.
The same could be said of the rules.