The interesting green-reading technique used by the PGA Championship leader, explained
Getty Images
TULSA, Okla. — It wasn't a long putt, but it was an important one. Will Zalatoris, the PGA Championship leader, had a little more than two feet for par on his 18th hole to hold the solo lead.
Short, downhill, breaking, and important, it was exactly the kind of putt that gives Will Zalatoris, the statistically best iron player on tour, fits. He loses almost half a stroke on the green each time he plays, and ranks 193rd on tour from inside 10 feet. Worse yet is how his technique seems to crumble in these moments. He says it's getting better, but words only count for so much. Actions win major championships. and putts like these were his time to prove it.
I counted about three minutes in all. Zalatoris and his caddie did their carefully choreographed dance routine around the green. As Zalatoris crouched down to read the green, his caddie, Ryan Goble stood between him and the hole, shuffled his feet, and raised his fingers. A few moments later Zalatoris' stuttered his ball into motion. It started outside the right side of the hole, and drifted into the cup.
Golfers do a lot of strange techniques that look odd, but when you're playing for millions of dollars, you don't enjoy the luxury of caring how it looks. One of these — and perhaps the one that's most perplexing to golf fans — is called AimPoint. You'd probably recognize it, even if you haven't heard of it. You can see Zalatoris and his caddie doing it on the 18th hole above.
The method has taken hold on tour in recent years, and a large group of pros and teachers swear by its effectiveness. Golf fans, at least on Twitter, often tend to take issue with it because they say it's unpleasant to watch, but those who actually use it say it is a fantastically simple and great way of improving your putting. Here's a quick breakdown of what you need to know about it.
What is AimPoint?
Traditionally, golfers read greens by kneeling directly behind the ball, and surveying the slopes. That kind of worms-eye view helps players survey the slopes and see the path their ball is going to take.
But it's easier for some than others.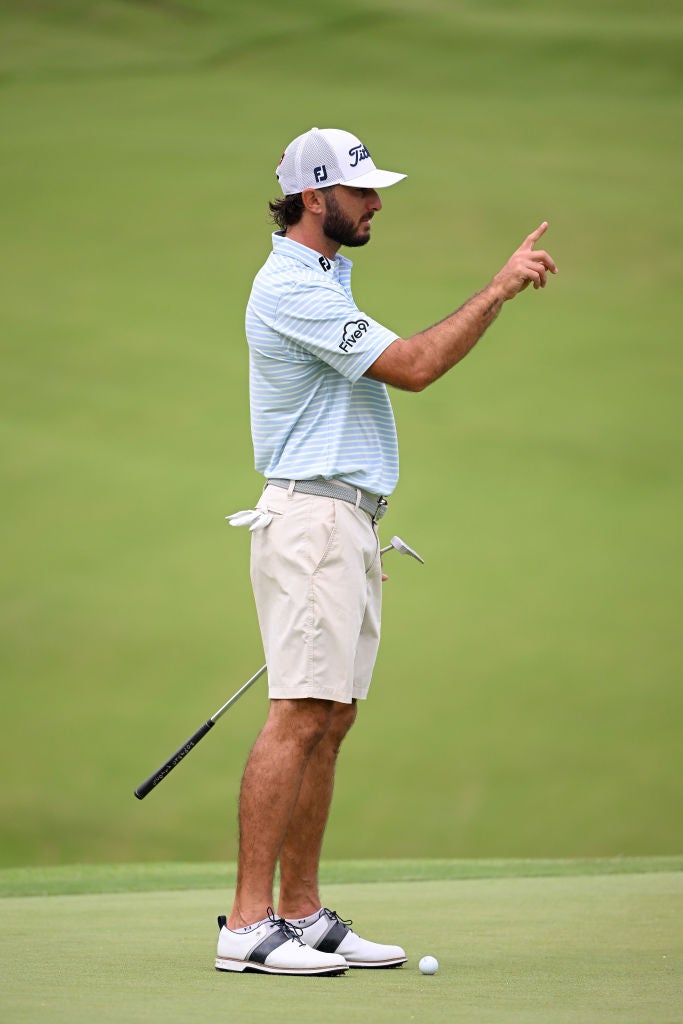 "I've always been lucky," says Denny McCarthy, one of the best putters on tour. "I've always seen the slopes and lines really naturally."
AimPoint is effectively an alternative to the conventional method. Invented by a coach called Mark Sweeney, players straddle the putt and feel the slope with their feet. Once they're settled, they hold their hand so the left side of their right index finger is over the middle of the hole. Then they use their fingers to gauge the amount of slope.
It's a science-based system that helps golfers embrace their feel to make things simple, intended to help golfers rely on their instincts to putt better.
Which players use AimPoint?
Quite frankly, a lot of players use AimPoint. Too many to know or count. And even of those who don't, their caddies might. It's incredibly popular, both among pros and amateurs.
A bulk of these pros use a hybrid of both the traditional method and AimPoint. They'll read the putt from behind the ball, then check the line using AimPoint to see how it matches up. Generally speaking, the AimPoint users on tour tend to be players who, historically, have struggled with their putting, and AimPoint has helped them improve.
Along those lines, Viktor Hovland, Adam Scott, Max Homa and Keegan Bradley are among the notable AimPoint users.
"I really had a hard time reading greens. One week I could get really hot and just see the lines really well and the next week I just had no chance," Hovland says. "AimPoint has just given me a system, a system that doesn't work every time, but it at least gives me a framework that's a lot tighter."
Does aimpoint make golfers play slowly?
AimPoint itself says it can actually help players play faster. Its original use, after all, was to help on-course reporters quickly read the putts of players they were covering, before they got to the green.
In a nutshell, no, there's nothing about AimPoint that makes players play slowly. It's all about how they use it.
Need help unriddling the greens at your home course? Pick up a custom Greens Book from 8AM Golf affiliate GolfLogix.