This putting tip helped Will Zalatoris to his best putting round ever
ESPN
TULSA, Okla. — It's always been an intriguing proposition. What would happen if Will Zalatoris, the Tour's best iron player, ever got hot with his traditionally balky putter?
On Thursday at Southern Hills, we saw it. Zalatoris made a whopping 150 feet of putts and vaulted to the front page of the leaderboard. It was only a bogey on the 18th hole that left Zalatoris' four-under 66 one back of early leader Rory McIlroy (65).
Zalatoris ended the round gaining a mind-numbing 3.431 strokes on the greens (for context, this season he loses about half a stroke per round, on average), and after his round, he explained the recent work he's been doing that makes it possible.
"I got into some bad habits," he says. "I grinded pretty hard on it the last three, four days."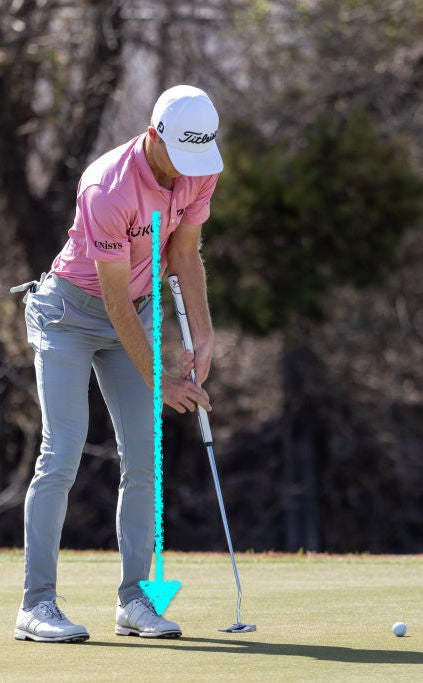 The tip: Less tilt, keep torso over his front foot
Specifically, Zalatoris says he'd tend to set up with too much tilt on his putts, so his upper body was tilting away from the target. Tilting your upper body away from the target is great for your full swing, because it allows you to hit up on the ball (though Zalatoris says he tends to do it with his full shots, too). But on putting, Zalatoris' excess tilt away from the target was creating issues.
"I tend to tilt too far kind of towards my back foot and start seeing my lines right," he says. "I do it in my full swing, I do it in my short game, I do it in my putting."
This was especially an issue on longer left-to-right breaking birdie putts which, interestingly, Zalatoris made a couple of today. Below is the one he made on the 12th hole for birdie.
As Zalatoris says, his excess upper body tilt away from the target would often cause him to push his putts out to the right. Golfers can sometimes get away with that on right-to-left putts, but on left-to-right putts, he'd often end up pushing his putts under the fall line and miss them low.
Keeping his torso more over his left foot prevented him from pushing putts and therefore missing low. He'd start the ball more on his intended line. That's what happened here, and he made the 23 footer as a result.
It's some interesting insight from Zalatoris, and telling that a small problem in his full swing can leak into your putting. Whether his putter can stay this hot for the weekend remains an open question, but its shown no signs of cooling off just yet.