This at-home drill will help you square your putter face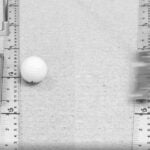 Instagram
Hopefully you're reading this from a warm state, where the notion of a snow-shortened golf season doesn't exist. If you're not, then join the club: I'm writing this from the northeast, where playing golf is technically possible but in reality, just isn't going to happen for someone inept at dealing with cold.
That means lots of indoor golf in the immediate future, which is why I perked up when I saw this handy at-home tip come across my feed the other day from The Putting Engineer, whom you can follow in Instagram right here.
You can watch the full video below. Here's how it works.
1. Set the putter.
First, place a ruler or yardstick on the ground directly behind your golf ball and set the leading edge of your putter so its flush along the ruler.
2. Grip and set
Once you've done that, grip your putter and gently lift it off the ruler so it's directly behind your golf ball.
3. Maintain it
Make your stroke, remembering the feeling of the square putterface you set for yourself at address.
Do that enough times, and you'll be rolling your golf ball exactly where it's aimed.
Watch the full video below:
Need help unriddling the greens at your home course? Pick up a custom Green Book from 8AM Golf affiliate GolfLogix.