These are the secrets to Open champion Cameron Smith's putting
Getty Images
Cameron Smith was red hot on the greens on Sunday at the Old Course. But 24 hours prior, that certainly wasn't the case.
Following a second-round 64 that saw him hole over 200 feet of putts, the third round was more of a struggle. Whereas the cup looked like a basketball hoop on Friday, on Saturday, it looked like a thimble.
In Rounds 1 and 2, Smith needed just 28 putts to navigate the Old Course's tricky greens. In Round 3, that number ballooned to 35.
"Yeah, [I] got a little bit impatient, I guess," he said. "And a little bit frustrated."
His third-round 73 was nine shots worse than he'd shot the previous day, and it left him four shots back of the leaders. But even after a difficult day on the greens, Smith didn't panic.
After he fulfilled his media obligations, the Aussie retreated to the practice putting green to roll some putts.
"I spent a little bit of time on the green last night," he said. "Just really wanted to see a few putts go in. Yeah, it turned out it was a pretty good thing to do."
That extra practice paid off. Less than a day later, Smith lifted the Claret Jug on St. Andrews' 18th green. And he did so on the strength of the most reliable club in his bag — the putter.
Here are the secrets to Smith's putting prowess.
Simple practice
In golf, simple is good. So, it should come as no surprise that Smith, one of the best putters on the PGA Tour, keeps it simple when it comes to his practice on the greens. His main goal when practicing, he explained to the media, is getting into a consistent setup position.
"I practice with a mirror for probably 20 minutes a day," he said. "And to be honest, that's about it."
And while speed control on the greens is extremely important for successful putting, Smith doesn't do much speed control while he's at home. Instead, he focuses on the 10-15 footers and instead dials in his speed at the tournament site each week.
"I try and focus probably 10 to 15 feet and in and just seeing those putts drop," he said. "When I get out here at the start of the week, I start hitting some more lag putts and just getting the speed right."
No practice strokes
As GOLF.com's own Luke Kerr-Dineen detailed this week, Smith does not use any practice strokes during his putting routine. Instead, he takes the time before he hits his putt to visualize what he wants the ball to do.
"I don't take a practice stroke," he says. "The last thought of mine is to take a long, hard look at the hole and really feel the putt."
This final look gives Smith a sense of calm just before he putts and allows him to focus in on his target. But, most crucially, this look allows him to visualize exactly what he wants the ball to do — drop into the cup.
"Taking that last look, seeing the ball roll over the the front with the pace that you like, doesn't matter with it's two feet of 100 feet," he said. "It's something I've always done and I think it's key."
The equator method
Smith has a sharpie line on his ball, but he doesn't use it in the traditional way. Instead of pointing the line in the direction he wants to roll the putt, Smith sets his ball down with the line parallel to the ground.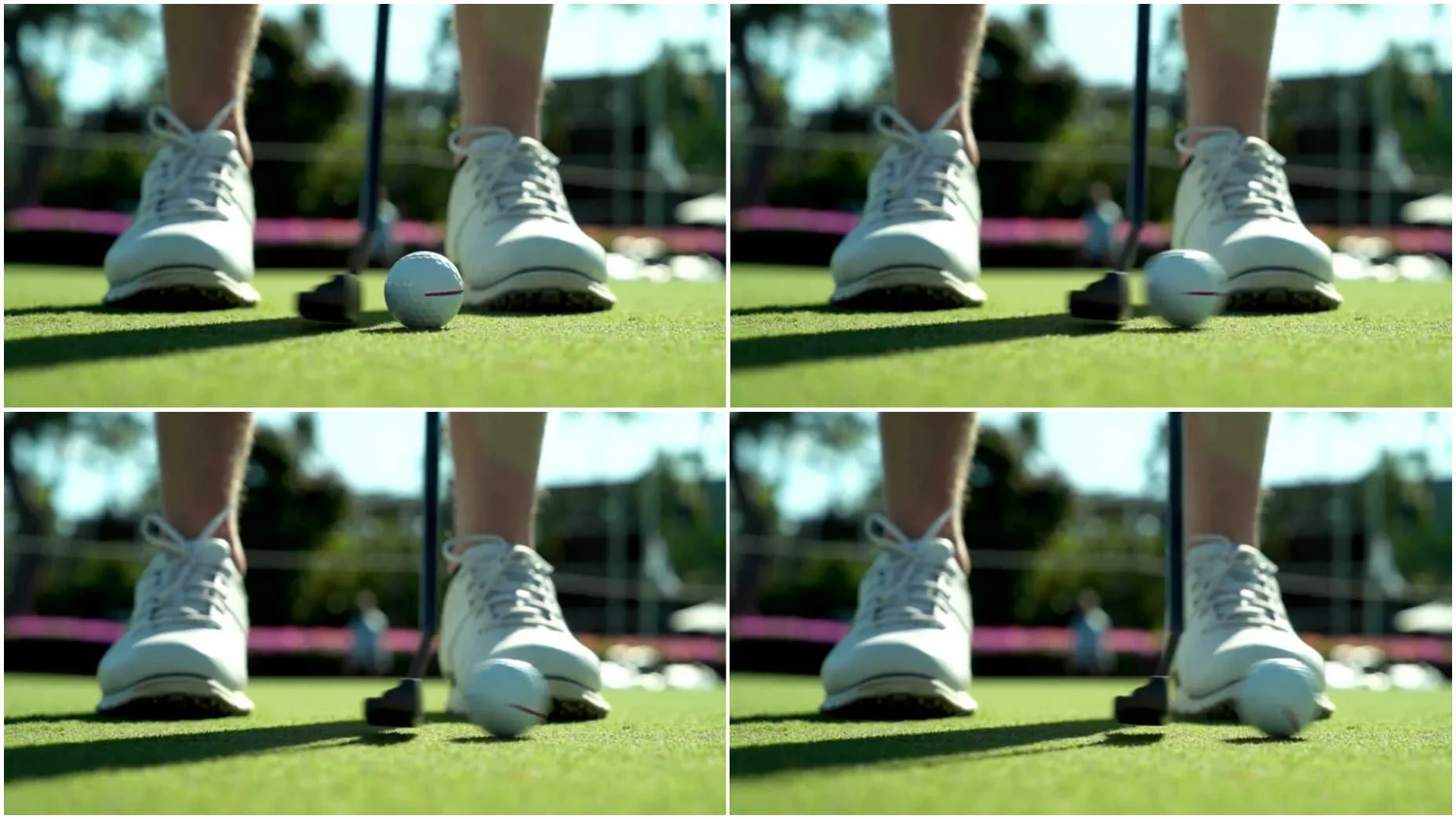 This is a visual cue that helps him hit up on the ball and generate topspin on his putts. If done correctly, Smith can see the ball rolling end over end, a telltale sign of a pure putt.
Don't be afraid to freewheel it
Smith might be one of the best putters in the world, but that doesn't mean he's over-technical. Far from it, in fact.
While he may use the equator method with the line on his ball, he doesn't always stick to it. As he explained after his Players Championship win in March, he'll change it up if he feels like he needs to.
"I go in and out of lining it up and not," Smith said. "It just depends on how I'm feeling. Some days I feel like the line is straight. Other days my eyes just aren't quite right, so I'll just line it up with the Titleist (logo) and freewheel it."
It might be unconventional, but it's hard to argue with the results.