Why Collin Morikawa is using two different putting grips at the Open Championship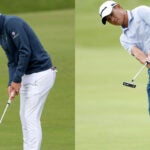 Getty Images
Collin Morikawa's ball-striking isn't just good, or great, it's all-time great. And no, there's not a whiff of hyperbole about that statement: His iron play is elite among the elite, in every way.
Just look at the stats…
But golf being a game with multiple different facets, if there's one weakness in Morikawa's game, it's on the green. His putter tends to run hot and cold, ranking 172nd in SG: Putting on Tour in all, and at various points in time he seems to arrive at different solutions. He's switched around putters, adopted a different green-reading strategy, and more recently, successfully adopted a "saw" putting grip.
For those who aren't familiar with the "saw" grip, it's basically just a slight variation of the "claw" putting grip where the first three fingers of a golfer's trail hand sit on top of the grip. It's a grip designed to take your trail hand out of the putting stroke, which makes it a good fit for golfers who tend to to pull or yip putts because of an overactive right hand. Morikawa has stuck with it loyally since first adopting it in February, which he says makes him feel more comfortable.
"I'm going to have bad putting weeks here and there, but overall I feel way more confident, especially like on a putt like on 18, just to really roll the putter and get it rolling down the line," he said at the WGC-Workday Championship, en-route to a win.
Morikawa and his saw grip are working well again this week at the Open Championship, where he shot a six-under 64 on Friday to vault into the lead. But according to Golf Channel's Rex Hoggard, he's adopting a slight change to his technique: He's been switching between the saw putting grip and the conventional grip he used to win the 2020 PGA Championship. He uses the former for shorter putts, and the latter on longer putts when he needs more "pop" on the slower Open Championship greens, which are rolling just north of 10 on the stimp meter.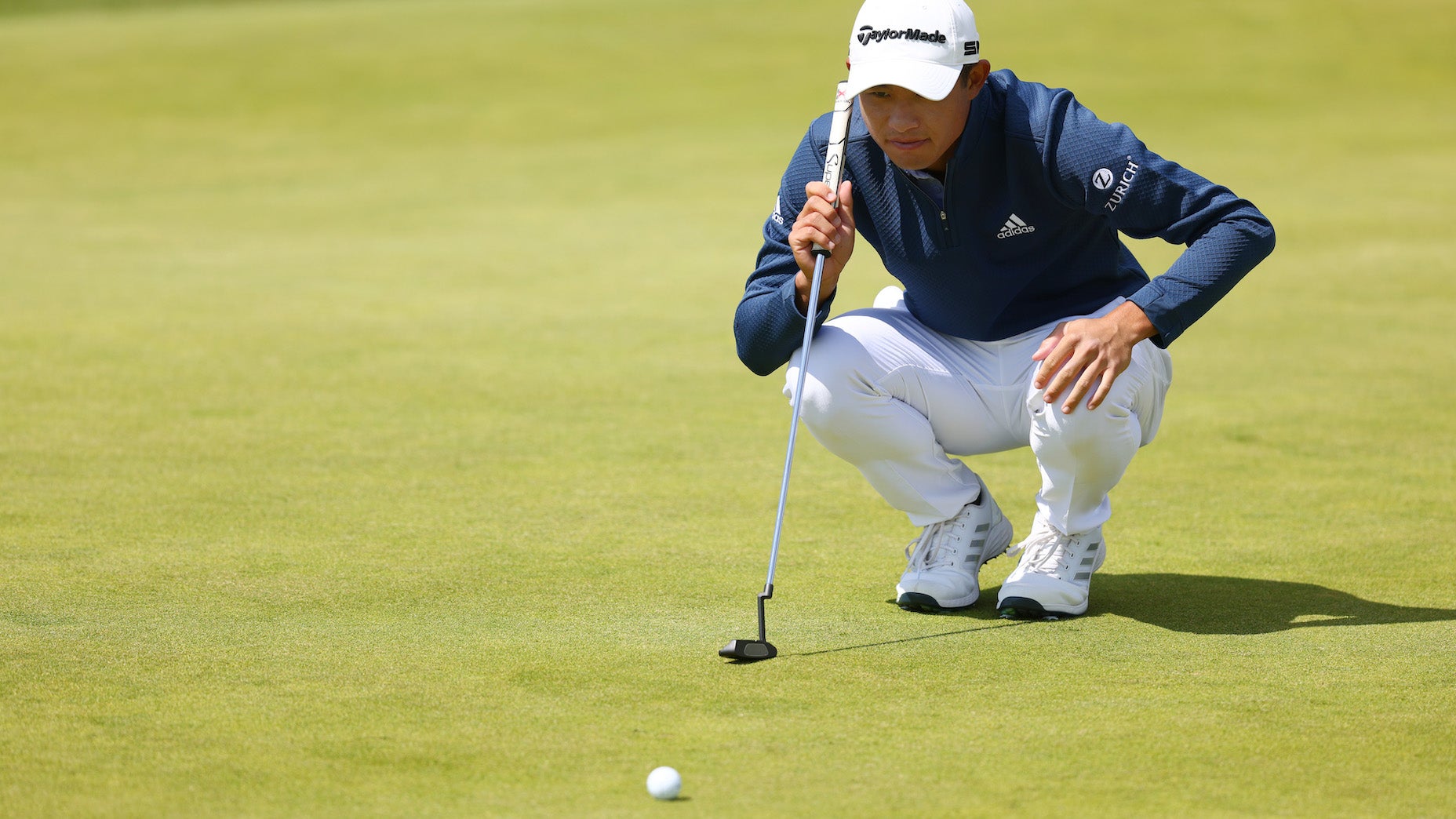 "Last week I left so many putts short, and not just 4 or 5 feet short, 10 feet short. It's not acceptable…We figured out a conventional grip just has that little extra pop. I didn't have to change anything mentally from 30 feet, it was that grip and that stroke produced something that just rolled off the face a little faster," he told Golf Channel's Hoggard.
Morikawa, speaking after his round, expanded on his thinking:
"It's a feel thing, but it's more I couldn't get the tempo on the saw grip. I think the saw grip is amazing for me. It's going to continue to be in my bag and as I continue to putt. But from outside 25, 30 feet I just couldn't get that hit. I couldn't get that tempo that you see like a Brandt Snedeker put on his putts. That is something you need out here because the greens slower than what we're used to playing. Just switching to conventional, I didn't have to change anything mentally. I just kind of went at it like I normally felt, and kind of matched the speeds. That's something that without my caddie, J.J., I wouldn't have figured out on my own."
If there is one drawback to the saw grip, it's that it can often be difficult to control the putter on longer putts, says GOLF Hall of Fame Teacher Dave Pelz. That's why it's important to remember that you shouldn't be afraid of following Morikawa's lead and changing grips based on the goal of the putt at hand.
"You don't have to use the same grip on all putts," Pelz says. "Run your own test on the practice green. If the saw feels good on short and medium-length putts, commit to it."
Follow your feel and commit. That's what Morikawa has done through 36 holes at The Open, and needless to say, it's been working.
Golf Magazine
Subscribe To The Magazine
Subscribe