This is the key to being a mentally tough golfer, according to 3 major winners
Getty Images
BROOKLINE, Mass. — The fairways are tight, the rough is heavy, and the greens are lightening fast. This week at The Country Club will be a classic, brutal U.S. Open test.
But to harken to an old cliche, the trickiest test won't be anything to do with the course itself. It'll be between the ears.
"I think that's your biggest asset is mental strength out here," said Jon Rahm, the defending champ. "That's what you need. You are going to have a lot of holes where things are going to go wrong."
Mental toughness is one of those qualities that can help in every facet of life — and certainly on the golf course. Generally speaking, we largely know what being "mentally tough" means. It's the ability to overcome the difficult. To not quit, even when it'd be easier to.
But that's easier said than done. What are the essential qualities that makes a golfer mentally tough?
'Acceptance'
The notion of mental toughness often conjures images of fighting against something bad. Yet ask pros themselves, and they'll describe a very different mindset.
"Acceptance," says two-time major champion Collin Morikawa. "We are the best players in the world, and we set ourselves to high standards. Sometimes when you don't perform to the way you want to, you can get upset. It can be frustrating. That's how it's been recently. You just have to accept that you're going to hit bad shots."
Rahm agreed.
"You are going to have a lot of holes where things are going to go wrong," he says. "I just have to know going into it and accept certain things that happen."
The idea of acceptance doesn't mean quitting, but rather acknowledging that sometimes you'll make mistakes, or bad swings, or just get unlucky. Accepting those realities doesn't mean you're giving up. It means you're not dwelling on those mistakes and getting angry about them along the way. All that'll do is lead to more mistakes.
By accepting what's in the past — and therefore out of your control — you're allowing yourself to move on. There's no looking backwards once you accept what's already happened. There's only looking ahead to what you can do next…
'Patience'
When pros talk about mental toughness, they often circle the things they can control, and not the things they can't. That means when the going gets tough this week — as it inevitably will — using it as an opportunity to pay special attention to the little things.
"How do you go through the process? And how do you make sure you're doing the right things leading up to the ball, walking into the shot?" Morikawa says. "There are so many little things that aren't said or heard or no one else would know other than yourself, but that's the thing. It's the small things that really make a difference. You always hear that, but that's what really happens."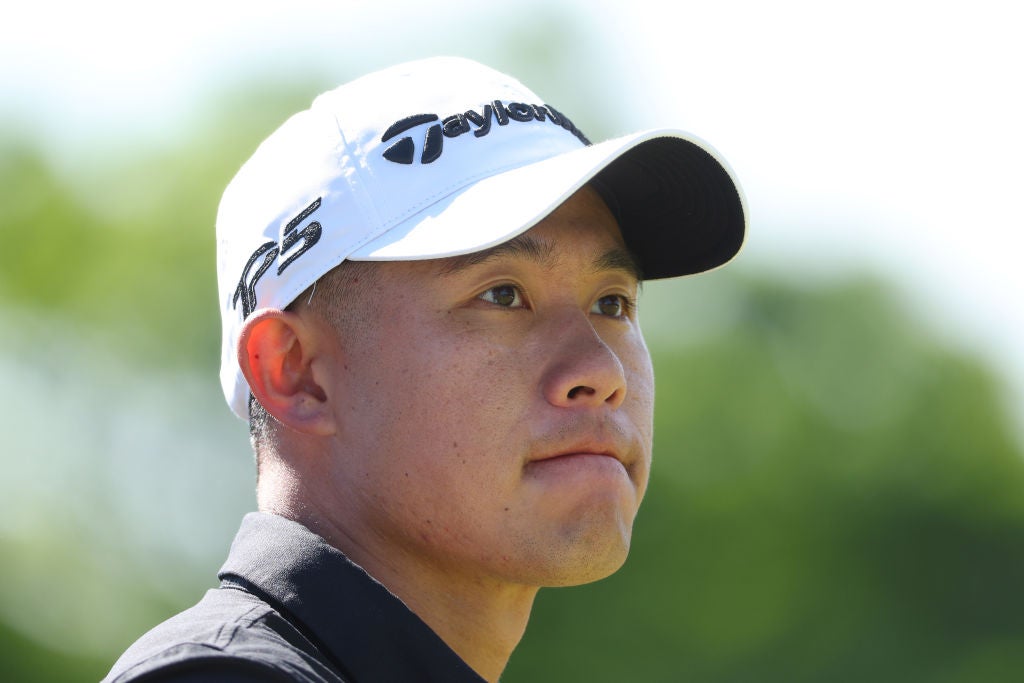 Ironing-out the details in your pre-shot routine, for instance, or the way you walk in between shots isn't the most interesting thing in the world. But re-focusing on these is essential to staying in the present, says recent major champion Justin Thomas.
"If you're cruising and everything feels good, you just basically keep doing what you're doing," he said. "It's when things start going south or maybe you get a couple bad breaks or you get some wind gusts, whatever it is, to where you just get thrown some adversity, and it's like, how are you going to handle it?"
Thomas, for his part, says he tends to try to make up for a pervious mistake by getting more aggressive on his next shot. Occasionally it'd work, he said, but too often it'd backfire and turn one small mistake into two.
"I've learned that I become a little impatient. I almost try to force the issue sometimes," he says. "At the end of the day or at the end of the week in a major that's how a lot of guys are going to end up losing the tournament."
Sticking to the plan, with patience and discipline, and focusing on what's next rather than what's already happened. That's what being a mentally tough golfer is. And the one who lifts the trophy this week will have demonstrated those above all else.