How this 48 year-old PGA Tour player went from back pain to 120 mph
Getty Images
Welcome to Play Smart, a game-improvement column that drops every Monday, Wednesday and Friday from Game Improvement Editor Luke Kerr-Dineen to help raise your golf IQ and play smarter, better golf.
Greg Chalmers has been cashing checks in professional golf for more than 25 years, more than $10.5 million on the PGA Tour alone. He's claimed 11 victories across the globe, including two Australian Opens and the the 2016 Barracuda Championship, courtesy of one of the best flatsticks in the game. In his 11 full PGA Tour seasons in the Strokes Gained Era, Chalmers has averaged 12th in Strokes Gained: Putting, never finishing outside the top 50 and leading the Tour in putting twice.
But two years ago, things started to take a turn.
After facing down the barrel of a back injury that had him playing in pain and threatened to end his career, he teamed with trainer Jarrett Phillips, cofounder and CEO of Train PMT, and set about getting fitter and faster with his driver.
With the PGA Tour Champions in his sights, the 48 year-old Chalmers is playing pain free and swinging faster than ever: In just two years, his max clubhead speed has jumped from 106 mph two years ago to 120 mph today.
Chalmers has been sharing his journey on social media along with the way (you can follow him on Twitter right here). In light of his impressive offseason speed gains we caught up with the legendary putter to learn more about what's going on at the other end of his bag.
This interview has been lightly edited for clarity and brevity.
LKD: So Greg, after a long career of not worrying too much about distance, what changed?
GC: My back had been bothering me for a long time, and it started getting worse. I got diagnosed with osteoarthritis in every facet from L one to L five, so in five joints of my spine. I was playing in pain for a few years. Some of through ignorance, some of it through trying to tough it out, or whatever you want to call it, and some of it through just not knowing what to do. I just thought, 'there's not much I can do. It's arthritis, what can I do?'
That's when I grew a brain, I started to think: 'You know what? I need to try and sort this out so I don't end up in a I'm not in a wheelchair by the time I'm 55.' I wanted to make sure I was able to walk around and be healthy-ish. So, that's when I started to get better tracks on what medications I needed to help me, and what workouts I needed to do to stay mobile and stay moving. It started off very big picture at the time.
LKD: What was the first step towards making what sounds like quite a big lifestyle shift?
GC: I got some medication to help take pain away from osteoarthritis, and starting talking to trainers about how they might be able to help me. I always had a good radar for when someone had a good head on their shoulders in different fields, and I had met Jarrett [Phillips], who I had met a few years prior to that. I called him up and started working at his Premier Movement Training facility here in Dallas.
LKD: And what did those early screens tell you about the strengths and weaknesses of your body?
GC: We started by measuring joint mobility and end range strength to see what was going on with my body.
I was extremely weak and tight throughout my whole lower body; hips, glutes, hip flexors. I've always had chronically tight hip flexors, chronically tight abductors. I really don't turn very well through the impact zone. I always felt like my hips were just super tight, and there wasn't much I could do about it. So we started to work together and I got working on just slowly developing strength and power.
LKD: What does that mean, specifically? Are you hitting the weights hard every day?
The interesting thing with functional range conditioning is if you do it correctly and long enough, it's joint mobility, not just muscle mass. It's range of motion stuff, which is super important for golfers. I picked up 12 degrees of interior rotation in my trail leg, for instance. That has really helped me turn more in the golf swing.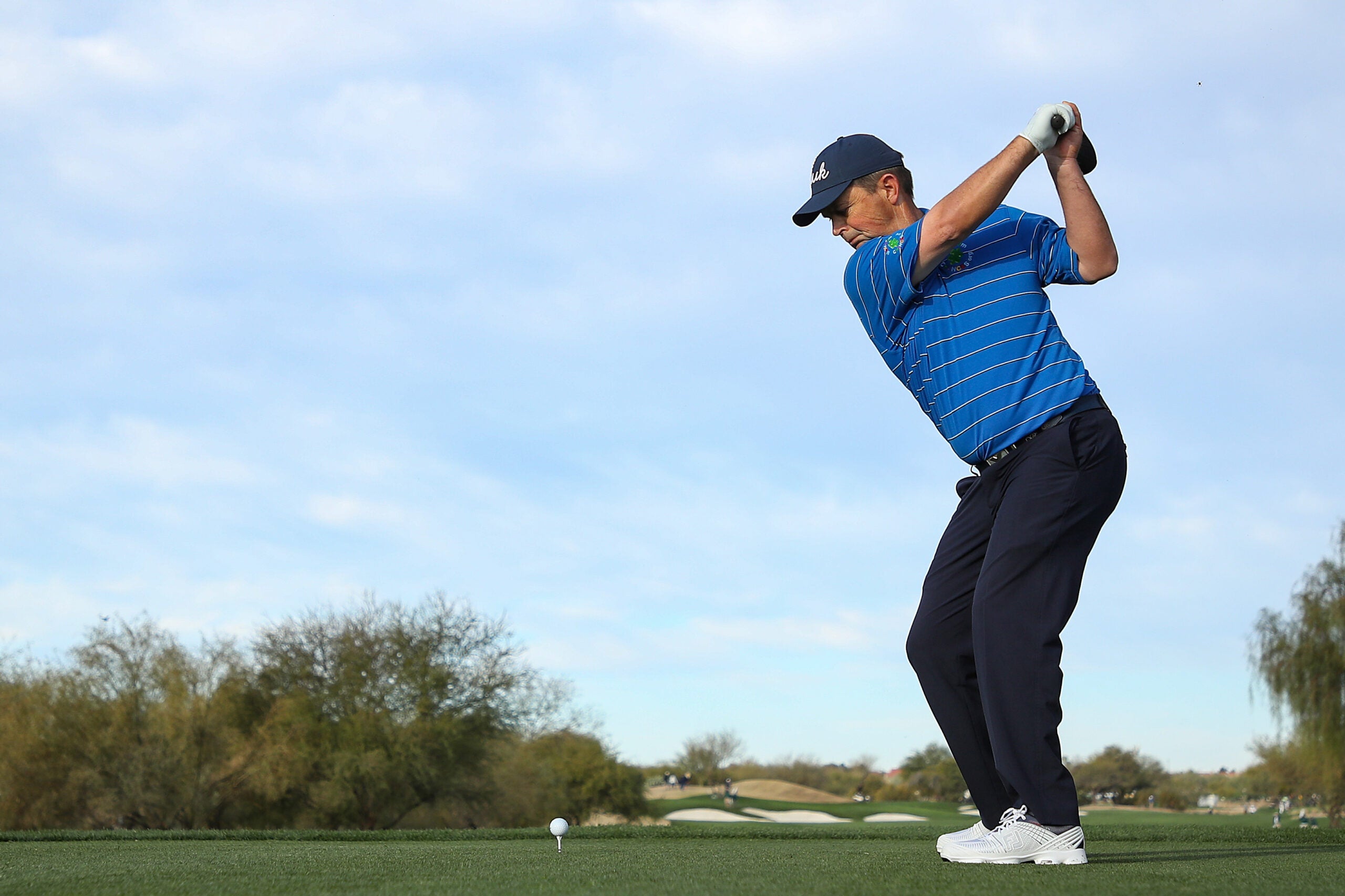 But as for specifics: The way his workouts are structured, every workout has an element of stability, mobility, strength, power, and speed. Each of those workouts end in speed training. I do those three mornings a week for about an hour and 10 minutes usually, six or seven or eight o'clock in the morning, Monday, Wednesday, Friday.
I use the SuperSpeed sticks to help with training. I'll do stretching on the off days, and some cross training, but when the joints are more mobile, I found I've had to do less and less stretching. I haven't had to do much of that at all, but, I still maintaining good mobility and range of motion. That's what golfers need to remember.
LKD: Have you changed your diet along the way?
GC: Not really. I'm a few pounds overweight right now. My goal leading into 50 is to shed a little bit, but honestly I'm not. I can keep building strengths and mobility and not put on much more weight to ruin that. If I was about where I am now, I'd be happy as a 50 year old man. I'm not going to go on some crazy diet and try and shed and get ridiculous. I just want to be healthy. That's it. That's my benchmark, and I want to be able to walk around and feel good. I know what size my pants are. I don't want to buy the next size up.
LKD: What are the results been like?
GC: My original goal, to be honest, was just to not lose more power as I aged. I was about 46; I wanted to get to 50 and not be even shorter than what I was. I started at 110 mph clubhead speed on average. Now I can get to 120 mph. I did that for the first time the other day. I can't get that on the golf course, but I can cruise that controllable swing speeds around 115, 116, 117 mph. What I want to do is train to have access to that 120 out on the golf course.
LKD: And more importantly, how do you feel?
GC: I feel better now at 48 than I did for the last 20 years. I can feel the ground better. I can I move. My hips are moving better. There's so much going on that I feel like a better machine. So that's brilliant. I'm really excited.
LKD: There's obviously so much talk nowadays about needing to get fitter, stronger, faster. You're now an example of the benefits of that. What is your take on why it's so important?
GC: Look, in my career, my two business biggest weaknesses have been with my driver. I wasn't very accurate and I wasn't very long, particularly later in the last bit of my career. I made a living off short game. The problem you have with that, which I learned pretty quickly, is that everyone else is not bad enough at short game for you to be so good to catch up. They're all pretty damn good too. In any given week there's going to be 20 or 30 or 40 guys who putt chip awesome. You can't rely on being so much better than all of them.
As a kid with our older equipment, softer spinnier balls and wooden heads, there was a thinking that if you swung too hard, the ball just spun more and it went offline. That's why you had some really tall and big human beings who really didn't go at it that hard. I was sort of one of those guys. We would actually concentrate and practice trying to swing smooth. If you hit it long it was seen as a bonus. Only a handful of guys actually really crushed it, and it was looked at as an aberration. Now it's a necessity.
LKD: The new year is coming up, which means some golfers at home will be looking to make some changes of their own. Do you have any advice to them?
GC: I found a trainer that I think is one of the smartest guys in golf. That's the biggest piece of it for me, and where lots of golfers to start. But more generally, I'd say that you've got to buy in. You have got to stay patient and keep at it. The consistency matters. When you're speed training, it's not about sending the ball when you want it to go.
It's about learning how to swing fast. I don't care who you are, you can go faster than you think. You just need to train your brain and body. Doing it for months and months, and it'll pay off. You just got to keep at it, and get after it.