10 research-driven tips to improve your range practice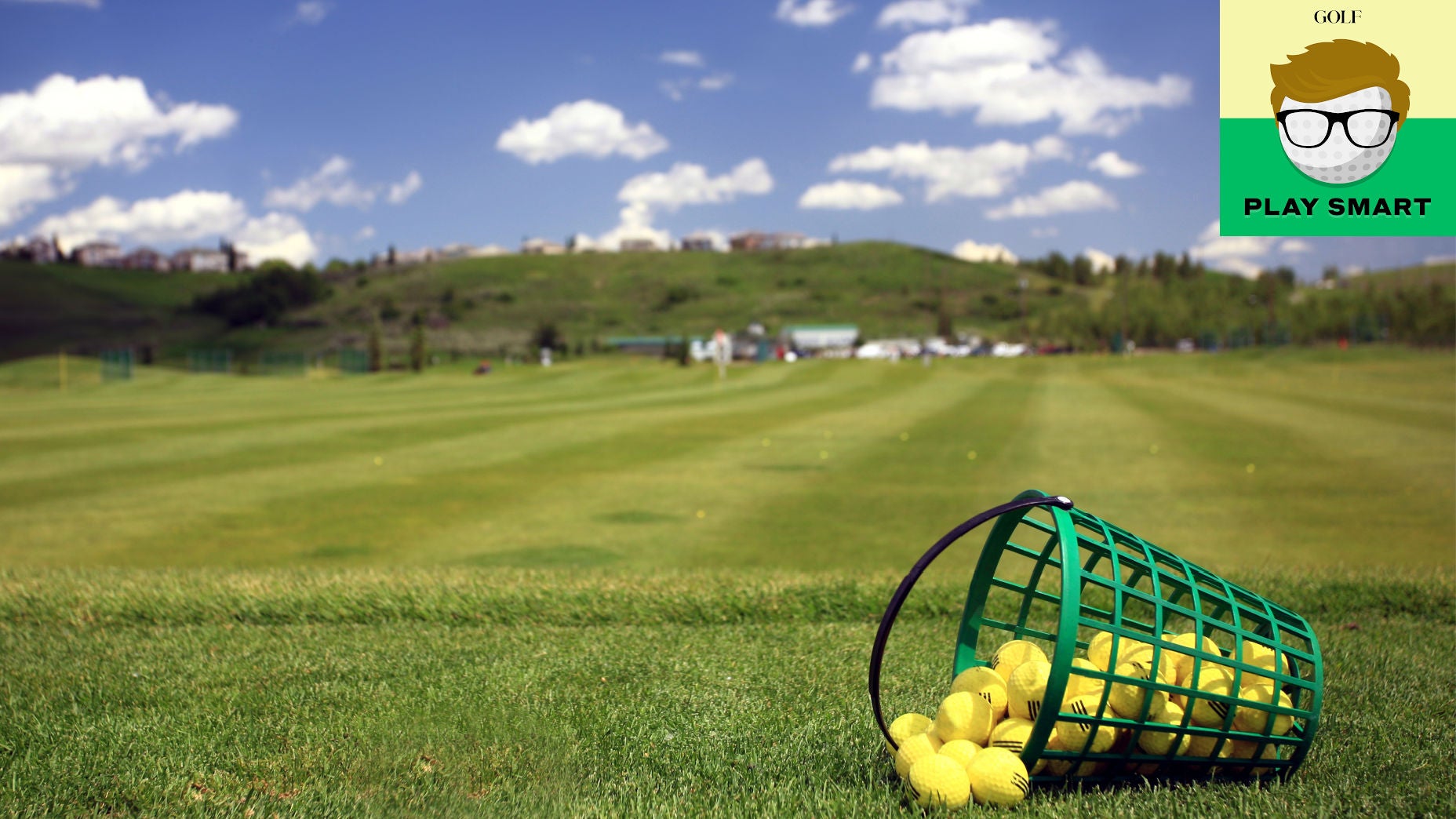 Getty Images
Welcome to Play Smart, a game-improvement column that drops every Monday, Wednesday and Friday from Game Improvement Editor Luke Kerr-Dineen to help raise your golf IQ and play smarter, better golf.
GOLF Top 100 Teacher Eric Alpenfels, along with research partner Dr. Bob Christina, Professor Emeritus of Kinesiology and Dean Emeritus of the School of Health and Human Sciences at the University of North Carolina at Greensboro, have spent years studying all manner of things related to golf. Not so much the intricate details of the golf swing, but rather, attempting to bring an evidence-based approach that will actually help you play the game.
Their new book, "Evidence-Based Golf," which you can buy on Amazon right here, lays out all their findings from their various studies conducted throughout the years. It's the kind of stuff that's right up my alley and what I write about often in this column, so I'd certainly recommend it.
Piecing through it the other day, one section in particular caught my eye: Their findings on the best way to practice, uncovered via a study of golfers of a variety of skills levels conducted at Pinehurst Resort.
The driving range can be a dangerous place for golfers. I'm a self-confessed range rat, and while banging ball after ball can be good when you're trying to change your golf swing's technique, it's not the best way to transfer all that hard work to good results on the golf course, Alpenfels and Dr. Christina found in their research. To do that, you need what the pair calls "transfer practice," which is a form of practicing that mirrors what happens on the golf course.
"Practicing like you play has high transfer back to the practice area and play on the golf course," they write.
What, exactly, is transfer practice? Glad you asked! Here are some of the recommendations laid out in the book, which you can work on the next time you're on the range.
1. Play simulated holes
That means envisioning the hole, picking a target and outlining a fairway or green. It can be any hole — have some fun and imagine you're playing the 13th at Augusta National — but take it seriously. And no mulligans!
2. Play shots to different targets with random clubs
What's the opposite of standing in one spot, hitting to one target, with one club? You may not be able to move yourself around, but you can change your targets and clubs.
Pick a club at random, choose a target that's appropriate for it, then after you hit the shot, rinse and repeat.
A big theme in all this is not letting yourself get too comfortable on the range. Teaching yourself to adjust is what you'll need to do on the golf course, after all.
3. Use one ball
When you're at the short game area, don't bring more than one ball. You don't have that luxury (usually) on the golf course, so don't allow it on the putting or chipping green.
Use your one ball and putt or chip to different targets. That means changing up the lengths of shot, the type of shot, the lie of the shot, the slope the shot involves. If you hit a bad one, move onto the next one — it's more valuable than giving yourself a do-over. 
4. Same club, different targets
When you're on the range, take one club, but get creative with your targets. Let's say you usually hit your 7-iron about 150 yards, for instance. Pick a target that's 150 yards away, then on your next shot, hit one to a target that's 140 yards away. After that, try one that's 50 yards, then mix it up and swing for one 160 yards away.
Honing your creativity has all sorts of positive knock-on effects for your game. It'll increase the awareness you have of your golf swing by allowing you to make minor technical adjustments.
5. Same target, different clubs
And once you get tired of that, flip the script. Pick a target 100 yards away, then hit shots to it using different clubs. Wedges, mid-irons, even try a driver. It's a fun — and hugely beneficial — way of making practice more interesting.
6. Same club, different ball flights
As you can gather, a big theme in transfer practicing is mixing things up. So once you're done hitting different clubs and different targets, take a club of your choice and mix up the ball flight: One high, one low, one left, one right. Don't use the 'I'm not good enough to do that' excuse, either. You have to start somewhere, and you'll be amazed at how quickly you can improve doing it.
7. Use your routine
This may sound boring coming off the back of a fun form of practice, but using your pre-shot routine before every shot really will help you on the course. It's tedious, but practicing your routine itself more will help you get comfortable on the course.
8. Practice trouble shots
While you're at it, practice the shots that you might need which you hope never to use: Chipping out, punching through trees, a plugged lie in a bunker. Taking your medicine requires a bit of practice to do it best.
9. Play games
The goal is to create some form of pressure for yourself, which you can practice playing golf under. That, after all, is what happens on the golf course.
So take it to the range. When you're practicing to different targets with different clubs, give yourself a goal. If your next shot means chipping a 5-iron onto a green 50 yards away, for instance, give yourself a reward if your ball stays on the green — and a punishment if it doesn't.
10. Practice up and downs
When it comes to creating practice games, there's no easier — or better — one than a good old fashioned up-and-down. Don't just practice chipping, practice making the putt after it. It'll ready you for when you need to hit that nervy par putt on the course later.
Ready to overhaul your own bag? Visit the expert fitters at our sister company, True Spec Golf.