Once in a while, a product comes along that's both outrageous and desirable. You look at it and think "Who the heck got paid to come up with that?!" while you also feel an immediate sense of longing wash over you.
And even though I'm stuck on land in New York City, this golf pool float inspired that exact feeling in me.
Maybe quarantine is getting to me…
Either way, when I saw this inflatable golf cart pool float on a recent internet rabbit hole adventure, I knew I had to share it with the world.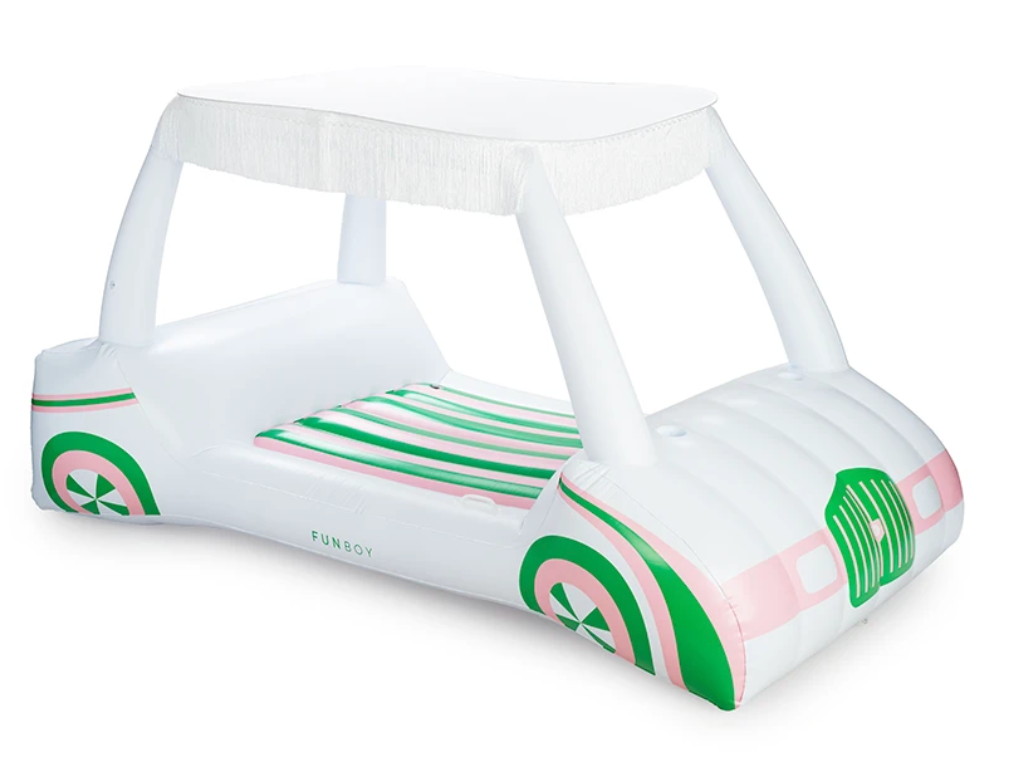 ---
Dubbed the world's first inflatable golf cart, this float is the product of the creative minds at Funboy. The pool float has all the features of a real life golf cart, other than being able to actually drive of course, but you won't have to worry about any breaches of etiquette.
At five-and-a-half feet long and almost four feet wide, this floating golf cart can comfortably fit two adults. It also comes with two reinforced cup holders to ensure you can bring your favorite on-course beverages to the pool.
The removable fringe-lined sunshade protects you from the sun (along with the appropriate application of sunscreen of course!) and the backrest provides "the optimum upright lounge position."
A built in tether point ensures the only thing that will drift away while you lounge poolside are your worries.
While it won't give the custom golf carts at the Villages a run for their money, the white, green, pink color scheme is clean and bright — perfect for summer. Plus, it's light enough that it won't attract unwanted heat if left in the sun for too long.
While Fanboy's floating golf cart brings some much needed levity to golfers given the current climate, they are also doing some serious good — 20% of every sale is donated to Feeding America. And this philanthropic effort extends to its entire website, not just the floating golf cart of our dreams.
The float retails for $129.00. You can purchase it here.
Even though summer feels far away, this golf cart float is really a reminder that better things are on the horizon.
To receive GOLF's all-new newsletters, subscribe for free here.