I gained 22 yards with my first-ever clubfitting — here's what I learned
Claire Rogers
About a year ago, I realized it was time for new golf clubs. About a month ago, I decided to do something about it.
I've been playing the same set of clubs since my sophomore year of high school, which was a very long time ago. I went to Dicks Sporting Goods with my dad the night before the golf season began and hit them for the first time at tryouts. They've gotten me through some golf ups and a lot of golf downs over the years. Anyway, it was time for a new set.
The problem was that I didn't know where to start. How was I, someone who admittedly doesn't know much about equipment, supposed to pick out the right clubs for my game? Is there even a right set of clubs for my game? Being that they're one of our affiliate companies, my coworkers suggested I schedule a fitting with True Spec Golf. So I did, even though I had no idea what to expect.
I'm an average golfer, so I couldn't help but wonder how necessary it was for me to get a fitting. Don't get me wrong — I wanted a fitting and was very excited to get one. I just wondered, as a 15-or so handicap, how much it would actually benefit my game. About 15 minutes into my fitting, I found out.
If you've read any of my other writing, you know that I tend to get nervous before things like this. My fitter, Cale Glover, made me feel at ease and started by having me hit my 6-iron. He tracked my ball speed, launch angle, back spin, side angle and carry. He measured my the length, stiffness and weight of my irons to see what we were working with. After getting warmed up and collecting some data on my game, Cale picked out five iron heads that could work for my game of all different brands. From there, we ran through all the heads with one shaft in order to find which one I hit best.
I was shocked to see the difference. I know that club technology has updated a lot in the last 12 or so years, but I didn't expect there to be such a difference between brands. I hit the Titleist irons better than the other options, and I hit them a lot better than my old irons. At this point, I started to get really excited about my new clubs. There's nothing better than hitting it pure! From there, we fine-tuned my irons with different shafts. There were three shaft options that we ran through, again measuring my ball speed, launch angle, back spin, side angle and carry as I hit into the bay. I felt a little bit like Goldilocks searching for the fit that was just right. Once I did, I was hitting my 6-iron six yards longer due to almost four mph more of ball speed. I was hitting it slightly straighter, too.
With my new irons picked out, it was time to get fitted for a driver. We went through the same process as we did with the irons. I settled on a Titleist Tsi1 driver.
My average tee shots went the same distance as the very best ones I ever hit with my old driver. One of my biggest struggles is getting height off the tee, so we dialed-in my loft and switched to a shaft that brought my numbers into the "optimal" range. When we found the perfect combination, my new driver was carrying 22 yards longer, and with less curve.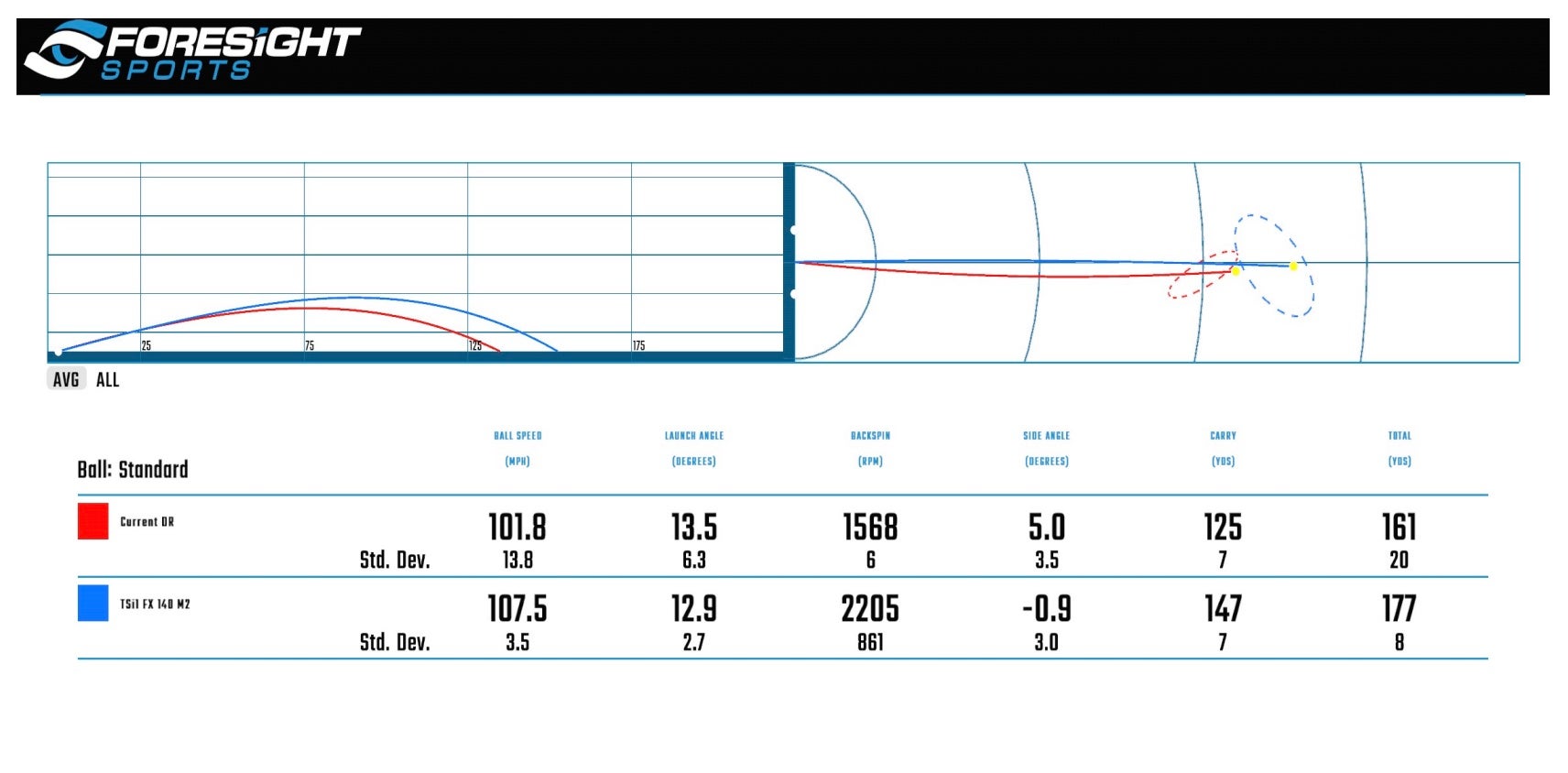 Next up was woods. I had a 4 and 5 hybrid in my old set, which I would avoid hitting at all costs. I tend to top them, and would usually just take a long iron instead and resign myself to laying up. Cale recommended that we try a 7-wood, a club that I had never hit before, and I'm not exaggerating when I say it might be my new favorite weapon. I've never, ever felt confident hitting a wood, and I was absolutely striping it (she said humbly).
On to wedges. But first, a confession: I've never used anything but a sand wedge. I've always been jealous of people who have their irons stamped, but I knew I didn't have enough clubs to do the same to mine! Anyway, I was hitting the Cleveland CBX Zipcore wedges extremely well, so Cale and I decided to put a 54-degree and 60-degree wedges in my bag.
We ended the day with a putter fitting.
Before my fitting, I had a really cool Scotty Cameron Studio Design 1.5. It's a classic design that tended to get lots of compliments when I played with new friends, but the truth is I didn't hit it very well. I'm not blaming my poor putting on my old putter, but I learned through the fitting that the putter has lots of toe hang, which promoted more arc in my stroke, and a lower MOI. I always struggled with pushing putts and poor distance control and never knew why. Now I now at least part of the reason: I wasn't using the putter that best fit my stroke.
I ended up getting an Odyssey White Hot OG #7 putter, and I saw, and more importantly, felt, a difference with it immediately. I've never had a mallet putter before, but it felt a lot smoother to use. We toyed around with some different grips, and I went with the P2 Grips Tour white putter grip, which is definitely bigger than my old putter grip but feels natural to me.
The whole fitting took about three and a half hours, and I'd recommend it (actually, I already have recommended it) to anyone looking to get new clubs. I learned more about gear during this fitting than I ever had before, and I was really interested to see how different clubs can help a person's game. I also learned that you don't even have to be a particularly good golfer to get a fitting and see an improvement with new clubs, which was great news for me. Cale was able to learn about my game, my tendencies and my goals to help me find a proper set of clubs. Now I can't wait to tee it up this summer.
You can book your own True Spec fitting here.