The Great Pyramid of Giza is one of the Seven Wonders of the World, and seeing the ancient structure in person is a bucket-list item for any world traveler. But if you're a golfer, there's now a unique new way to enjoy a view of the famous pyramids: a round of golf.
The newly-opened course is called "NewGiza." It's located in southwestern Cairo, only five miles from the pyramids, and has been in the works for nearly two decades. It's the final design of  the Thomson Perrett & Lobb architecture firm, which was comprised of the late Peter Thomson, a five-time Open champion, who died last June at age 88, and golf course architects Ross Perrett and Tim Lobb.
"Since first walking the site in 2005 we knew we had the potential to do a unique course in this quarry setting just out of Cairo," Perrett told Golfcoursearchitecture.net. "Working hard with the client and development team we planned a course that would explore a lot of the site, including views of the pyramids and give a context to the local cultural landscape."
The course is a part of a nearly 1,600 acre development that includes upscale housing, hotels, schools and universities and even a sports arena. One of the course layout's unique features is the absence of rough. Instead, players are challenged by changes in elevation, numerous water hazards and landscaped sandy waste areas. Wind is also a frequent factor in Cairo, as you can see by the swaying palms in the course photos below.
---
---
---
---
---
---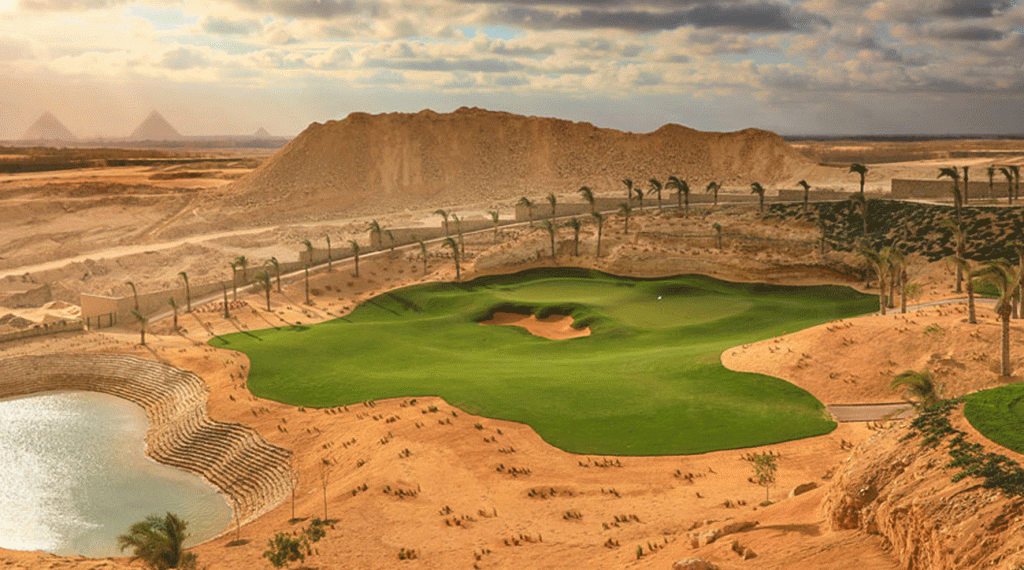 ---
---
---