Bethpage Black will take center stage in the golf world at the 101st PGA Championship, and deservedly so. The host site ranks 24th on our Top 100 courses in America list and has hosted two U.S. Open's and two FedEx Cup Playoffs. In 2024, the Ryder Cup is coming to town. The warning sign mounted behind the first tee also helped boost the Black's worldwide reputation as one of the game's most challenging tests.
I grew up 20 minutes away from Bethpage in Babylon Village. My family didn't belong to a country club. I'm part of the large Long Island golf community that belongs to "The People's Country Club," Bethpage State Park. All are welcome to play on the five public courses that reside within the park: Yellow, Green, Blue, Red and of course the Black.
The Black course will always be considered the crown jewel of the group, but I'm here to tell you the Red course is Bethpage's other gem. I won't insult the Red course by calling it a hidden gem because for Bethpage regulars it's the farthest thing from a secret.
Look, if you're a low-single-digit handicap golfer or someone who enjoys cruel and unusual punishment, the Black is for you. The Black surpasses expectations and it's a thrill to challenge yourself on the same course as the game's best. As a 14 handicap, there's not much to smile about while struggling to reach fairways, failing to reach par 4s in regulation and hacking out of thick rough just to post another snowman on the scorecard.
If you want a challenging and more enjoyable experience, forget about the Black and play "Baby Black," aka Bethpage Red. Famed golf course architect A. W. Tillinghast is responsible for the design of both the Black and Red courses, and it won't take long to spot similarities. The Red doesn't waste any time stepping out of big brother's shadow.
Near Black's infamous warning sign is Red's 465-yard, par-4 1st hole that features a grueling uphill approach shot. You'll be asking yourself why there isn't another sign on Red after that opener. From there you'll experience no shortage of tree-lined dogleg holes that will test your ability to shape the ball and position shots. Playing at just shy of 7,100 yards from the tips, you'll need more than the long ball to succeed. If that sounds like too much for your game, move up to the middle tees with me and try your hand at what I find to be the ideal 6,555-yard layout.
Unlike the Black, you won't be dealt with unforgiving rough and knee-high fescue if you miss a fairway. That's not to say that you won't be punished, you just won't be tempted to snap a club quite as often. Despite a small army playing the Red daily (and every other course at Bethpage for that matter), it's always maintained to country club standards. You'd be hard-pressed to find a day on Red when the fairways and bunkers aren't in marvelous shape while the greens roll true. They won't be at Black's major-championship speeds, but that's intentional. This is "the People's more enjoyable country club," after all.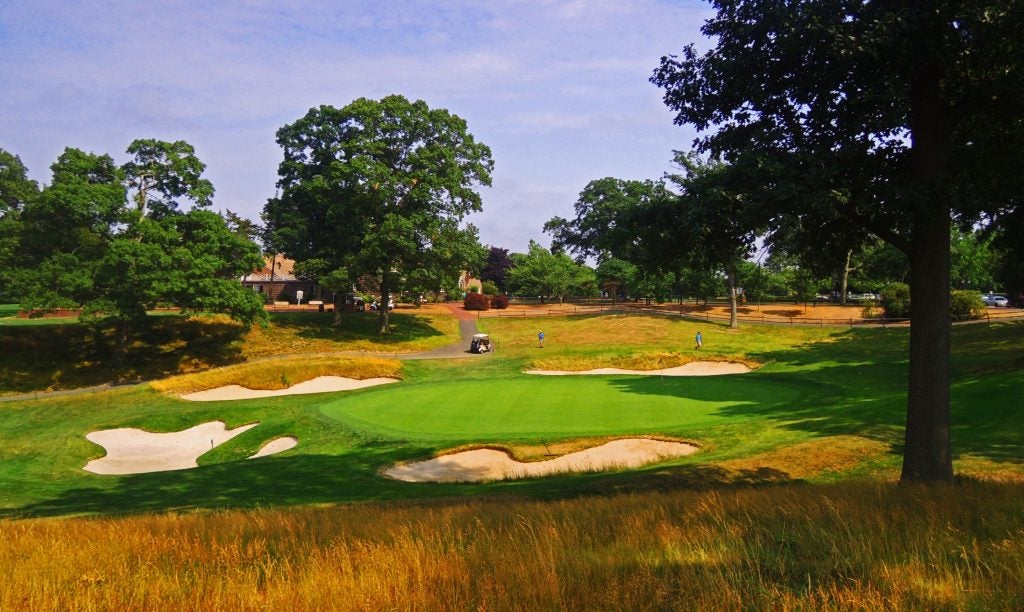 ---
The price differential is another reason to love the Red vs. Black, though both are great deals:
Black
Weekday 18: $130 non-state resident/$65 resident
Weekend 18: $150 non-state resident/$75 resident
Red
Weekday 18: $86 non-state resident/$43 resident
Weekend 18: $96 non-state resident/$48 resident
If you struggle to get a tee time on Black, don't look at the Red as a consolation prize. You'll walk off the 18th green on Red with a smile. The same can't always be said for those staggering off Bethpage Black.