'Absolute bulls–t': Sergio Garcia berates official during controversial ruling
PGA Tour Live
UPDATE: On Thursday evening, the PGA Tour said the referee in Garcia's group had mistimed Garcia's search, and that Garcia had, in fact, found his ball within the time limit permitted by the rules. The Tour called the ruling an "inadvertent error," but Garcia's score did not change despite the clarification.

*** 
One slightly ambiguous section of the Rules of Golf took center stage at TPC Potomac on Thursday, starring alongside a rules official and a very frustrated Sergio Garcia, who threatened to leave the PGA Tour in the process.
Sound like a lot? Well, it was a lot.
Garcia hooked his tee shot on the 10th hole during the first round of the Wells Fargo Championship into high grass near a stream. The hazard line began on the right side of the stream, meaning everything left of the stream was also a hazard. Garcia moved along, looking for a place to cross the stream, and begin hunting for his errant drive. What wasn't clear to most of the people involved was, when did the three minutes he is allotted to search for his ball start? Was it when he was walking right of the stream, parallel with where his ball was? Or would it begin once he traversed the stream? We would have to find out. Even John Maginnes, the on-course reporter, wasn't sure.
Garcia began his trek across the stream, moving gingerly from rock to rock. He even paused to point out a snake to the nearby cameraman. Garcia smiled — all was well!
And when he happened to find his ball a couple of minutes later, he was happy, if only for a moment. He shouted for his caddie to join him after clarifying that the ball was his, and John Swantek described it well on the broadcast: "Hoo, a buzzer beater. Just in the nick of time."
Only it wasn't.
Just moments after Garcia alerted his group that he found his ball, the rules official announced that it took him four minutes to find it, which means unfortunately for the competition's sake, Garcia's ball was found but technically lost.
What ensued was one of the great mini, niche debates of golf. When exactly did Garcia begin his search? Was it when he was on the right side of the stream, head down, kicking through the grass? That's what the rules official said. Or did his three minutes begin once he crossed the stream after being told it was over there? The bizarre nature of this was only heightened by the fact that Garcia was alone on his side of the stream. No caddies, players or anyone walking with the group joined Garcia in the hunt on that side of the water.
As he made his way back to the course's mainland, he started to ridicule the ruling. "You want me to swim through the river? I wasn't looking for the ball there. I was looking for the ball once I got over to this side. Does that make sense? I knew it was on this side of the river."
What happened next took the bizarro to the next level. The rules official clarified his ruling and Garcia, swatting flies away from his face, said, "So, you're saying it took too long?"
Then he turned away and offered these words: "I can't wait to leave this Tour." Presumably that was an indication that Garcia is intending to join the Saudi-backed LIV series, which kicks off June 9 in London.
"I can't wait to get out of here, my friend," Garcia continued as he grabbed his ball and trudged back to the fairway. "Just a couple more weeks and I won't have to deal with you anymore."
Maginnes jumped back in on the broadcast to defend Garcia, saying, "The thing is, there just happened to be a rules official there. I mean, no player is wearing a wristwatch and timing themselves. And nobody in the group was going to say that was four minutes and 15 seconds. Someone who does the exact same thing in a different situation without an official there timing them, well, he's going to play from over there and not be penalized."
It's a fair point when watching the live coverage back. Garcia makes clear rather early that he intends to search on the other side of the stream. It's a bit of a treacherous hike back to the area, over rocks and water and through high grass. When exactly did he start the search? The difference of opinion stayed top of mind as Garcia took his drop.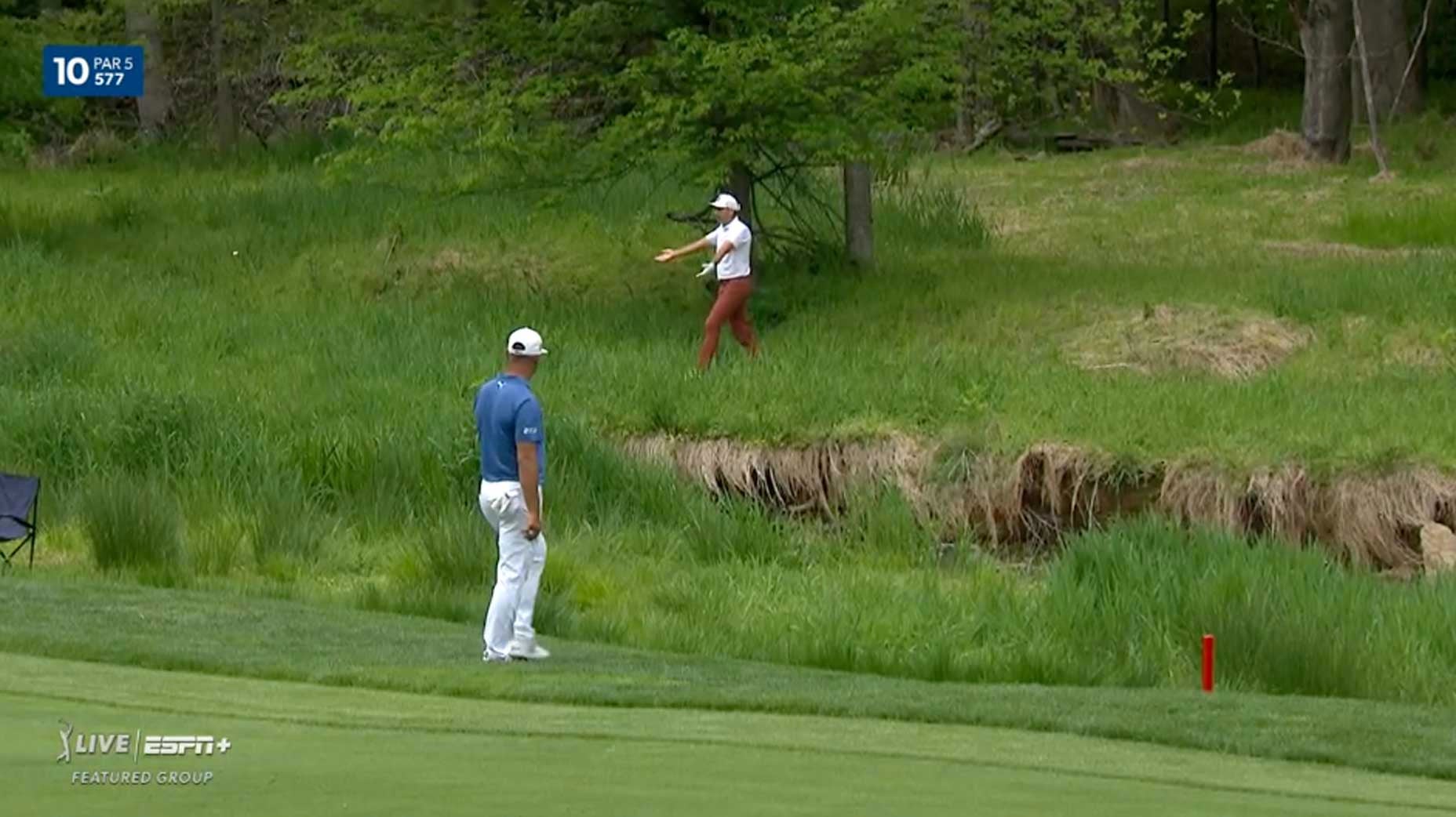 Now in the fairway, Garcia shoved his clubs into his staff bag, and shouted across the fairway, "I'm going to play slow now, okay?" He striped an iron for a layup and then proceed to berate the official. "That is bulls—t. That is absolute bulls—t. I mean, I'm a minute and a half over [time] and you don't tell me?"
It was at that point that play needed to move on. Gary Woodland and Luke List had waited plenty long for the ordeal to play out, not offering much in terms of rule guidance. Garcia nipped a wedge to 10 feet and made the putt for a ridiculous par. Then four holes later he holed out for eagle from 161 yards away. Because of course.