Absolutely perfect Ryder Cup weather awaits at Whistling Straits
Getty Images
HAVEN, Wis. — By perfect forecast, at this Ryder Cup, we don't mean 80 degrees and sunny. No, Florida-boy Daniel Berger will be bundled up along the shore of Lake Michigan. By perfect forecast we mean perfect … for the Ryder Cup.
This biannual event is contested at the end of September and often runs into the first days of October. It's almost exclusively played north of 40 degrees latitude, here in the States and across the pond. Fallen leaves whip across the fairways. Tuesday was the first day of fall, and this week's conditions reflect it. 
Monday at the Straits saw the Americans arrive in the afternoon, facing a three-club wind from the southeast. Tuesday morning they found it breezing down the 1st hole, from the northwest. Whistling Straits has no typical wind. That wind is whistling, though. 
Overnight lows feel more important at this event, too, because the early morning tee times are early. Balls in the air shortly after 7 a.m. on Friday and Saturday morning. It'll be 50 degrees then, and maybe even cooler. You've probably seen photos of Wisconsinites shirtless at Lambeau Field in January. They embrace chilly. So do Europeans.
So how will the weather affect play? Well, the breeziest day will be Friday, which promises winds similar to the video above, enough to send a ball out over Lake Michigan, or make some par-5 play about 700 yards. Some mid-day rain might arrive, making it feel a bit like Scottish Summer at this "American Links." Beanies will be the popular headwear Saturday morning, when the high is forecasted in the low 60s. That's a Ryder Cup look we love. We might even see some of these south Florida residents rock those puffy mittens between shots, like Zach Johnson did at St. Andrews in 2015.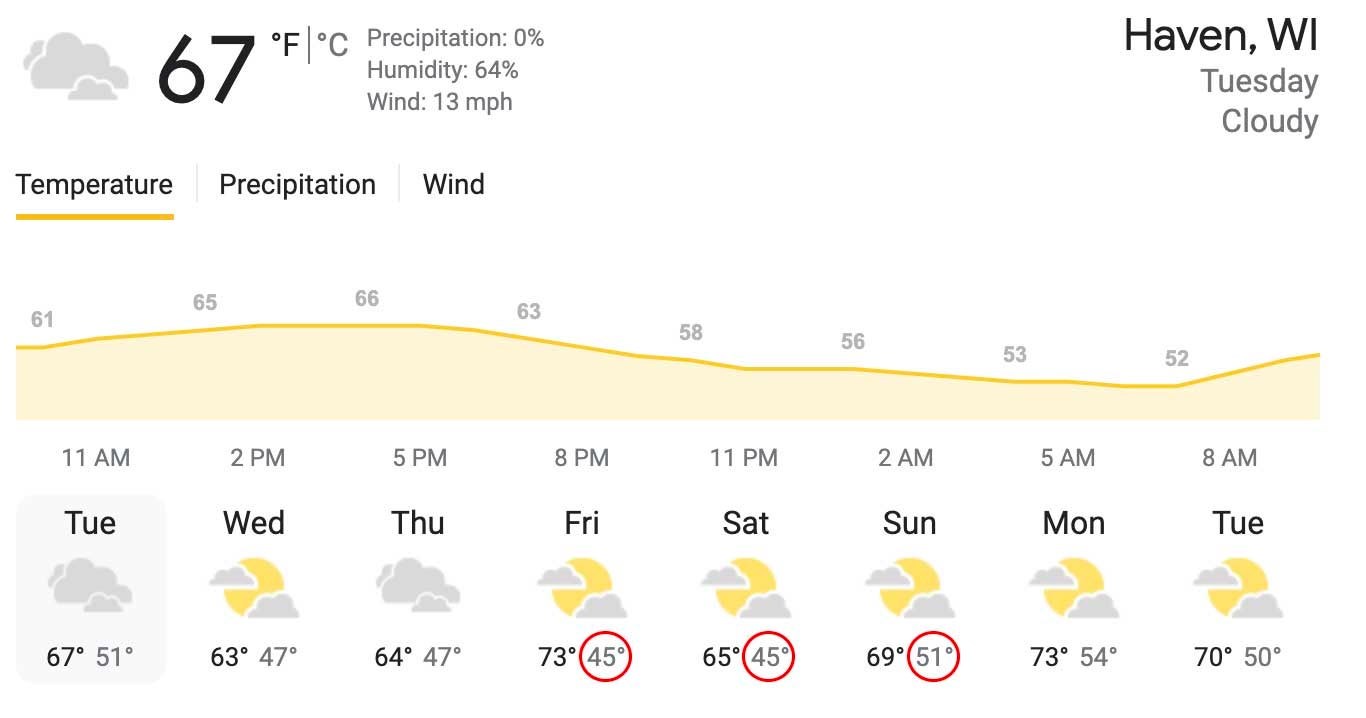 ZJ didn't need the mittens at the Hazeltine Ryder Cup, just 14 months later, outside of Minneapolis. Even though Minnesota's Cup host stretches further north than Wisconsin's, high temps reached north of 70 each day. Patrick Reed was in short sleeves on the 1st tee.
You won't be seeing that this week. Not Reed. And not the short sleeves, either.