Inside Rose Zhang's near-collapse — and eventual triumph — at Augusta National
Getty Images
AUGUSTA, Ga. — Rose Zhang refused to quit.
With all the adversity she faced on Saturday at Augusta National, no one would've blamed her if she did. Her swing was out of sorts. There was a three-hour weather delay during the middle of the round. The best players in amateur golf had her in their sights. And she had the weight of expectations — from the outside and within — on her shoulders.
Despite it all, the Stanford sophomore stood tall and weathered it all, swing by gutsy swing, to emerge victorious at the Augusta National Women's Amateur.
"To overcome everything," said Zhang, who shot a final-round 76. "I'm just super grateful to be here."
With the win, Zhang put an exclamation point on one of the most decorated amateur careers of all time.
For much of the day, though, that didn't look like it would be the case.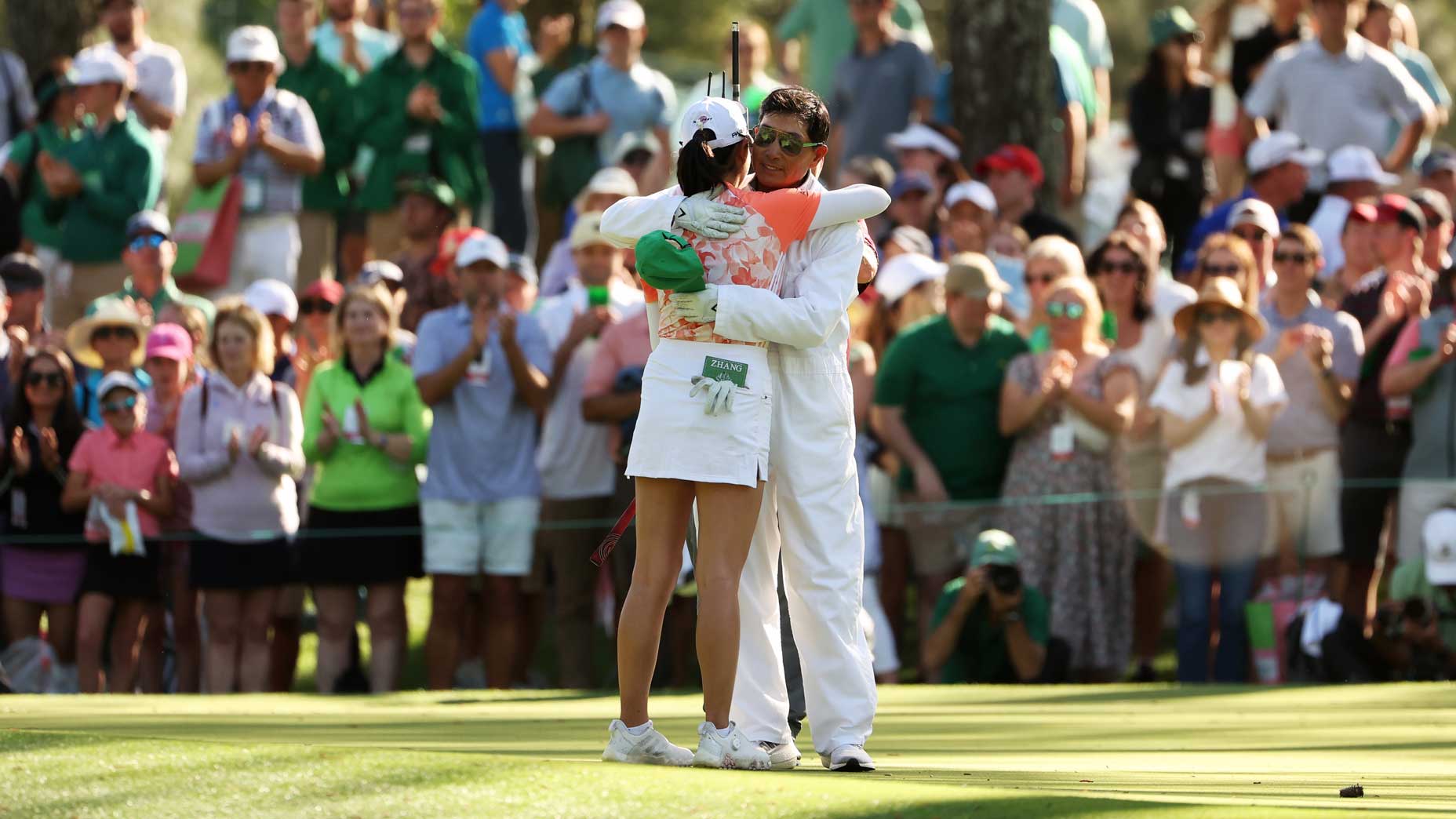 Augusta National has an appetite for heartbreak.
Roberto DeVicenzo in 1968. Scott Hoch in 1989. Greg Norman in 1996. Rory McIlroy in 2011. Jordan Spieth in 2016. All had career-changing titles in their grasp, and all fell victim to the pressures that come from competing here.
For portions of Saturday afternoon, it looked like Zhang would add her name to that unfortunate list.
When the Stanford sophomore arrived for her tee time shortly before 9 a.m., the ANWA was hers to lose. Rounds of 66 and 65 at Champions Retreat gave her a five-shot lead. She'd made just one bogey over 36 holes. She'd won her last four events in a row. And, as the No. 1-ranked player in the world, another victory seemed imminent. But as Augusta National has shown us so many times before, nothing is guaranteed.
It didn't take long for Zhang to be reminded of that fact as well. She pushed her opening tee shot into the cavernous bunker on the right side of the fairway and then three-putted for a shaky double. Just like that, her lead was down to three.
"I felt like the advantage disappeared after hole 1," she said. "I just knew that on this golf course, a five-shot lead is not enough. A ten-shot lead is not enough. Every single hole mattered. You could easily triple any hole on this golf course."
Zhang avoided any disastrous triple bogeys, but she was far from a cruise-controlled killer. She played the first nine — featuring a three-hour rain delay — in four-over 40 and turned to the treacherous back nine with her lead trimmed to two.
"It's always difficult to have such a big lead, especially on such a prestigious stage," Zhang said. "I just felt like my swing wasn't comfortable."
Augusta National is not the place to lose your swing. And although the 19-year-old found it again on Amen Corner, her once-comfortable lead was cut to one midway through the back nine.
The back nine par-5s at Augusta National are glimmering with opportunity, yet rife with catastrophe. Play them well, and birdies (and eagles) abound. Play them poorly, and your chance at glory can vanish. When Zhang played the 15th during the final round, it looked as though she would fall victim to the latter.
Clinging to a two-shot lead in the final pairing, Zhang put herself into a beautiful position off the tee. She had just over 230 yards into the green and, after debating with her father/caddie, Haibin, she opted to go for the green.
As soon as the ball left the clubface, she knew she'd made a mistake. Her ball never threatened the putting surface, finishing in the water short of the hole.
"It wasn't the smartest decision," Zhang said.
The ensuing bogey cut her lead to one. Moments later, Jenny Bae holed a birdie putt at the 17th to pull into a tie for the lead.
For the first time all week, Zhang's name was not alone atop the leaderboard.
In the group ahead of Zhang, Jenny Bae was mounting her charge. She made three birdies between holes 9 and 17, and as she stepped to the 18th tee, she was tied for the lead.
"I don't think I've ever felt happier on a golf course that much in my life," Bae said. "I've never heard such big yelling on a golf course. It just felt amazing."
After a par at the 18th, Bae walked to the scoring area and awaited her fate. As Zhang played the 18th hole, she joked with her caddie and hydrated with electrolytes. While Zhang was reeling, Bae was beaming. Her nine-under total represented the clubhouse lead, and if Zhang made one more mistake, the title would be hers.
That mistake would never materialize. After the miscue at 15, Zhang parred all the way home. For the second time in ANWA history, a playoff would be needed to determine a champion.
After the duo each parred the first playoff hole (No. 18), they both split the fairway on No. 10 with excellent looks at the flag. Zhang played first and fired her shot onto the green — complete with a "Be good!" bark — to put the pressure on Bae.
For the first time all day, the University of Georgia product made a critical mistake. She tugged her iron long and left of the green, eventually finding her ball nestled in the pine straw underneath a bush. And when her Hail Mary punch skittered across the green and into the bunker, Zhang needed just two putts to secure victory.
"After that little putt went in, it was just a sense of relief," Zhang said.
That relief was visible as Zhang entered the interview room. After hugging her father on the 10th green, celebrating with her Stanford teammates, and going through the trophy ceremony, her only remaining obligation was to speak with the media.
"Being able to play competitively at Augusta National is certainly different from any other venue that I've played in," Zhang said. "So I always knew that Augusta National is a battle, and I see a lot of work that I can improve on, which is even more great because it really shows how Augusta National is a true testament to our game."
Zhang is right in that regard. Augusta National is different than any other arena in golf. It's not only a test of your game, it's a test of your resilience.
At the Augusta National Women's Amateur, that has never been more apparent.