Caddie Tim Mickelson shares emotional praise for his brother Phil
Getty Images
KIAWAH ISLAND, S.C. — It's easy to forget, given that 50 year-old Phil Mickelson should theoretically be in the twilight of his career, that Lefty has been grinding for the better part of two years without much to show for it. But Tim Mickelson remembers, and is glowing with pride for his brother.
Sure, Phil has won on the PGA Tour Champions, but Mickelson transformed his physique and upped his swing speed — and has registered just two top 10s in his last 30 PGA Tour events. That's not what Phil signed up for. He wants wins, and he wants majors.
And he might just get one at the 2021 PGA Championship.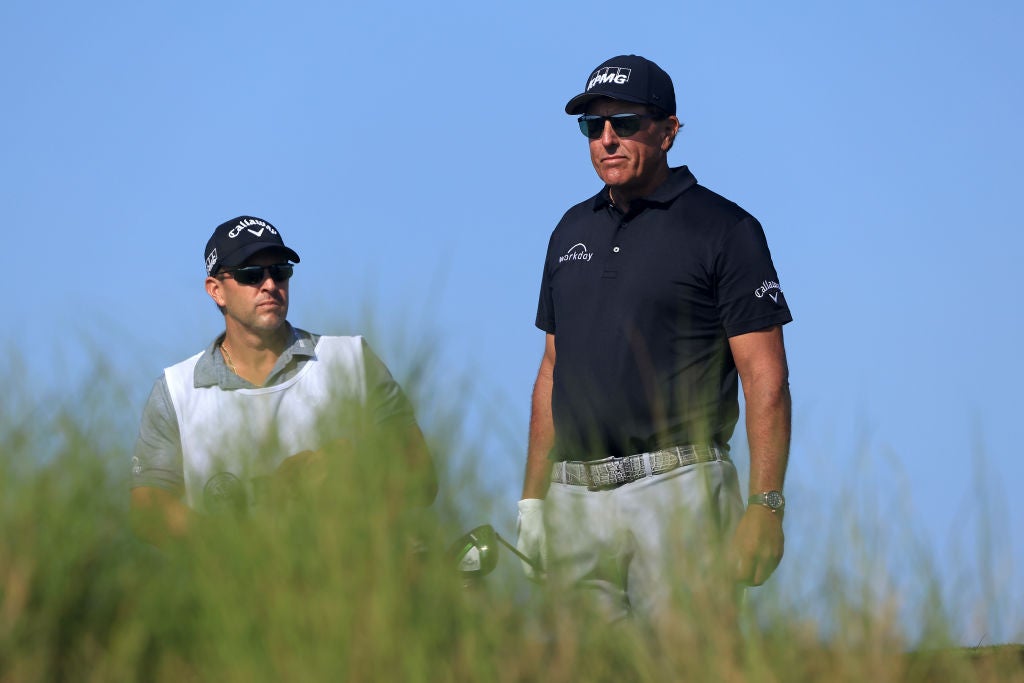 Mickelson's three-under 69 was the round of the morning at Kiawah's Island's Ocean Course, and gave him the clubhouse lead for most of the day. It was a small reward for the hard work Mickelson has been pouring into his game. But happy as Phil was, there was nobody happier than his brother-and-caddie, Tim Mickelson, whose been on the bag since Phil split with Jim "Bones" McKay in 2017. After the round, Tim shared a heartfelt tribute to his brother's work ethic.
"He's actually been playing really well the last three or four months, but he hasn't scored very well. We all have those days, but we've had it for long periods."
Which has made today's round all the more sweet, he says.
"As much as the fans want it, I want it more for my brother. I see how hard he works, not just at tournaments. When he's home, he's playing every day. So I see how much he wants it, and I want to do anything I can to help him have that."
It's not been easy, Tim says, but throughout it all Phil's faith has remained unshaken:
"I always used to say it's all about the process. You hope that the results will come when you want them to, but you have to trust that the process will leave you to the promise land. After 36 holes, the process has led to some pretty good results."
And as for the next 36 holes? Can Phil walk away with the trophy?
"You can't win if you're not in contention, so to have a chance with 36 holes to go, with a chance to win, it obviously feels pretty good."
He continued:
"I see a patience from Phil, which is what you need to have at a major championship to win. You have to understand that you're going to make bogeys, you have to understand that you might get a bad bounce here or there and you have to accept it and move on. He's been playing well. It's a matter of staying patient and letting things happen. At a major championship you have to be patient."