Gary Player's son fires back at his dad over memorabilia feud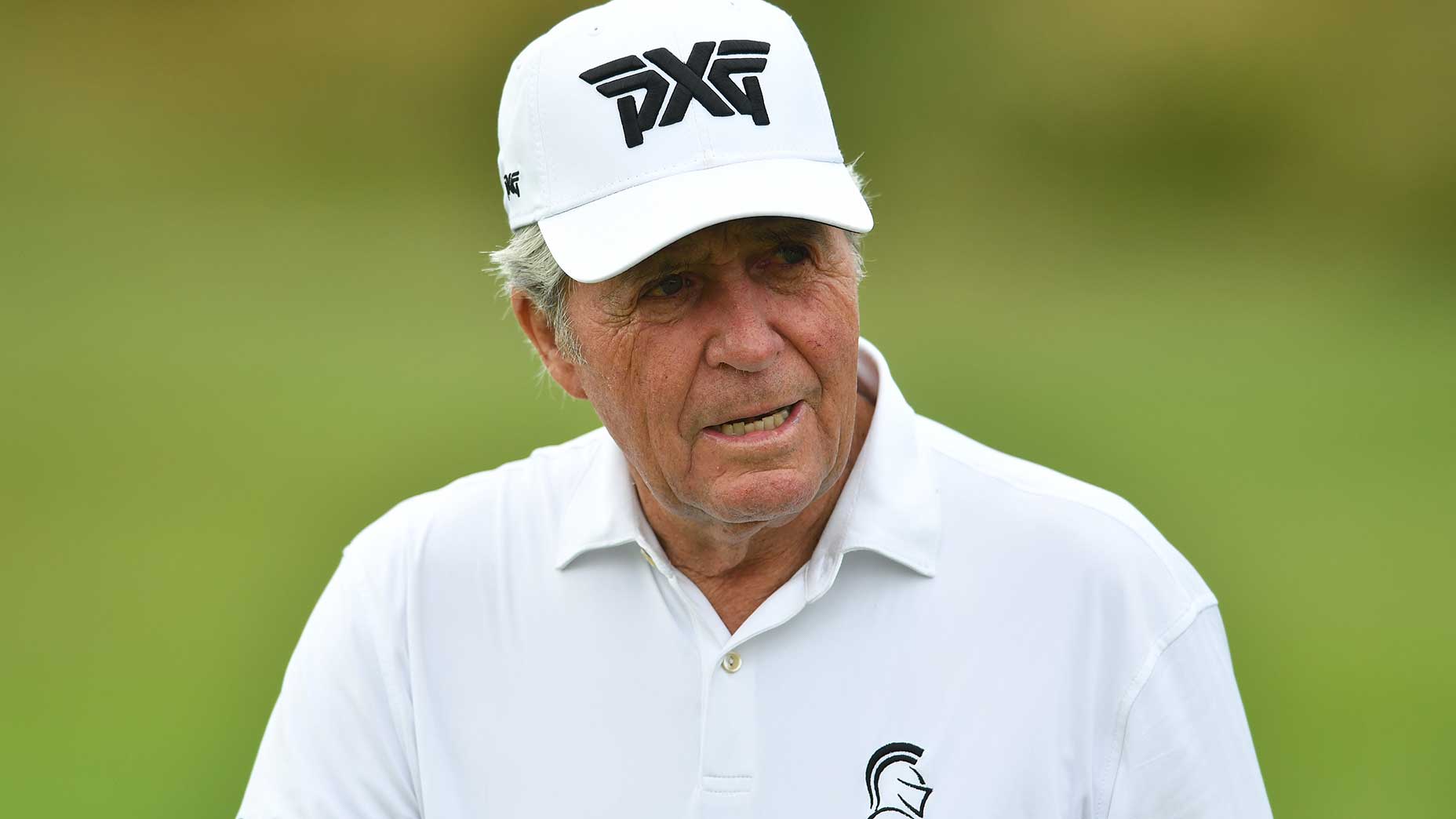 Getty Images
Gary Player took to social media on Monday to call out his son, Marc Player, for putting some of the nine-time major champ's personal trophies and memorabilia up for auction without his consent. A day later, Marc Player fired back, calling his dad's ownership claim of the items baseless.
The original statement came from Gary Player's Twitter and Instagram, with the text: "A statement on the unauthorized sale of Gary Player trophies & memorabilia."
"I would like to draw the public's attention to the fact that several trophies and other pieces of memorabilia that form part of my legacy have been put up for auction by my son and ex-manager, Marc," the statement read. "These items belong to me and I have taken action to recover them. I have placed no items for sale — whether by auction or otherwise."
James Throssell, who serves as the brand and legal counsel for Gary Player, told Golf Digest that the items put up for auction were things such as gear Gary Player won tournaments with, sponsor gifts and trophies won, adding that Marc Player was entrusted with these items while he served as Gary Player's manager "with the belief they would be taken care of with Mr. Player's best interest at heart."
Throssell said the auction house took down the items and is holding them pending a resolution.
Marc Player managed his father's businesses for over two decades and started the Gary Player Group, but in 2020 Gary Player was awarded $5 million and rights to his name and likeness after a settlement with Marc.
A statement released by his legal team on Tuesday and shared several times on social media defended Marc Player of his dad's accusations, saying several years ago he cataloged almost 300 items with Christie's London, an online auction and private sales business.
"The entire Christie's Gary Player Collection was subsequently sold to South African billionaire, Johann Rupert, when Marc Player's father could not pay his outstanding personal tax bill of millions due to the South African Revenue Services," the statement read.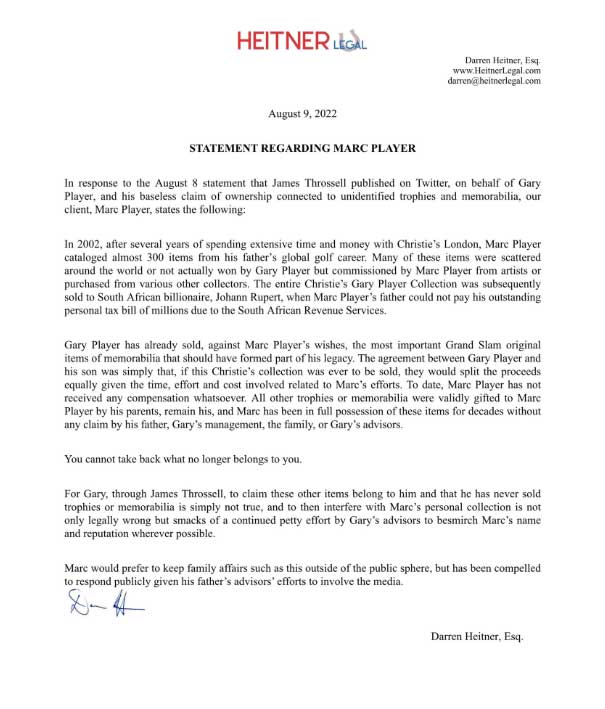 The statement also alleges there was an agreement between Gary and Marc Player to split the proceeds if Christie's Gary Player Collection was ever sold and that Marc has not received any compensation.
"All other trophies or memorabilia were validly gifted to Marc Player by his parents, remain his, and Marc has been in full possession of these items for decades without any claim by his father, Gary's management, the family, or Gary's advisors," the statement said. "You cannot take back what no longer belongs to you."
Another one of Player's sons, Wayne Player, was arrested over an incident involving a house rental at the 2018 Masters. More recently Wayne Player created a controversy at the 2021 Masters when he noticeably displayed a sleeve of OnCore golf balls while serving as his dad's caddie during the Masters honorary starter ceremony. He was removed from the grounds and banned from the tournament.