The nature of being an elite professional golfer is that every move you make, every word you say and every action you take is scrutinized. The messy complexities of everyday of life can often lose their nuance as golf fans thirst for the juiciest bite of the latest breaking story.
When news surfaced last week that a day before the start of the Rocket Mortgage Classic, world No. 6 Bryson DeChambeau and his caddie of six years, Tim Tucker, were parting ways, speculation on social media ran rampant.
What happened? Why now? Where was the falling out?
In an exclusive interview with GOLF.com, DeChambeau, GOLF's playing editor, and former caddie Tucker shared their side of the story.
The pair opened up on the curious timing of the split, the pressures of living life in the public eye and Tucker's next move. They also announced Tucker's successor: Brian Zeigler, a rising star in the world of golf instruction, who will be taking over as DeChambeau's full-time looper at the Open Championship next week.
The mid-week split
The only place to start is with the obvious question: What was the reason Tucker and DeChambeau split the day before the first round of the Detroit event?
"There's really not one, to be honest," Tucker says.
Instead, he said, the breakup was the result of a confluence of factors.
DeChambeau's long hours on the driving range and intensive travel schedule were taking their toll, both physically and emotionally. When Tucker wasn't on DeChambeau's bag, the former Bandon Dunes caddie was working on a new Bandon Dunes-based luxury bus transportation business called Loop, which is due to launch in August.
"We were really tired. The season; the tour schedule was grinding on us, grinding on me. I knew I was working on this business on the side; we've had a very intense relationship where he works a lot of hours," he said. "It was a little bit of me not being 100 percent healthy and happy…we made the best decision for the both of us."
At the end of 2020, Tucker had spoken openly with DeChambeau about putting a plan in place for the day Tucker couldn't caddy anymore. There was no firm timeline, but both DeChambeau and Tucker were preparing for the transition by priming Zeigler for the role. By Tuesday night of Rocket Mortgage week, the timeline suddenly became clear. DeChambeau described it as a "curveball."
"But that's life," DeChambeau said. "The guy helped me win a major and eight other times. I'll forever be so grateful for everything he's done for me and what he's helped me accomplish. I'll always have nothing to say but amazing things about Tim."
Tucker said his only regret is the timing of when it happened.
"I wished we would have finished out the week," he said. "[Bryson] probably wasn't as focused on the golf as he should've been, and I take a lot of the blame for that."
DeChambeau on his relationship with Tucker
DeChambeau's week defending his Rocket Mortgage Classic title didn't go as planned. Even before the caddie drama, he entered the event weary from seven starts in nine weeks. Then, with a new face on the bag — Ben Schomin, Cobra-Puma's director of tour operations — and speculation suddenly raging around him, DeChambeau missed the cut for just his second time since last August. As he headed home to Dallas for a few days off before taking on Tom Brady and Phil Mickelson in The Match, DeChambeau said, he kept hearing rumors of a rift in his relationship with Tucker that he says never existed.
"Everybody always thinks there was some kind of falling out, but there really wasn't. This was in the works for a while," DeChambeau said. "Tim is a really, really great friend of mine. He's somebody that I've cared about, and still care about, and will care about for the rest of my life."
Now, DeChambeau says, he's looking forward to the next phase of their relationship, and he plans to take up Tucker on his standing offer this offseason of trying helicopter hog hunting.
Everybody always thinks there was some kind of falling out, but there really wasn't. This was in the works for a while.
"We're still friends, I'm still gonna talk to him, still gonna call him, hang out," DeChambeau said. "I think from my perspective, it's a great thing for both of us."
A week on, DeChambeau says the moment served as a reminder of the intense media scrutiny all top-level professional athletes face. He says like so many in the spotlight, he's learning how to navigate it — and says he's even sought out Tiger Woods for advice in the past about doing so — but it's a learning curve he's still adjusting to.
"People have to realize I'm a person before I'm a golfer." he said. "I love giving everybody what they want. But it wasn't until this moment where I realized, 'Wow, I can't give everything,' because I am allowed to have a little bit of privacy about my own situations, too."
Tucker on what people get wrong about DeChambeau
Tucker said he also wants to dispel any notion that there are ill feelings between the two.
Tucker met DeChambeau when he was 15 and had no idea of how much a kid who was fascinated by the technicalities of the golf swing would change his life.
"I wasn't making a lot of money," said Tucker, who had a stint in the military before transitioning into golf. "I made a fine living, but then all of a sudden Bryson becomes a superstar. I was grateful to be part of that success, and the result of our hard work gave me the opportunity to put my kids through college. As a father, what more can you ask for? I owe Bryson a lot."
As Tucker prepares to launch his new business, the lasting lesson he's taking from his time on DeChambeau's bag is the 2020 U.S. Open champion's work ethic. It's that hard work and intensity, Tucker said, that often leads to people misunderstanding DeChambeau.
"One of the things about Bryson that's misunderstood from people is how he demands so much of himself," he said. "The kid works so hard. He is the hardest working guy I've ever seen. He didn't go on dates in high school. He didn't go to parties. He went to the golf course and worked on his game. Same in college. Just grinding, grinding, grinding to be where he is today."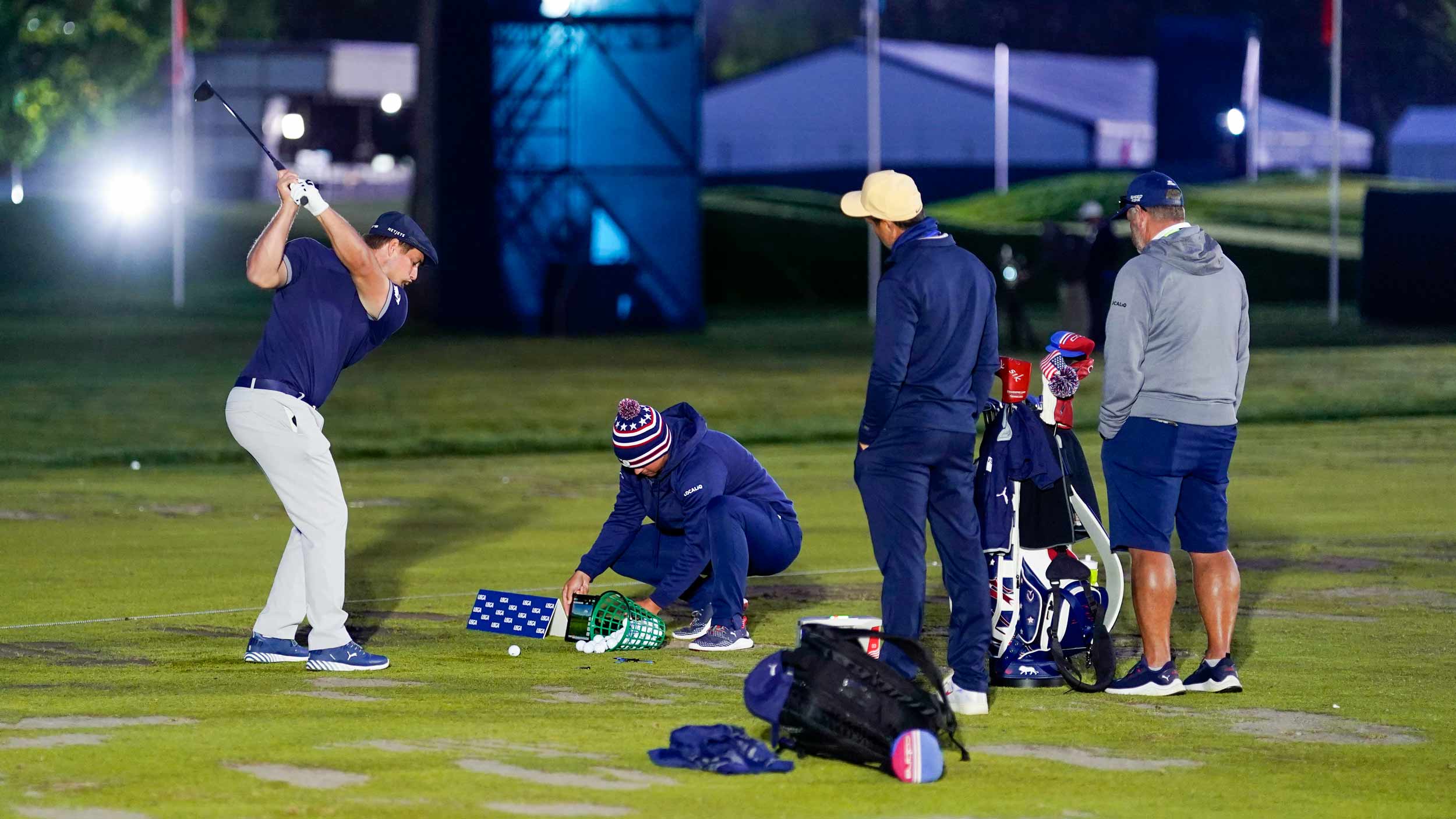 Zeigler on his new role
Every player-caddie relationship is different, but gone are the days of 'show up, keep up and shut up.' Though the player still hits the shots, the modern Tour pro sees his caddie as an integral member of the team. Knowing Tucker wouldn't be on the bag for the rest of Bryson's career, DeChambeau approached Zeigler at the end of last year to discuss taking over when the time came.
Zeigler is a lead instructor at DeChambeau's home course, Dallas National, and serves as coach Chris Como's right-hand man. His role was particularly prominent during DeChambeau's speed training sessions inside Como's house: It was Zeigler in the room pushing DeChambeau to swing faster — and taunting him whenever he didn't.
"Brian has been a big part of my life for a while now," DeChambeau said. "We did a lot of speed training stuff together. He was the motivator and the hype man. He helped me reach new [personal records] I never believed I would get to."
Caddying for DeChambeau is one of the most unique jobs in golf. DeChambeau says he and his caddy calculate the effects of air density before every full shot. It's a system he and Tucker devised which, at one point, led to the pair measuring the effects of golf balls that had spent hours in a freezer. Understanding the nuances of that system, DeChambeau said, along with being an excellent green-reader are the two most important technical attributes of a good caddie.
Zeigler has been working with Tim for the past six months understanding those technicalities — "he's been a huge help," Zeigler said — and combined with his teaching background, said it's a challenge for which he's ready.
As Zeigler sees it, among the keys of the job are "managing a player around the course; letting a player run when they want to run; developing a strategy, implementing a strategy."
"Coming from a teaching perspective to caddying, there's a lot of crossover between those two things," he added.
With Zeigler slated to take up the bag next week at the Open Championship at Royal St. George's, it's not the complex details of DeChambeau's air-density system that scare him the most about his new gig. Instead, it's the basics.
"The typical, tiny stuff that [caddies] already know," Zeigler says. "That's the stuff I'll need some time to learn."
Golf Magazine
Subscribe To The Magazine
Subscribe