Aaron Rodgers' 'crap' handicap at Pebble Beach? Here's how it was decided
getty images
This year's AT&T Pebble Beach Pro-Am finished oddly, and not just because Justin Rose raised the crystal trophy on a Monday morning. Over in the pro-am portion of the contest — which was shortened to 54 holes because of inclement weather and in which the likes of Bill Murray, Pau Gasol and Illenium were battling for bragging rights — NFL quarterback Aaron Rodgers and his professional sidekick, Ben Silverman, took the prize, shooting a best-ball 26 under to edge Peter Malnati and former FedEx CEO Don Colleran by a stroke.
Rodgers is a prolific winner — he has 147 regular season wins in his storied NFL career — but he didn't see this victory coming.
On Monday of Pebble week, Rodgers played what he said was his first round since July. His return to golf came at Sherwood Country Club, about 300 miles down the California coast, in Thousand Oaks. Understandably rusty, Rodgers shot 86. That's a tidy score for most of the golfing populous, but for Rodgers — who carries a 3.0 handicap index out of Green Bay CC in Wisconsin — his 14-over mark was not cause for celebration. A day later, Rodgers played another warm-up round, this time at Cypress Point, where the inspiring Pacific views did nothing to energize his game.
"I had no confidence coming in," Rodgers said of the Pebble event.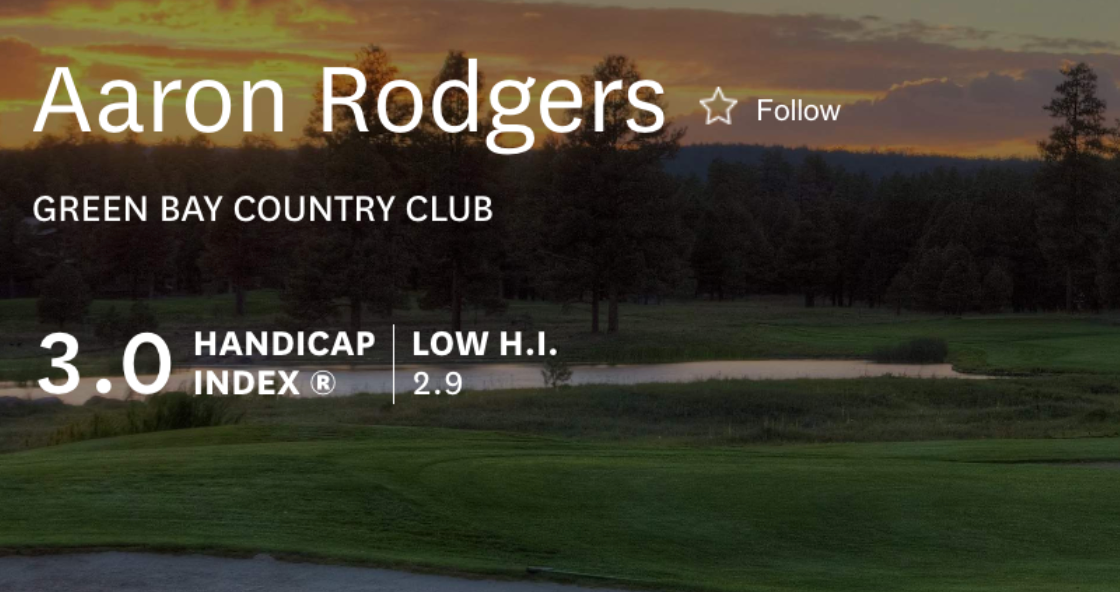 But he did have something going for him: a padded handicap. One of the quirks of golf's most famous pro-am is that not all of the amateurs' handicaps are created equal. When the tournament doles out strokes to participants, yes, official indexes are taken into account but so are other factors, including current form and past performances in the Pro-Am. That the event is played over three different courses, with three different slope ratings, also complicates matters. And let's be honest, it's in the tournament's best interest to have its biggest celebrities around for the weekend.
"The tournament committee assigns handicaps," Lesley Varney, VP, marketing and business development of the Monterey Peninsula Foundation, which stages the Pro-Am, wrote in an email to GOLF.com Wednesday. "The past few years [Rodgers] has played as a 9 and has only made the cut once."
This year Rodgers played as a 10. How, exactly, the committee arrived at that number Varney didn't say. But the charity was not lost on Rodgers' competitors, many of whom know him to be a low single-digit. (When Rodgers competed in the American Century Championship, in Lake Tahoe, Nev., in July, he played as a 5 and finished 9th against what is a strong field.)
Chief among Rodgers' Pebble handicap skeptics was Keith Mitchell, whose amateur partner was Buffalo Bills quarterback Josh Allen.
"I think Josh and I won," Mitchell said on Sunday. "Aaron Rodgers doesn't count. His handicap was crap. I haven't looked. When we were on 18, we might have been up there, but if we finished second to Aaron, I consider us winning the trophy."
Mitchell and Allen finished fourth, four back.
When asked about Mitchell's dig, Varney said: "Knowing Keith, I'm sure the comment was made in good fun. However not hearing the remark firsthand, the foundation does not have an official response."
Allen also couldn't resist needling Rodgers. As Rodgers was giving a post-win interview to reporters, Allen interrupted and jokingly said, "I wish I got 10 shots."
Of course, even with the added strokes, Rodgers and Silverman weren't just handed the trophy. The QB had to hit some shots in what were wild and windy conditions on the Monterey Peninsula. How, he was asked on Sunday, did he steady his game?
"I can take this one," Silverman said. "He's an athlete, man. Top performer. He knows how to get it done and that's what he did. It wasn't like all four days or three rounds of beautiful golf, but when he needed to — when I was making doubles he was making pars. He knew how to get it done."
Added Rodgers: "This is a pretty big deal for me. I'm not going to sugarcoat it. It's a great week just by itself, spending time with Ben. But winning is the sweetest."