11 things that made the game easier and more fun for our staff in 2022
getty images
'Tis the day for giving thanks — yes, for family, friends and good health. But for golf, too! As the pro game (stateside, at least) takes a rare respite, and recreational golfers kick up their spikes to feast on turkey and pigskin, we asked our staff to reflect on one new golfy discovery that helped them enjoy or appreciate the game more in 2022. Happy Thanksgiving to you and yours!
Old Course, new couch
This season, the golfer in me is thankful for … a couch. Specifically, the black, wooden board-adjacent pullout in the center of my good pal (and colleague) Sean Zak's St. Andrews living room. My 2022 was filled with golf adventures that happened mostly by happenstance, and none better than the trip that brought me to Scotland in July. Sean, who spent the summer living in St. Andrews, brought the trip from fantasy to reality when he offered to host me on his pullout. I stayed for three glorious days of golf, pints and food, learning quickly that a Scottish golf trip should be items 1, 2 and 3 on every golfer's bucket list. Yes, I slept like crap, but looking back now, I wouldn't have had it any other way. (Bonus thankfulness to the CaddyDaddy Constrictor 2 travel bag, which safely transported my clubs and a boatload of additional souvenirs across the Atlantic.) — James Colgan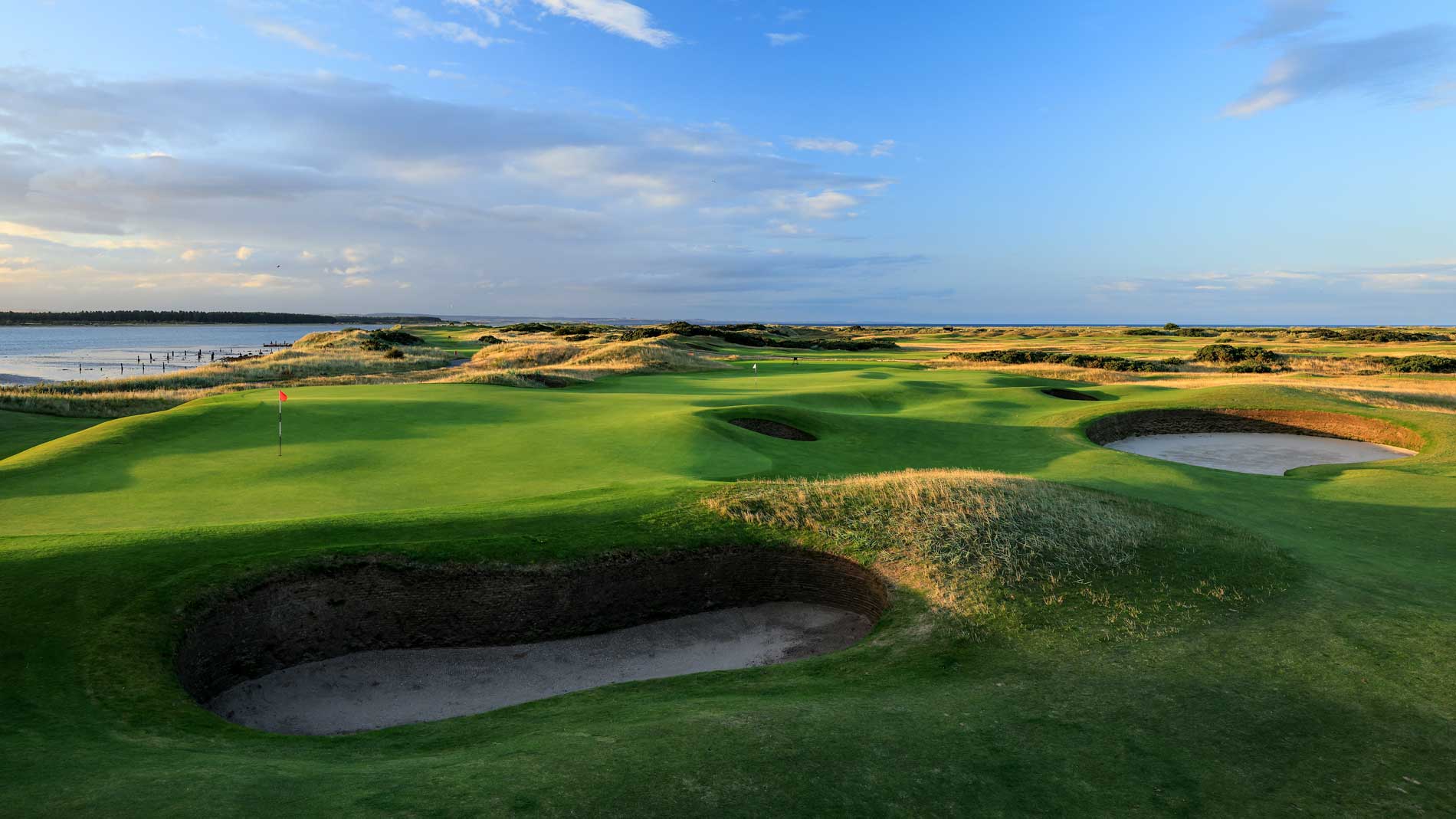 Happy hands
I'd always loved fall golf but my hands get really cold. Then they get numb. And then it's less fun to be out and about, especially when you catch one thin — yowzah! But now I've finally embraced the winter-glove lifestyle. You can take 'em off for actual shots or putts if you want to, but on truly chilly days I just wear 'em the whole time. Happy hands make for a happy walk. — Dylan Dethier
All of our market picks are independently selected and curated by the editorial team. If you buy a linked product, GOLF.COM may earn a fee. Pricing may vary.
Pair of 3s
My wife has recently taken up the game, and par-3 courses have become our new date spot. Fortunately, our Long Island, New York, home is close to a pair of great options: Sumpwams Creek Golf Course and Robert Moses Pitch and Putt. Spending more time on the course with a beginner helped me get back to the fundamentals. I focused more on my short game than ever before and didn't worry about scoring results. Our par-3 rounds helped improve my wedge game and resulted in some of the most fun golf I played this year. If you live on the South Shore of Long Island, play a round at Robert Moses through the sand dunes and jump in the ocean when you're done. It's a perfect summer afternoon. — Tim Reilly
Talk about a flex
One of the hardest-hitting realizations of middle age is that you're not going to live forever, which — buzzkill! — means that you're not going to play golf forever, either. But at 55, fresh off shoulder surgery, losing strength and flexibility, I'm hoping to hold out for as long as I can. A few months back, I broke down and got a GolfForever Swing Trainer. Maybe you've seen one. It's a weighted stick, essentially, and it comes with bungee-like resistance bands that latch to your doorframe (or other stationary base), creating a simple but sophisticated golf-specific training tool. There's also an app that lets you customize your workout regimen. I've been at it for less than half a season, working out in the comfort of my office, and I've already noticed marked changes in the way I feel and move. Golf forever? Unlikely. Still, it's nice to set the bar high. — Josh Sens
Dad's old clubs
In terms of my golfing life, this year I'm thankful for my Dad (and his decision to buy new clubs). Though he didn't swing a club until he reached adulthood, he got my siblings and I hooked on the game when we were barely walking. Almost as important: he continues to give me his hand-me-downs when he gets new irons, as he did this fall. — Kevin Cunningham
Fashion and function
I've always coveted that seemingly ubiquitous street-chic look: leggings, quarter-zip, puffy vest. You see iterations of it everywhere in the fall, but I've never felt good about trying it myself, mostly because I've never landed on a vest that felt right to me. That all changed this year, when I received Foray Golf's Packable Quilted Vest in beautiful robin's egg blue. Not only does it feel as light as air, it's also warm — perfect for those brisk Arizona mornings. I've worn to to school drop-off, at the soccer field, for weekend errands, and at the golf course, too. It's flattering and functional — everything a girl could want. And for that, I'm very thankful. — Jessica Marksbury
Data and speed
The biggest help to my game this season was implementing a data-driven approach to improvement with the help of Arccos Golf to track my stats and understand the areas of my game that needed attention. With Arccos I found out that of all things, my iron game needed serious work and I made sure to focus more of my attention on practicing that part of my game. Another big key to improving this year was speed training, which made me noticeably longer off the tee and helped me hit more greens thanks to having less club into those greens. Speed training has become much more prevalent with golfers of all skill levels and by dedicating time to getting longer, I not only made the game a little easier but also more fun. — Ryan Barath
Lovin' that loft
I've always stubbornly refused to play a lob wedge my entire golf life simply because I thought I could hit every shot I needed to with a 58° wedge. I couldn't. So this year, I'm thankful that I finally decided to add a 60° or 62° wedge to bag to help me around the greens, because having a little help to hit those super-cool-looking-but-ill-advised mega-floppers is always fun. — Jack Hirsh
Listen up!
I used to think all wireless speakers were created equal — until I tried the Rokform G-Rok wireless golf speaker. It's light enough to hang on the bag when you're walking, which is a huge plus when I want some tunes, but also boasts a ridiculously strong magnet that keeps it secured to the cart. And the audio quality? I'd put it up against anything else in the market. — Jonathan Wall
Who is the guy?!
This year, I'm grateful for my first-ever driver fitting. At this time last year, I had no routine or consistency off the tee. But that's all changed after a handful of lessons and a fun, easy fitting experience at GOLFTEC. I've made a few key changes to my swing that were easily explained by my coach. Even still, I needed a new driver with maximum forgiveness. Enter the Callaway Rogue ST Max, which I'm loving. I've since shaved three strokes off my handicap, and I'm reaping the rewards of longer, straighter and more consistent drives. — Connor Federico
Healing power of golf
This Thanksgiving, I'm giving thanks for golf. I know, I know, the guy who works at a golf publication being thankful for golf isn't the most creative answer, but let me explain. This year was a tough one for me. I had some lows that I hadn't experienced before, and a lot of days weren't easy. But through it all, I had this silly game, and all the people I've met through it, that helped me keep pushing forward. When things got tough, golf served as a great reminder of how lucky I really am. From enjoying a pint at Merion or looking out at the vast Pacific Ocean from the Monterey Peninsula to playing scraggly munis with my best friends, this year has provided many bright spots, and many of them came on the golf course. Life isn't always easy, but I'm filled with gratitude knowing I've got golf to help me get through it all. — Zephyr Melton