WEST PALM BEACH, Fla. — Donald Trump takes great pride in his golf game. Shinzo Abe and Tiger Woods and countless others can tell you about that. He once tweeted "I don't cheat at golf" but added that Samuel L. Jackson does and "with his game he has no choice." The president's official USGA handicap index is listed as 2.8, though he seldom posts scores. Any visitor to the ornate men's locker room at his club here, Trump International Golf Club, can see small rectangular brass plaques on his locker, recognizing him as the 1999, 2001 and 2009 club champion, and the 2012 and 2013 senior champion.
And now there's a new plaque on his locker, screwed into its stained wood with two small Phillips head screws, to commemorate his latest title. It reads:
2018
MEN'S CLUB CHAMPION
---
Yes, Trump was president of the United States for all of 2018.
Yes, Trump turned 72 last year, which would be an impressive age to win even a senior club championship.
But there the plaque is, identifying Trump as the reigning club champion at his spectacular Trump International course.
His most recent win brings Trump's club-championship haul — all won at clubs bearing his name — to an even 20. That includes senior and super-senior titles, too.
But to be precise about it, the plaque on his locker is two letters short of accurate. Trump is not actually the men's champion at the club. He's the co-champion. While that distinction is not found on his locker, it is made elsewhere at the club.
As for Trump's path to No. 20, it was not conventional.
Originally, a man named Ted Virtue, the 58-year-old CEO of a New York investment firm called MidOcean Partners, had the 2018 club championship title all to himself.
Virtue, a member of Winged Foot and Westchester Country Club in New York and Lost Tree and Trump International in South Florida, won a series of matches en route to his title. He played football and basketball at Middlebury College in Vermont in the early 1980s and his golf is more athletic than poetic. His index is listed as 3.3 and his 20 most recent scores, all from 2018 and this year, range from 73 to 83. Trump has posted only two scores since 2016.
After Virtue won the championship, Trump ran into him at the club, according to multiple sources who recounted the story. Having some fun with him, Trump said something like, "The only reason you won is because I couldn't play." The president cited the demands of his job, although he was able to make 20 visits to the club in 2018, according to trumpgolfcount.com. Trump then proposed a nine-hole challenge match to Virtue, winner-takes-the-title.
You could say there wasn't much in it for Virtue, and you could argue that this is not how these matters are typically, if ever, settled. But consider these factors:
1. Trump owns the course;
2. Trump is the president of the United States;
3. Trump is not your typical golfer.
Virtue said yes.
They played match play (each hole as its own contest) and straight up (no shots were given). As in nearly all amateur golf rounds, no rules official was on hand. Golf's tradition calls for players to police themselves and, if necessary, one another.
Trump won.
In victory a magnanimous Trump said to Virtue something like, "This isn't fair — we'll be co-champions."
---
The crowning of co-champions in golf is rare, but it does happen, at every level. In the 1949 Motor City Open, Lloyd Mangrum and Cary Middlecoff each shot 273 for 72 holes and then matched scores for 11 straight sudden-death playoff holes, playing through sunset. They were declared co-champions.
And that is how Trump and Virtue are reportedly listed on a large club-championship plaque on a clubhouse wall, as co-champions. That would mean Trump's name is now on that plaque four times. Or five, if you include the appearance of his surname on the gold crest at its top.
Several club employees said they were not allowed to discuss club matters. Eric Trump, who runs the Trump golf-course empire for his father, did not respond to messages. Neither did Virtue.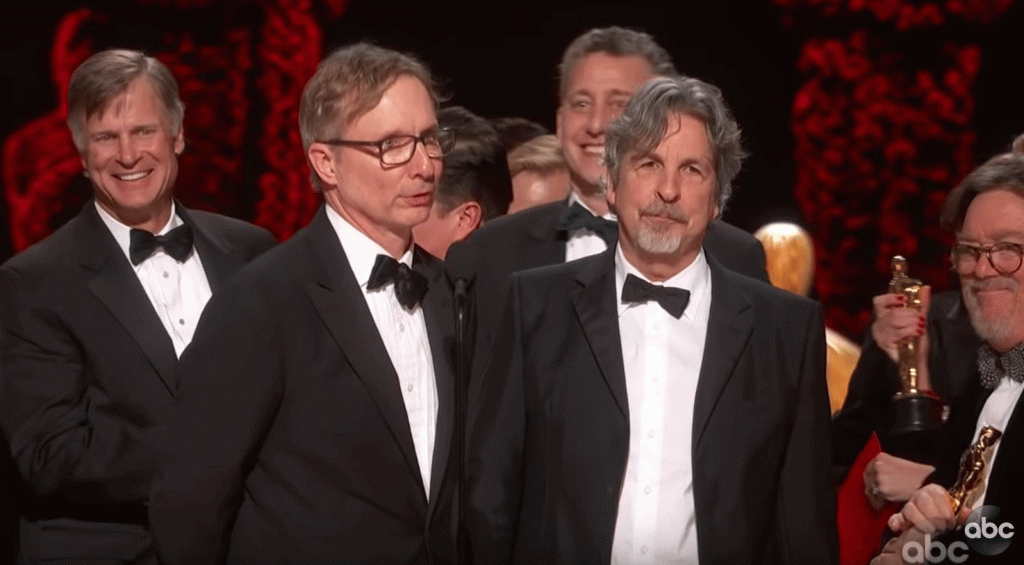 ---
Regardless of the outcome of that short match, 2018 was a good year for Virtue. A movie he helped get made, Green Book, was released, and on Feb. 24 it won the Academy Award for Best Picture. Virtue, tall and tanned, was standing on the stage when the movie's director, Peter Farrelly, hoisted the bronze statuette at the Dolby Theater in Hollywood.
Virtue's co-champion, who has a star on the Hollywood Walk of Fame, was otherwise occupied that night, as the host of the Governors Ball at the White House.
There was no immediate word on the president's plans, if any, to defend the championship he co-owns.
Michael Bamberger may be reached at Michael_Bamberger@golf.com