'Dark times:' Top 100 Teacher reveals the big change that led to student's breakthrough win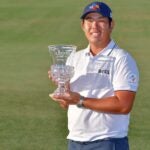 Julio Aguilar/Getty Images
GOLF Top 100 Teacher Sean Foley is a rare breed in golf: He's a coach humble and honest enough to tell you when he doesn't know something, or even when he got something wrong.
Earlier this week, Foley opened up on Instagram about one of his students: Byeong Hun An.
Byeong Hun An rewrote the history books in 2009 when, at just 17 years old, he became the youngest-ever player to win the U.S. Amateur. He turned pro two years later, and made his Presidents Cup team in 2019. Then, looking to push his game to new heights, he hired Sean Foley as his coach at the start of 2021. A year later, Byeong Hun An had lost his Tour card, which is where Foley's Instagram message starts.
"How could we lose our card, when I had seen so much improvement. We added 20 yards of carry to each iron shot, as well as being able to hit every shape and trajectory. We got the driver consistently to 180 ball speed, at the same time dialing wedge and short iron spin lofts to ensure improved proximity to the hole. How could we lose our card?"
That, Foley goes on to say, prompted him to ask some dark questions:
"The days and weeks that ensued was a struggle for me. One of the dark times in my career, that has been filled with lots of dark times. What do we do now? What did we do wrong? Where are we not seeing it? Maybe, I am not the right coach for Ben?"
Foley says he got through it not by running from those questions, but by confronting them, and answering them honestly. The pair decided they were on the right track, and that the legitimate improvements they were seeing were real. What was missing was structure in how they were practicing and perfecting their newly-acquired skills.
Practicing smarter using 'bankers' hours'
So, Foley said they implemented a system with "bankers' hours": From 8 a.m until 5 p.m. they would practice, and "every hour would have a purpose," Foley explained. They would practice each area of his game, set specific goals and tasks throughout. Not one hour would be wasted.
"It wasn't easy for Ben when we started this new structure. He had never worked so hard, but more so, so smart. As the days continued to pass the behavior started to match the intention," Foley writes.
But as you might surmise from the lead photo of this article, this story has a happy ending: Byeong Hun An won on the Korn Ferry Tour last weekend, prevailing from a five-man playoff. That moved him up to fifth in the Korn Ferry Tour standings, which puts him in good shape to regain his PGA Tour status next season.
And Foley, for his part, has a simple message for his student:
"Benny, YOU EARNED this," he writes. "You did a 180, and you are becoming the best version of you."