Why understanding this graph can improve your long putting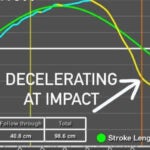 Instagram
Welcome to Play Smart, a game-improvement column that drops every Monday, Wednesday and Friday from Game Improvement Editor Luke Kerr-Dineen to help raise your golf IQ and play smarter, better golf.
I was taught putting the way most golfers were: Short back, long through. Your follow through should be longer than your backswing, which promotes a good, aggressive stroke through the ball. That's important, the thinking went, because it protects against the horrors of deceleration.
Decelerating, to be fair, is a pretty undesirable trait through the bag, and is often the cause of some disastrous golf shots. Decelerating on a drive will probably lead to a short, slicey drive. Decelerate on a green side chip is a recipe for a chunk. Try decelerating on a bunker shot, and you'll probably be rewarded by needing to hit another bunker shot.
It makes logical sense, within that context, that you'd want to prevent the same bad outcomes on the green.
It wasn't until much later on that I started wondering why the good putters who I admired sported long, luxurious putting strokes: think Ben Crenshaw, Justin Leonard, and David Toms.
And then more recently, as the latest technology began matching teachers' ambitions, it revealed a rather interesting trend: that far from accelerating through the ball, the best putters tend to keep the putter moving at a very consistent pace through the ball. The putterhead will slow down after impact — which makes the follow through shorter than the backswing — and some of the best putters will even begin slowing down the putterhead before they reach impact.
James Jankowski, who you can follow on Instagram at JJGolfPutting, shared an interesting graph highlighting this:
Why, you ask?
Because if there's one area of golf where golfers don't need more power, it's with putting. Every golfer has enough power to hit any putt they may face with the necessary power required.
And that can be to their detriment: If you're facing a five-foot putt, let's say, the slightest miscalculation could send that ball eight feet. It only gets more difficult the longer the putt. In an art that requires, the most precise touch, a momentary acceleration through the ball isn't necessary.
That's why so many of the best players don't bother. They rely on the most predictable of forces: gravity.
Rather than having to accelerate the putterhead exactly the correct amount or face a long next putt, they let the momentum of the putterhead propel the ball the rest of the way. The distance they want the ball to travel isn't determined on the throughstroke, but by the distance of their backstroke.
It is, at the heart of it, a passive motion. The weight of the putterhead sends the ball. The task of the golfer isn't accelerating that putter, but instead guiding it smoothly on its way.