Follow this easy 4-step plan to smash it like a long-drive champion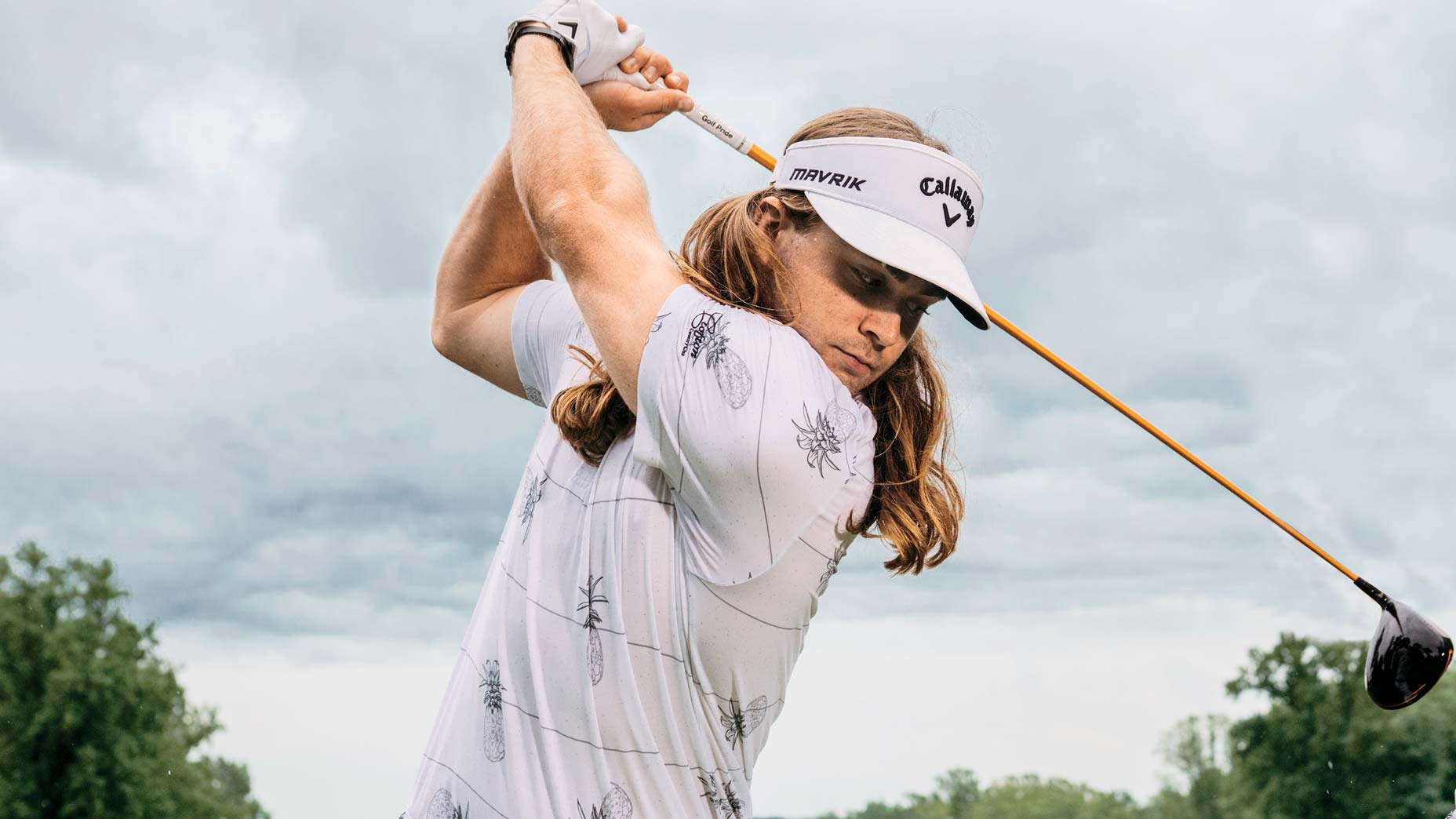 Christian Hafer
I haven't always been a long-drive competitor. I played competitive golf in high school and college prior to hitting the "grid" and still work on my overall game to hopefully reach the next level. That said, I've always been fast — even as a kid I never allowed my motion to become restricted by mechanics and positions. In my opinion, there's a million ways to hit the ball far. The secret is to find the one that works for you, that's natural and easy on your body so you can play the power game all the way to the day you hang up your spikes.
My fastest recorded club speed is 156 mph (during last year's semifinal of the World Long Drive Championship). My fastest recorded ball speed on Trackman is 230.2 mph. Not even Bryson DeChambeau can touch that. I give a ton of credit to my coach, Top 100 Teacher Bernie Najar, who I've been working with since I was 11 years old. (I'm 23 now.) My swing has been long and quick since I first touched a club — Bernie never tried to change that. In fact, if you look at pics of me as a junior high student and today, you won't find much difference (other than the hair). Speed is in everyone. Here's how Bernie and I exploited it. The beauty? You don't have to remember a lot of steps.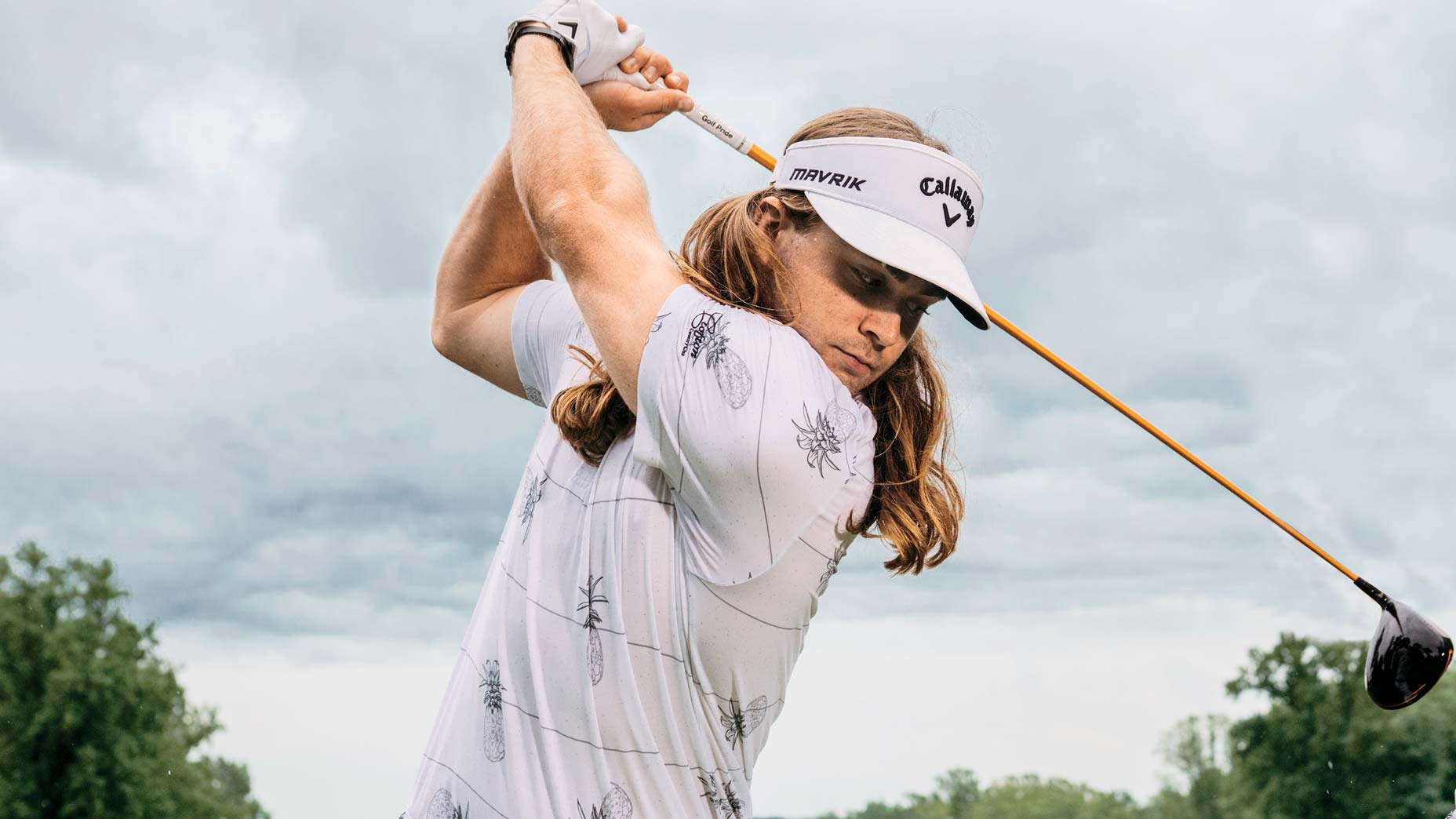 1. Go for high hands
Jack Grout, who famously taught Jack Nicklaus, had a great saying: "Get your hands as high as you can and hit it as hard as you can." Count me as a believer. As you can see in the above photo, my hands at the top are extremely high. It's all a matter of flexibility. As Bernie tells me, "Your spine is engineered to move more than you think it can." So we work on ways to max out its flexibility. It's easy: Do side bends and, more importantly, back bends. Increasing your range of motion using these exercises, or "releasing your upper body" as Bernie calls it, allows for high hands at the top and the swing width that automatically adds miles per hour to your motion.
2. Pull hard from the top
One of my best moves is dropping my hands from the top. When I'm really on, I can drop my hands a solid foot in the blink of an eye. When I do that while simultaneously rotating my hips, the club slots and starts picking up speed. It's what gives me my "pop," like you see off the bat of Mike Trout or guys like Cameron Champ and Rory McIlroy on Tour. That effortless power. As Bernie says, "You have to pull down hard and fast from the top to create speed."
Here's where some gym work can help. Nothing fancy, just some standard pulldowns on the lat machine. Your lats, along with your glutes and forearms, are the key speed muscles. Honestly, I don't do much more than those pulldowns, dumbbell curls (for my forearms) and dead lifts (for my glutes). If I don't feel like doing dead lifts, I'll run sprints — a great glute workout. Better yet, they really get your heart rate up. Remember the feeling when you're on the course. Step up to the ball amped. As Bernie says, "It's okay to feel reckless."
3. Put "driving days" on your calendar
This one's a biggie. At least once a week (I do it almost every day), take the governor off your swing and just go for the fences. Hit nothing but driver — hard. Don't worry about where the ball goes and don't think once about mechanics. Just swing fast. As fast as you can.
Start with 25 balls and build up to 50 (and let me know when you can reach 300 like I d0). It should feel like a workout, with your heart pumping and pores sweating. What you'll find is that over time your body will naturally route your hands in the correct delivery position. Your stance will become more sturdy and supportive. You'll use the ground more, leveraging your weight against the turf. And soon enough, you'll automatically increase the length of your swing even in the absence of side and back bends.
You've heard the phrase "Don't skip leg day"? Well, don't skip driving day. Very few recreational players put this kind of effort into their driver swing. Don't worry — your body will tell you when too much is too much. It will also respond to your repeated swings. A fun iteration of this drill is to try to hit six balls as hard as you can in two minutes, like the setup we use for long-drive competitions. "Golf at times forces you to go slow," Bernie says. Here's your chance to go fast without penalty.
4. Dial in your gear
Compliments to my long-drive coach Bobby Peterson at One Stop Power Shop in North Carolina for helping me get both my competition long driver (a 4-degree Callaway Epic Flash with a little extra weight positioned toward the heel) and regular gamer (right now, a 6.5-degree Callaway Mavrik with a 2X Paderson KINETIXX shaft). With every little tweak, we find something new — and those precious extra miles per hour. Just like swinging fast on purpose automatically builds speed, so does experimenting with driver setups. Trust me: The yards are out there.