7 keys to taking your range game to the course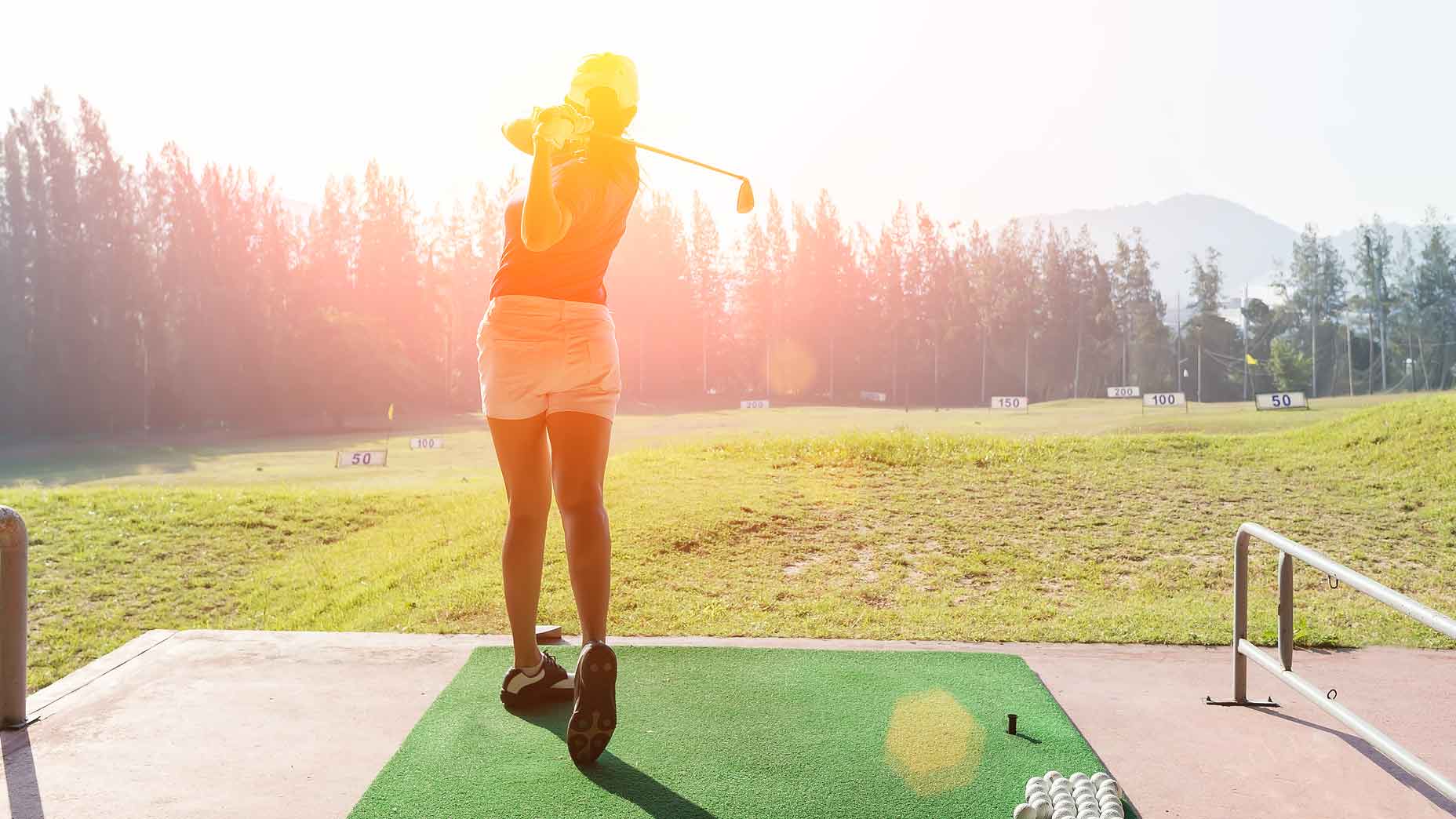 Getty Images
Having just completed a ladies golf school in Key Largo at Ocean Reef with fellow instructor Stefanie Shaw and her great group of members, I realized that taking your range game to the course can feel like a giant step. Below are seven keys to help you build confidence and improve your results when you want to transition from practice to the real thing,
1. Take a real practice swing
You should take a practice swing both on the range and on the course. You deserve the time to prepare for your shots and, assuming you don't delay, it will make a difference in results. A practice swing is the opportunity to take your thoughts and put them into a feel. It also allows you to adjust to the length of the club you are hitting and have it hit the ground. Other than tee shots, every practice swing should hit the ground, as this is what is necessary to get the ball into the air.
2. Implement a consistent pre-shot routine
Having an orderly pre-shot routine that allows you to get set up properly with a good grip and good posture is one of the best things you can do to have success on the course. Good posture enables good contact and that posture should be consistent, from your shortest to your longest club.
If you've never incorporated a pre-shot routine before, here's an example of what to do:
Set your club to your golf ball. This is when you would aim the clubface to the target.
Bend down from your hips to set your grip properly.
Step your feet until your arms are hanging comfortably with your hands directly below your shoulders.
3. Be strategic about club selection
It's important to build confidence by having success as you move down the fairway. Just because you have a long distance to cover doesn't necessarily mean you should hit a 3-wood. Instead, hit a club you like and can hit with confidence, even if it means sacrificing a little bit of distance.
Two clubs that I think are great choices for those shots are a 7-wood or a 5-hybrid. Both have loft built in but aren't so physically long. Using these will help to increase your consistency and confidence.
Want to really dial in your long clubs? Schedule a fitting with the experts at our sister company, True Spec Golf.
4. Chip as often as possible
Hitting a chip or bump-and-run is so much easier than trying to execute a pitch shot due to the fact that is is a smaller set up (gripping down on the shaft and using a narrow stance), as well as a shorter stroke (like that of a putt). Smaller setups and motions will result in smaller mistakes in case you miss the shot.
Even if you have to play around a bunker or a water hazard, defaulting to this more reliable shot when you first make your way to the course can limit embarrassment, build confidence and make the game more fun.
5. Know your distances
Work with your teacher to know your distances for each club and write them down before you go to the course. I tell my students that if we can just get two or three spot-on distances, I can fill in the rest with pretty good accuracy.
Knowing how far you hit your clubs avoids wasting time and will also keep you from making guessing errors.
Another option that can help guide you around the course is the golf app Golflogix. All you have to do is input your 7-iron and driver distance and the app will auto-populate all the other clubs' likely distances. It's an easy way to make better club decisions as you play your round. (Golflogix and GOLF.com are affiliates of 8AM Golf.)
6. Be prepared
Please don't waste a lot of time searching for your golf ball as a new golfer. Keep an extra ball in your pocket at all times in case you lose one, and just purchase a bulk amount of balls so don't stress about every ball and can ensure you won't end up short on the course.
If you don't locate your ball right away, just let it go. One of the most important things you will do as a new golfer is to keep moving, and your time will be better spent focusing on your play rather than searching for errant balls.
All of our market picks are independently selected and curated by the editorial team. If you buy a linked product, GOLF.COM may earn a fee. Pricing may vary.
Callaway Chrome Soft Triple Track 2020
$47.99
The Chrome Soft Triple Track golf balls by Callaway sports an entirely new mantle system that provides increased ball speeds. A Soft Inner Mantle and a highly resilient Firm Outer Mantle combine together to generate increased ball speed right off the clubface. The ball also features an extremely durable, resilient, and thinner cover material creating lower spin on full shots, while still maintaining high spin and control around the green.
Buy Now
View Product
7. Just go
When you arrive at the tee box to tee off, don't look around and ask who should tee off. Just go! If you are there, and ready, be the first one to help keep play moving.
Also, when you have a bad shot, there isn't any need to apologize. All golfers hit bad shots and I have great respect for my students who just keep trying and learning. Perseverance is a must in this game.
I realize the leap from the range to the course can sometimes feel like a big one, but it is so much fun out there, and often times just a beautiful place to be with friends or meeting others who may become friends.
Putting yourself out there can feel a little intimidating at first, but all golfers who play have done that and I believe you will find that most are very supportive. Do your best and enjoy the good shots.
Want more tips from Kellie? Check out additional content here.