It's easy to get hooked on golf. The basic principle is simple: Pick up a club, and figure out how to hit the ball hundreds of yards towards a hole. Of course, mastering your swing does prove more complicated. Sometimes, you might need a bit of help. 
Well, a golf swing analyzer should be able to help you find your groove, but which is the best golf swing analyzer? The good news: There are a lot available! Here's a look at six swing analyzers that you should consider:
Swing Index
The Swing Index app is partially owned by our parent company, 8am Golf, but the tech within the Swing Index app is genuinely impressive and worth trying for yourself.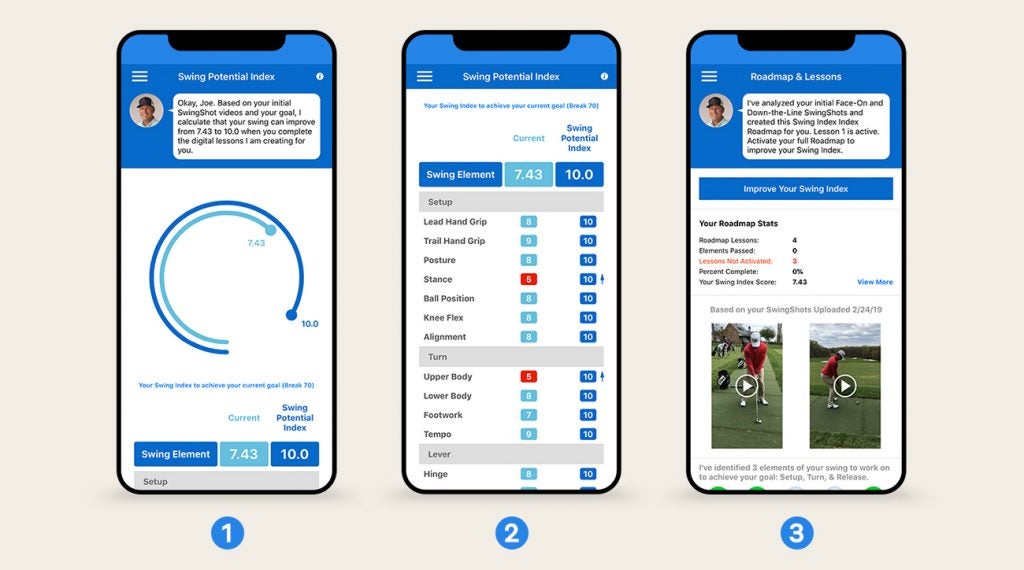 ---
You won't need any additional products to use Swing Index; it works entirely through your Smartphone. The app is free to download, and the videos taken of your swing are called SwingShots. If you want some swing advice, you'll have to pay $29.99 for a teacher to analyze your swing and rate your golf swing on 21 different elements for an overall score, called a Swing Index. The expert also creates a customized roadmap that will help you improve your Swing Index, and helps you keep your goals in mind for example, to break 100 or just to have more fun.
Swing Index gives you great insight into your current abilities and into your potential. Perhaps you'll find out your current swing is rated at 5.29 and has the potential to improve to 6.9 (out of 10) once you complete your personalized lessons.
The teaching professional analyzing your swing looks at five areas: set up, pivot, path, lever and release. Each area has its own metrics. For example, set up evaluates grip, stance, knee flex, posture, ball position and aim/alignment. This app is not a basic, "How to hold a golf club" guide. It's a two-way street in which you get real solutions from real people.
Zepp Golf 2 3D Swing Analyzer
With the Zepp analyzer, you buy a sensor for $149. Attach it to your glove, and it connects with a free smartphone app to analyze your swing in 3-D. You get immediate feedback about the adjustments that your technique needs.
You also get the ability to track your on-course performance, share group photos and videos, and add graphics, voice-overs and the like to your videos. If you don't have a sensor, the app also includes video recognition technology for your swing. 
What Zepp has to offer is helpful, but it might take a small adjustment period, nothing major, for new golfers to understand how it works. It helps to know what your weak areas are first. Only then can you rely on the readings to monitor your progress.
You can buy the sensors from retailers such as Amazon and from Zepp itself. The metrics that the sensor tracks include hip rotation, tempo, club speed, club plane and backswing position. The operating time per charge is eight hours.
Blast Golf Swing Trainer
Like with Zepp, you combine a sensor and mobile app for your swing analysis. Also like Zepp's, the Blast Golf Swing Trainer sensor costs about $149. (You can buy it on Amazon.) It goes past your swing to look at metrics such as launch angle, ball speed and estimated carry distance. It also captures metrics such as back swing time, down swing time and swing tempo. You can store historical data and keep an eye on your performance over time. The trainer analyzes all types of swings but is particularly popular among golfers who want to improve their putting. 
Since the tracking is not obtrusive, you should be able to quickly "forget" that there's a sensor on your club. You move and swing as you normally would, and receive immediate insights about your swing tendencies from the app. In addition, you can have someone video your swing or set your smartphone on a tripod to record it yourself. Analyze your swing in slow-motion to learn about your power index, blast factor, face rotation, timing, temp, velocity direction and more. You can also share your metrics and video to social media.
Garmin TruSwing
Lots of swing analyzers use a sensor to collect data, which is sent to your smartphone. In the case of the Garmin TruSwing, the data heads to your watch (the sensor pairs with Approach S4, S5, S6, S20 and x40 watches as well as the Approach G7 and G8 handhelds). No need to haul around your smartphone if you don't want to! You can buy the sensors from PGA Tour Superstore.
The data includes two swing comparisons (overlaid on each other). You receive immediate feedback that shows you where you need to make changes—for example, to change your clubface angle and clubhead-path angle. With the Approach S6 golf watch, you get even more data to see how your wrist travels as you swing. You're all instant feedback on all the different elements of your swing.
The sensor attaches below the grip of your club and shouldn't feel flashy or weighty. There's also the Garmin Connect smartphone app where you can take part in a community and review your swings in 3-D. As for pricing, the sensor retails for about $119.99. The Approach S60 watch is $349.99, and the X40 is $249.99.
Arccos Caddie Smart Sensors
For $254.99, an Arccos system can be yours. Fourteen golf club sensors are the most notable features of this package. They're extremely lightweight and should have no impact on your swing. Nor are you asked to attach a sensor to your glove like you are with Zepp. This hands-free approach is really nice.
Arccos could be exactly what you're looking for—or it could be too much. If you're seeking a comprehensive approach to your golf game, including historical data, course stats and strategies for each hole, then you and Arccos could have a great future together. You can buy the sensor kit on Amazon. 
If you simply want to fine-tune how to hold a golf club correctly and maximize your swing, then it's wiser to spend less money on something such as Swing Index. That way, you also get lessons customized to you.
V1 Swing Analysis Software
V1 Golf has been one of the staples of video analysis software for years. Its prices range from $30 per month for a basic mobile package to $100 for premium complete (that option is used mostly by instructors). The app uses the camera on your Apple or Android to record your swing, and then allows you to draw different lines on your swing to check different aspects of your swing, like the plane of your club shaft.
The app also includes videos from teachers to help you understand certain moves, and a large library of tour players' golf swings to use as a reference.
The Best Swing Analyzer
The new wave of technology means golfers have more resources at their fingertips than ever before. Use them wisely, and it's never been easier to improve your game.
So, which is swing analyzer is best? It all depends on what you're looking for and what your skill level is. There is no size fits all. Think about what you want, your goals, and where you think your swing can improve, and find the technology that will best help you accomplish that.
The product(s) featured in this article has been independently selected by GOLF.com's editorial team. If you make a purchase using the links included, we may earn a small commission.
To receive GOLF's newsletters, subscribe for free here.