GOLF's Top 100 course panelists are among the most respected and well-traveled course evaluators in the game. They're also keen to share their opinions. In this GOLF.com series, we'll unlock their unvarnished views on all questions course-related. The goal is not only to entertain you but also to give you a better understanding of how to understand and appreciate golf course architecture. You can see GOLF's latest Top 100 Courses in the World ranking here, and our Top 100 Courses in the U.S. here. Meet all of our Top 100 panelists here.
Though this past year did not allow for the kind of travel many of us might have liked, a number of our course raters still managed to get out and about. Here, as part of our 2020 recap, we'll let them break down the most memorable of golf architecture and golf courses in 2020.
What were the two most interesting courses you played in 2020 and why?
Steve Lapper (has played 84 of the World Top 100): This was a year for catching up on local restorations. Several stood out. A late-season visit to the Rockaway Hunting Club in Lawrence, N.Y., revealed a polishing of the proverbial hidden gem by Gil Hanse and Jim Wagner. The pair superbly unified the disparate work of Tillinghast, Emmet, Bendelow and Maxwell on a small, intimate property that flirts with an adjacent tidal marsh and bay. It's always been a combination of parklands and links and oozed charm. Now it's stylish-yet-pure with wonderful playability. The second would be Forsgate, a Charles Banks classic in the middle of New Jersey. It's always been a fun 18 with all the Macdonald/Raynor/Banks templates on full display. Now, though, thanks to recent tree removal, and turf and bunker enhancements, it is playing as it was originally intended: fast and firm. And tons of fun. Another treat was getting around to seeing Keith Foster's restoration work at Century CC in Westchester, N.Y. This Colt & Alison is a sturdy and charming test of all a player's shots and skills and more player-friendly with fewer trees, new tees, bunker replacement and green expansions.
Thomas Brown (has played 95 of the World Top 100): Culver Academies in Indiana and The Loop at Forest Dunes in Michigan. Culver Academies is an old Langford Moreau nine-hole course with a recent restoration by Bobby Weed. I enjoyed the variety of shots with its routing up and over the hills. The golf course deserves all of its accolades and more. The Loop is a zany Tom Doak Renaissance Golf reversible routing experiment on fast-running fescue grass. Play it one day with the clockwise routing Black course followed by the next day on the opposite counter-clockwise Red course. I have to acknowledge The Loop's superintendent, Rob Falconer, for fighting to maintain the fescue grass. America has few fescue-grass courses, and the surfaces at The Loop play as fast and true as the great Surrey Heathland courses outside of London.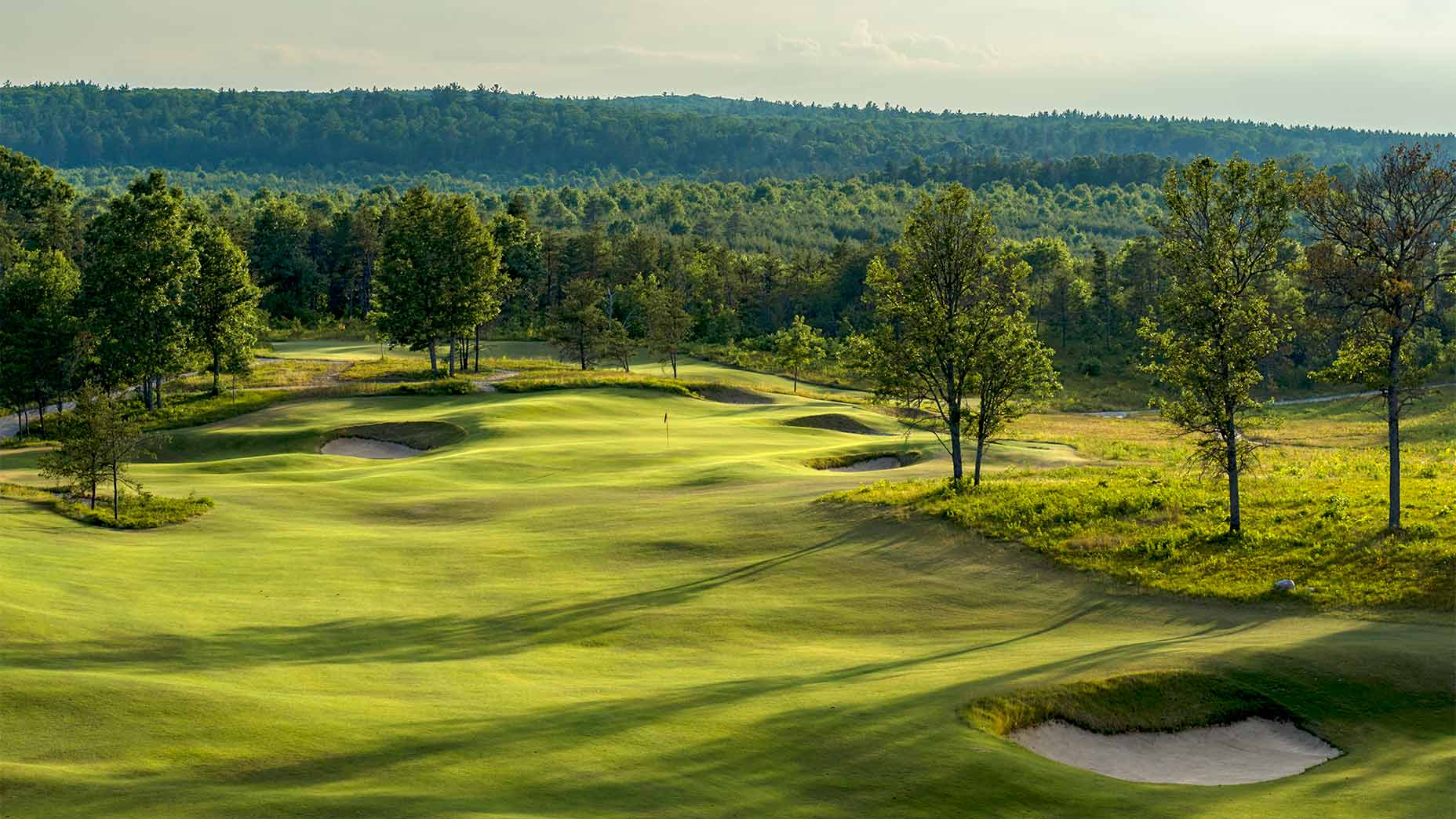 Michael Pelliccione (has played 60 of the World Top 100): 2020 was a challenge for everyone with regards to travel but luckily I was able to see a few spots that had been on my radar for quite some time. The two courses that were most interesting to me were White Bear Yacht Club in Dellwood, Minn., and Glens Falls Country Club in Queensbury, N.Y. With each course, the second I finished I wanted to sprint back to the 1st hole and do it all over again. To me that's the greatest praise you can give any course. Both of these courses built more than 100 years ago would be considered engineering feats by today's standards. That use of the land, elevation and creativity is on full display at these two masterpieces. I'd be remiss not to mention two courses worthy of honorable mention. Sandwiched in a golf-rich location, both Beverly Country Club (Chicago) and St. George's Golf and Country Club (Long Island) are absolute delights.
Joe Andriole (has played all of the World Top 100): I made some very long road trips and played a bunch of lesser-known courses and many great ones. Two that stand out are Longue, near Pittsburgh, and Texarkana. Neither is a U.S. Top 100 but both are extremely interesting. Longue was built by Robert White, a Scot and the course has some definite Raynor/Macdonald characteristics. It sits on a relatively severe piece of land, creating numerous awkward lies. The greens are varied and seriously sloped. It was presented fantastically well and has a talented, enthusiastic young greenkeeper. I expect it will further improve and the course will become better known when it is used as the second course for the upcoming U.S. Amateur at Oakmont. Texarkana is an old Langford design that has unfortunately suffered over the years — it's a tale of what was and could be. There remains some great existing landforms but little sand and the greens have been muted. Another pleasant encounter was the Pfau Course at Indiana University. It's a very big course created for collegiate tournaments but is flexible enough for almost everyone else. It's a good piece of land Steve Smyers created as a very interesting, strategic venue.
Tim Gallant (has played 62 of the World Top 100): Like many, I tried to stay closer to home due to travel restrictions. The two most interesting new plays for me were Woking Golf Club, near London, and Ardfin, on the Isle of Jura, in Scotland. Woking is a fantastic heathland course that many credit as being the cradle for strategic golf design. It was neat to finally see the 4th hole with its center-line bunkers that inspired Tom Simpson to take up golf course design. Overall, there are a wonderful original set of putting surfaces, which I'd say are some of the best in England. The club is also doing a bit of tree removal, which is really opening up the scale of the property. There is a lot of hyperbole when it comes to describing golf courses, but I can honestly say that Ardfin is the most beautiful and dramatic golf course that I've ever played. There is no course quite like it, and I would encourage anyone who wants a golf adventure to make the trip to Jura to see this Bob Harrison design.
Adam Messix (has played all of the World Top 100): The most fascinating work that I saw this year was the restoration of Southern Hills in Tulsa. Gil Hanse did a magnificent job highlighting the brilliance of Perry Maxwell and the way it is presented by Russ Myers and his staff is superb. The nearby Oklahoma City Golf & Country Club is another outstanding restoration. It shows the ability of MacKenzie to give you enough width off the tee to provide enough options to elicit poor decision making.