The most energized European player at the Solheim Cup isn't even playing
Rachel Bleier
TOLEDO, Ohio — There's no name on her golf bag.
She doesn't have a customary placard on the range.
But if you've been following the Solheim Cup on the ground or on TV, you've probably seen her with banging blow-up noise makers together with a European flag draped around her, or proudly flying the blue-and-yellow off the side of a golf cart.
Her name is Alice Hewson, and she's Team Europe's reserve member — and their certified hype woman.
Hewson, a 24-year-old Brit, just missed out on making Team Europe this year after finishing 20th at the AIG Women's Open, but that didn't stop Captain Catriona Matthew from immediately asking Hewson to join Europe as the reserve. 
While she hasn't been able to hit a single shot on the course, Hewson has found a way to bring a bit of European enthusiasm to Toledo.
"We're at such a disadvantage this week with so few people being able to get over to the U.S. that every single one of us that is here, we have to do everything we can to help the girls on the course," Hewson told GOLF.com. "We've got to be the whole crowd."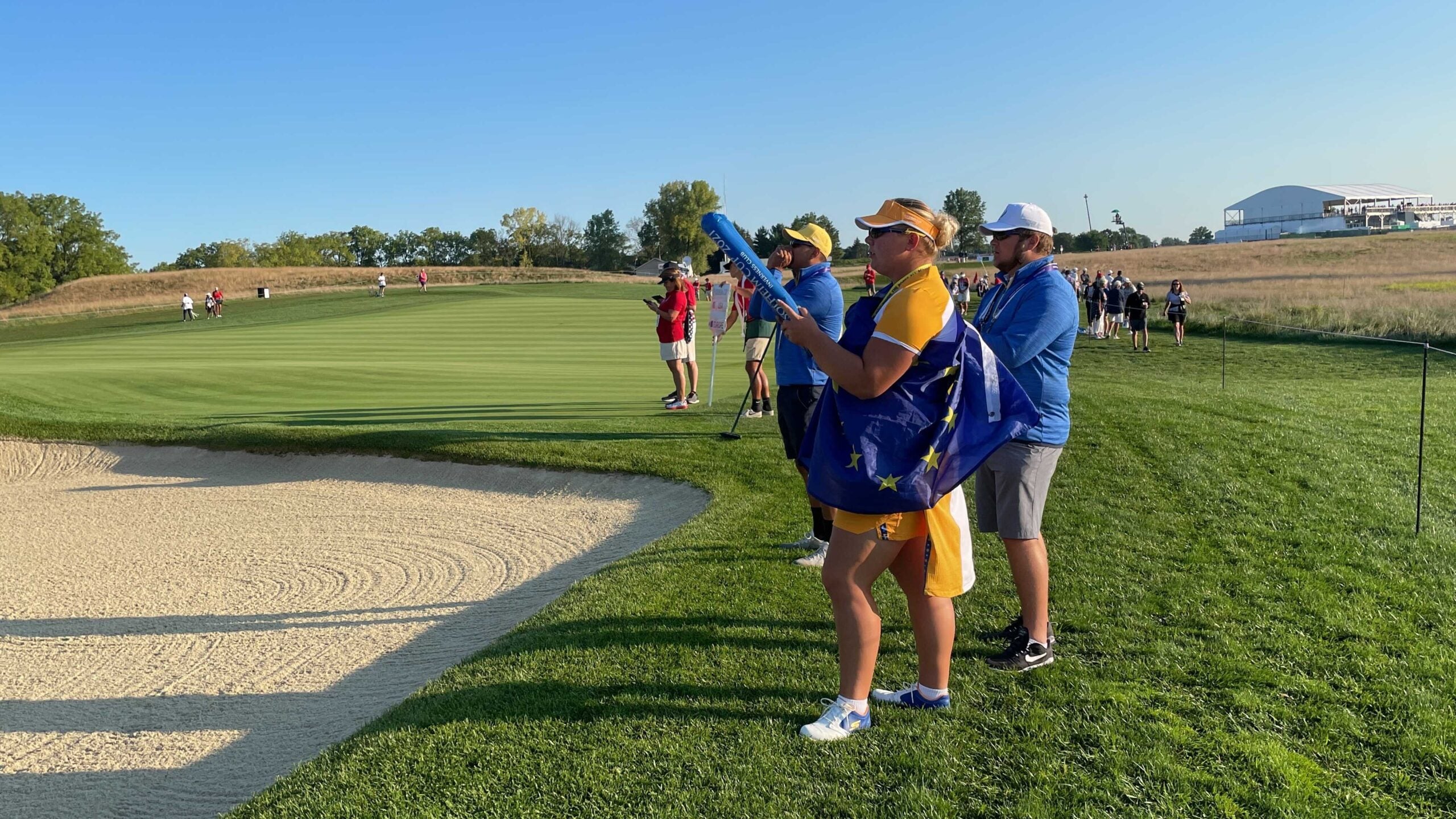 It might not be quite the full-on European support the team would normally have, but Hewson is certainly making a dent in the all-American crowd with her constant shouts of "Come on, Europe!"
At the very least, no shot from a European player goes without a loud compliment if Hewson is around.
Despite Hewson's seemingly boisterous nature, she's actually much more calm when she's the one with a club in her hand. And as much fun as she's having at the Solheim Cup, she's still trying to infuse that spark into her game. 
"I struggled a bit at the beginning of the year and really wasn't having a lot of fun on the course," Hewson said. "And my golf was suffering because of it."
She's since brought in a mental coach to help her add more fun to her game to keep her competitive. So far it's worked, helping her finish 20th at the British Open in August. 
Hewson isn't just at the Solheim Cup as a cheerleader. "Because I was so close to making the team, Beanie (Capt. Matthew) thought it would be a good experience for me to have," Hewson said.
That combined with her experience in two Curtis Cups made her the perfect choice to add to the European squad.
"Being here this week has really made me feel that I definitely want to be out here on the LPGA playing week in and week out with these girls," Hewson said of her aspirations.
In that vein, she'll be heading back to Q-School this year to try and make that dream a reality.
In the meantime, Hewson, who raised the flag for Team Europe during the opening ceremony, is thrilled to have the opportunity to experience the electric atmosphere and add some balance to the largely American crowd.
Hewson was asked if she ever gets tired pepping up her squad? Unsurprisingly, she answered with vigor: "Never!"