Even if you're just a casual golf observer, you have likely heard about Bryson DeChambeau and putting with the flagstick in. But somehow that's not the new rule change that intrigues the young PGA Tour star the most. According to Bryson, that award goes to the new drop rule, and he's not a fan.
DeChambeau commented on the rule following the second round at the Tournament of Champions in Hawaii on Friday. When asked which rule caught his attention the most, he answered, "I think the knee drop one. That you have to drop it from knee height is a bit absurd, unfortunately."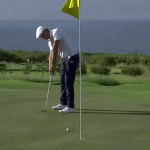 Among the many rule changes that went into effect on January 1st was an update to the regulations governing drops on the course. Traditionally, players were supposed to take a drop from shoulder height. But under the new rules agreed upon by the USGA and R&A, players are now ordered to take drops from knee height, which has already occurred during the first two rounds at the TOC at Kapalua.
However, DeChambeau is not a big supporter of dropping from shoulder-height, either. Instead, he thinks players should have more freedom when determining where to drop from.
"I think that you should be able to go from knee height to shoulder height. There should be no issue with that, whatever you want to do, honestly. There's a lot of questions about that."
DeChambeau, who won four times in 2018, fired a five-under 68 at the par-73 Plantation Course at Kapalua on Friday. That put him in a tie for second, three shots behind leader Gary Woodland. He has offered frequent opinions on the rule changes, and you can expect to hear a whole lot more from him as players navigate the new rules over the next few months.