What is a 'Pelz Draw?' Phil Mickelson's secret weapon, explained
CBS
KIAWAH ISLAND, S.C. — It was the shot he knew he could turn to when the pressure of protecting his dwindling lead was at its height, like on the 15th hole, when the day was turning late and he needed to stop the bleeding. The "Pelz Draw," he was overheard calling it on the broadcast. That's just the shot he needs.
But what exactly is the secret weapon that Phil Mickelson turned to so many times on moving day at the 2021 PGA Championship?
For context and for fun, let's start at the beginning: Dave Pelz is a GOLF Hall of Fame short game instructor who was a longtime contributor for GOLF Magazine. A former NASA scientist, he was a pioneer in using a science-driven approach to improving golfers' short games.
In his wildly popular book: "Dave Pelz's Short Game Bible," Pelz introduced golfers to the "clock" system of wedges, a system where golfers vary the length of their backswing in exacting ways to vary their distances. It's a distance control technique which multiple players still use today, including one of Pelz's former students: Phil Mickelson.
Which bring us back to the Pelz Draw shot Phil used so reliably on Saturday at Kiawah.
So, what is it?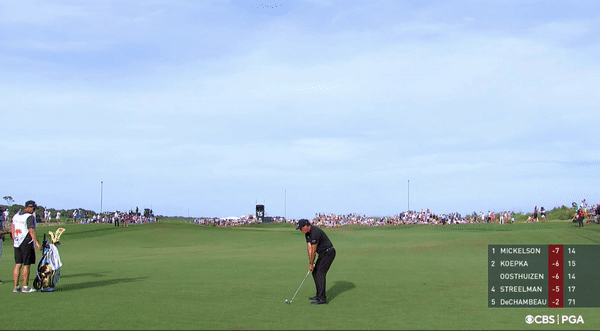 The Pelz Draw, explained
The Pelz Draw shot basically translates from Mickelson-to-English as: A low-spinning, wedge shot with about 75 percent power.
I mentioned the 15th earlier because it's probably the best example of why it came in so handy. One-hundred-and-forty yards out with the pin on the back meant Phil had lots of green short of the hole to work with, and didn't need a full swing to get there.
And so, he called upon his Pelz Draw technique: He put the ball back in his stance slightly, shortened his backswing, and swung more around his body. That formula launched the ball slightly lower and moving left-to-right (which is a draw for Lefty Phil Mickelson).
And because it had less spin on it, the ball landed and started rolling forward, rather than zipping backward — especially helpful when the hole is squirreled-away at the back of the green, as it was on 15 on Saturday.
With the Pelz Draw, Phil could go chasing the pin with the luxury that the green was always underneath the ball.
Bryson actually uses a shot very similar which I labeled rather-clumsily last November a "spinger."
But nevertheless, it's easy to see how the ability to hit a wedge that will move forward rather than backward — and to control the spin more generally — can be such an asset for a pro golfer like Phil Mickelson.
And it may just propel him to a historic victory on Sunday.