This nerdy conversation between Tiger Woods and Jon Rahm is so good
Welcome to Play Smart, a game-improvement column that drops every Monday, Wednesday and Friday from Game Improvement Editor Luke Kerr-Dineen (who you can follow on Twitter right here).
At the Masters earlier this year, Jon Rahm, half-joking and half-jealous, talked about the advice he's gotten from his idol Tiger Woods over the years.
Or, rather, the lack of it.
"You might need to ask Justin Thomas," Rahm said. "There's only one man in this field that hears advice from Tiger, because I've asked before and I get nothing."
A week before the 150th Open Championship at St. Andrews, the conversation is flowing between the pair, but Tiger is characteristically still keeping his cards close to his chest.
Rahm on the other hand, is laying it all on the table, as seen here at the JP McManus Pro-Am. (Perhaps in hopes he'll get something in return one day?) You can catch a bit of the exchange below, and for the army of golf nerds out there, it's heavenly. Let's break it down.
Rahm shares his swing thought
The first thing we see is Rahm demonstrating the feeling of his wrist at impact. Rahm has a weaker-than-average left-hand grip, then uses lots of flex in his lead wrist to both square the clubface and add power to his golf swing.
"Do you still hit up on [the ball] with your driver? Like Dustin?" Tiger asks.
Tiger's asking this because flexing your lead wrist like Rahm or Dustin Johnson, who uses his lead wrist in a similar way as Rahm, can often lean the shaft forward and cause golfers to hit down on the ball, which creates too much spin.
Hitting up on the ball with your driver helps decrease spin (and therefore add distance), which is why Tiger's asking the question. That's when Rahm explained the swing key that allows him to do both.
"When you turn your chest, that's what makes [the club] go up," he says.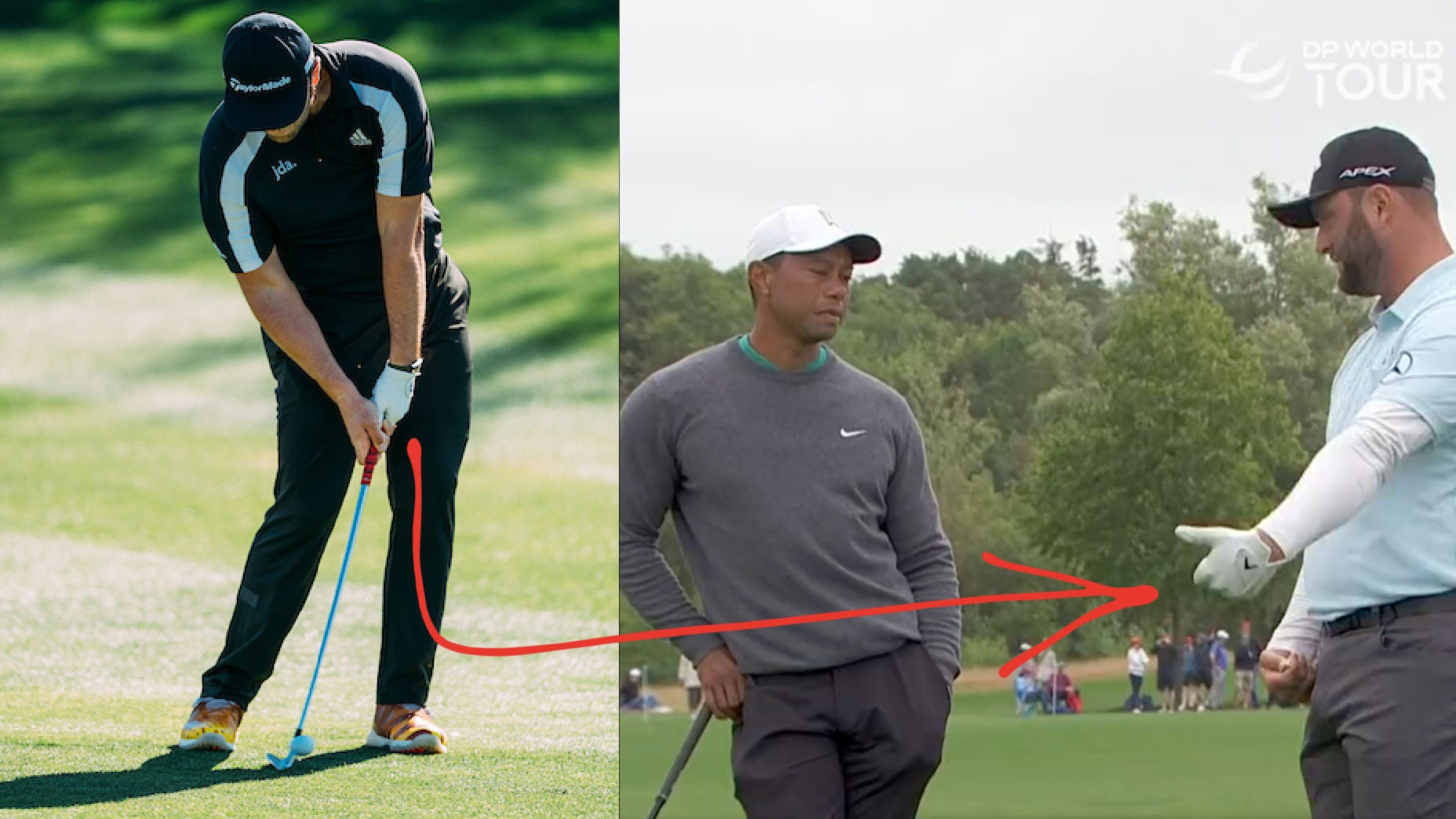 Rahm goes on to say that when he's swinging his best he's hitting about 1.5 degrees up on his driver, "three degrees when I'm trying to hit the ball higher."
That's when Tiger asks Rahm what he needs to adjust. Specifically, when he needs to hit a high, right-to-left draw shot.
Ball up in stance to hit a draw
"You put it up here?" Tiger asks, demonstrating a ball position that's more up in your stance. That, incidentally, is something Tiger told Golf Digest he does himself when he's trying to hit a high draw. Rahm agrees, then explains.
"It's hard for me to manipulate [the clubface]," Rahm says. "Even though it doesn't get as high as Rory's [drive], it still gets to four or five degrees of launch."
Tiger asked about spin, seemingly worried that adjustment takes too much spin off the golf ball, which can cause a whole separate slate of issues. Rahm said he was still at "22," referring to 2,200 RPMs, which is still the optimal range.
"Are you really?" Tiger asked, with a tone that suggested he was both impressed and surprised.
"Yeah, because I'm just letting the path dictate where the clubface is pointing," Rahm explains.
The camera pans to Tiger, who looks deep in thought before responding.
"Yeah, because [the clubface] is closing down on you a little bit," Tiger says.
This, as a quick aside, is some good knowledge for the rest of us golfers. No matter how you swing a club, the clubhead moves like a windshield wiper through impact. Slightly open, to square, to slightly closed. Moving the ball slightly up in your stance means the clubface will be slightly closed by the time it hits the ball.
"Exactly," Rahm said. "It's just the loft and the face that's making me hit a draw."
At that point Rahm was whisked away for his tee time. All good things must come to an end, I suppose. But we'll be left chewing on this one for a while.